Japanese garden art prints are my way of returning time and time again to the spectacular vistas of Japan, where my wife is from. I'm lucky enough to visit and be able to photograph the culture, gardens, and architecture of the country with a unique perspective. As a visitor I can appreciate the beauty of Japanese gardens with fresh eyes, and as someone with a direct family connection to the culture, I can also get an understanding of what each element of a garden represents.
Elements of Japanese Garden Art Prints
Japan has countless temples, many surrounded by a traditional garden. Photographing these is a pleasure, with the challenge being perfecting the balance between natural and manmade elements.
---
Contrast of Nature vs Architecture
This scene at the Rurikoin temple in Kyoto just blew me away with how the trees contrast with the temple. The symmetry of the architecture and the wild beauty of nature are the perfect combination.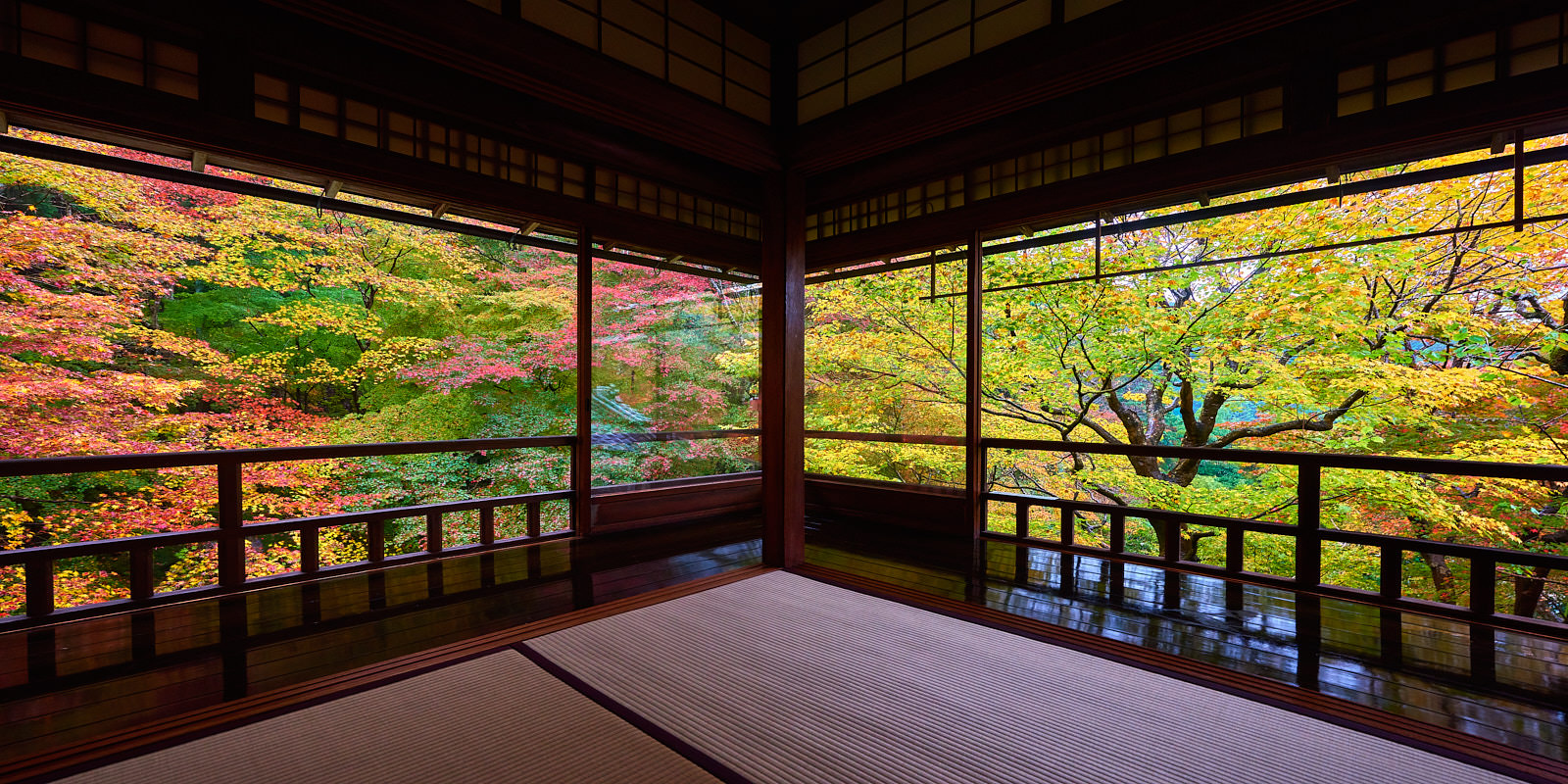 "Many types of gardens were built to be viewed from inside a building, such as palace, villa or temple. In contrast, gardens meant to be entered and enjoyed from within use buildings as a part of the garden's composition, including pavilions, tea houses and guest houses." - Japan Guide (https://www.japan-guide.com/e/e2099_elements.html)
Landscapes
Borrowed scenery (shakkei) is the concept of integrating the background landscape outside the garden into the design of the garden. This image shows the famous snowy peak of Mount Fuji with the Chureito Pagoda in the foreground, the perfect blend of elements and easily recognizable as Japan.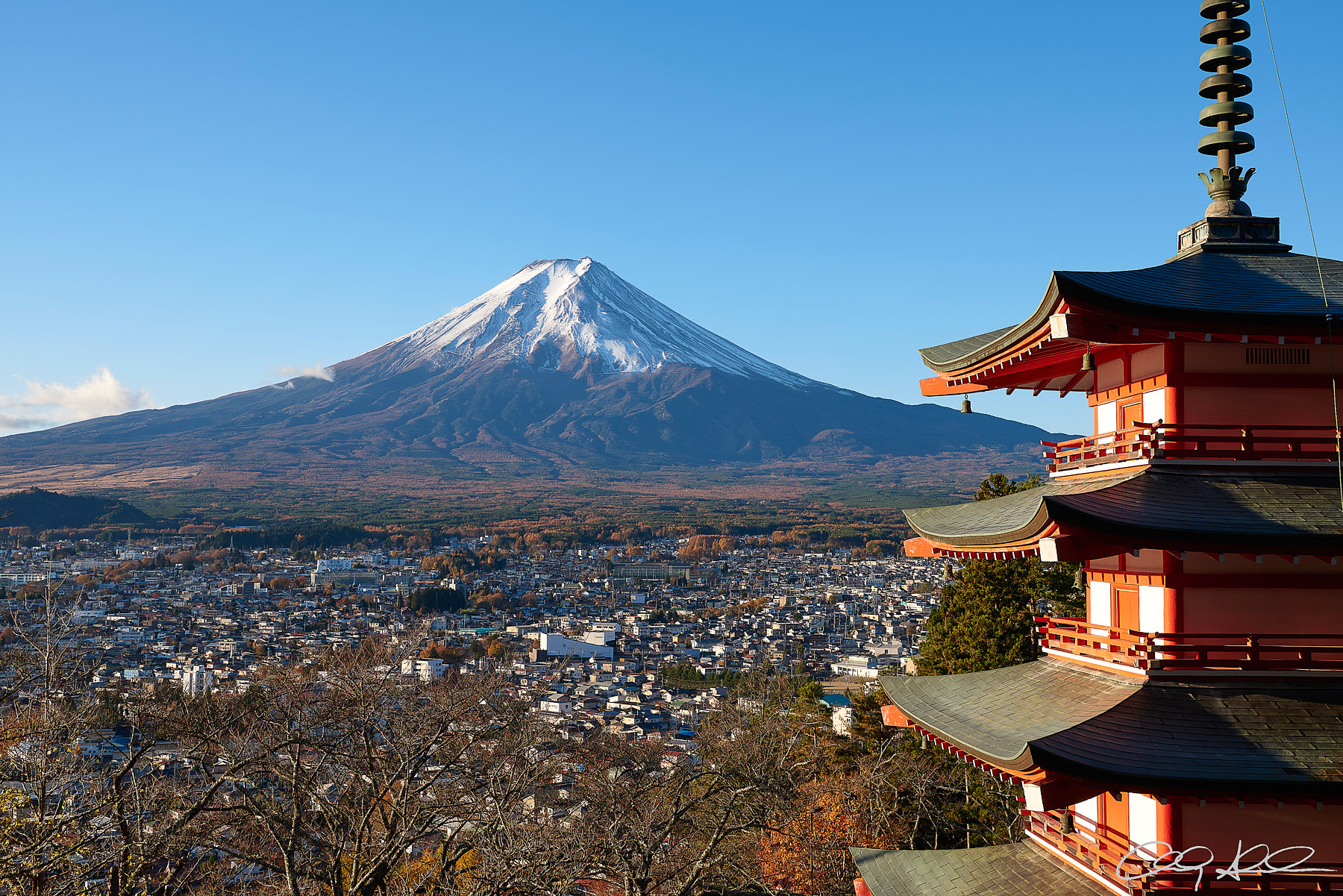 Water
With some temples, such as this one in Ukimido, emphasis is placed on manmade architectural elements and their contrast with the natural element of water instead of contrast with plants.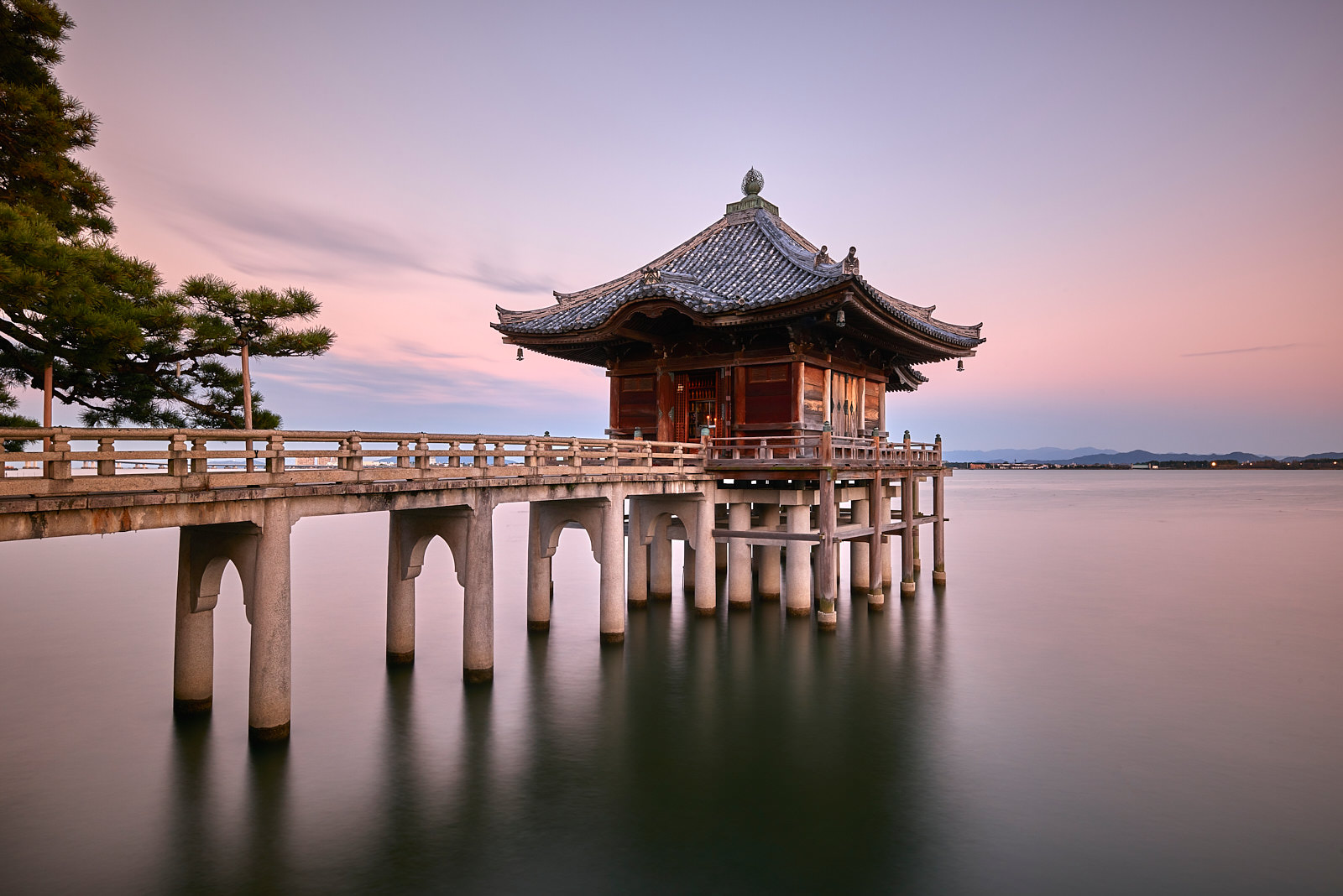 Ponds are a central element of most gardens and often represent real or mythical lakes or seas. Pay extra attention to how the water appears to change with the light and with the weather. It's an element that can be controlled, but only so much.
Foliage
In this image the red fall leaves blend with the beautiful Daigo-ji temple in Kyoto, creating a vision that changes from season to season.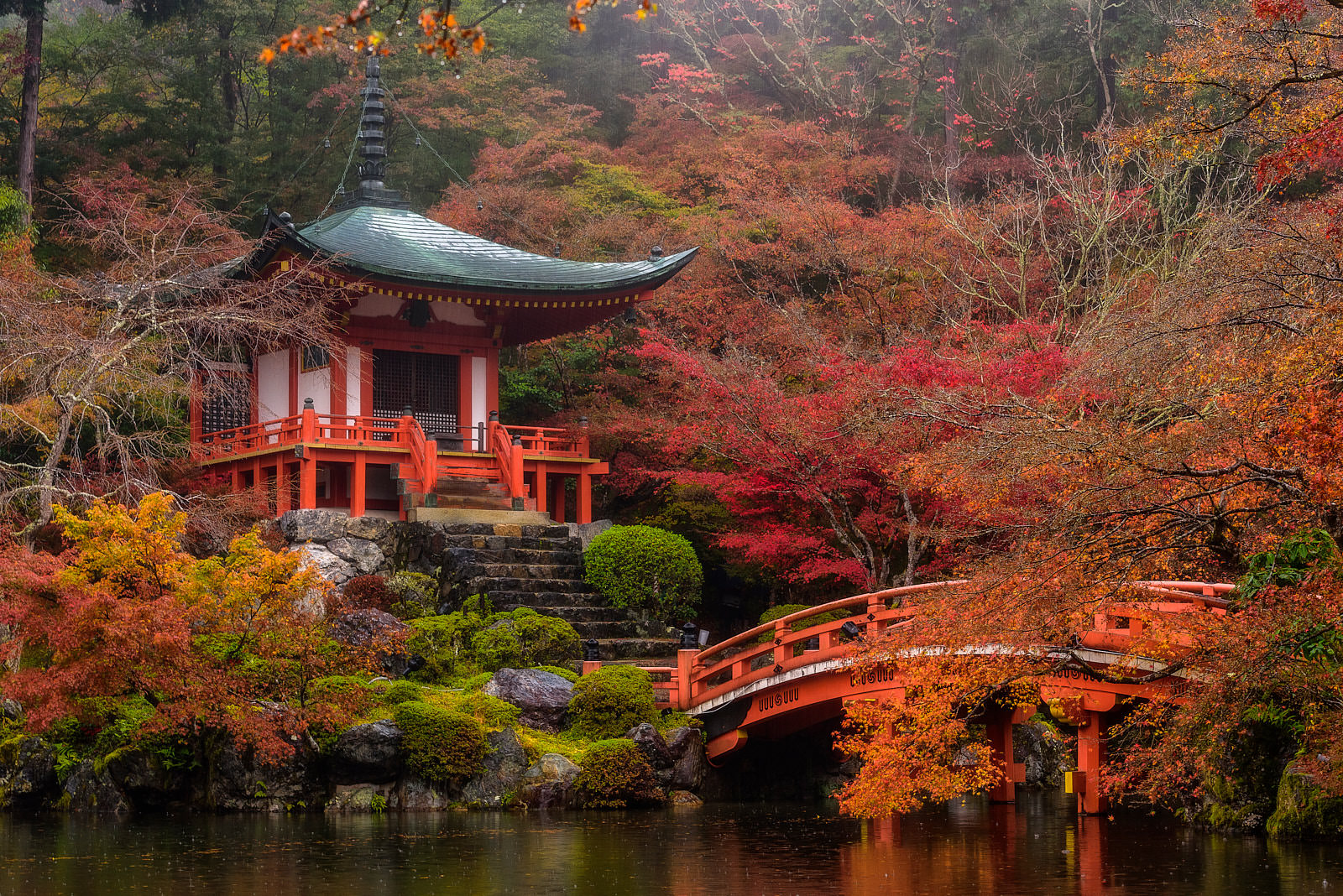 "Trees, shrubs, lawns and flowers of all kinds are used in Japanese gardens. Plants, such as maple and cherry trees, are often chosen for their seasonal appeal and are expertly placed to emphasize these characteristics. Conversely, pine trees, bamboo and plum trees are held in particular esteem for their beauty during the winter months when other plants go dormant." - Japan Guide (https://www.japan-guide.com/e/e2099_elements.html)
Lines
Images of the Arashiyama Bamboo Forest offer leading lines, with the manmade pathway in the midst of the forest. Poles almost seem to hold back the nature to allow people to walk through unimpeded.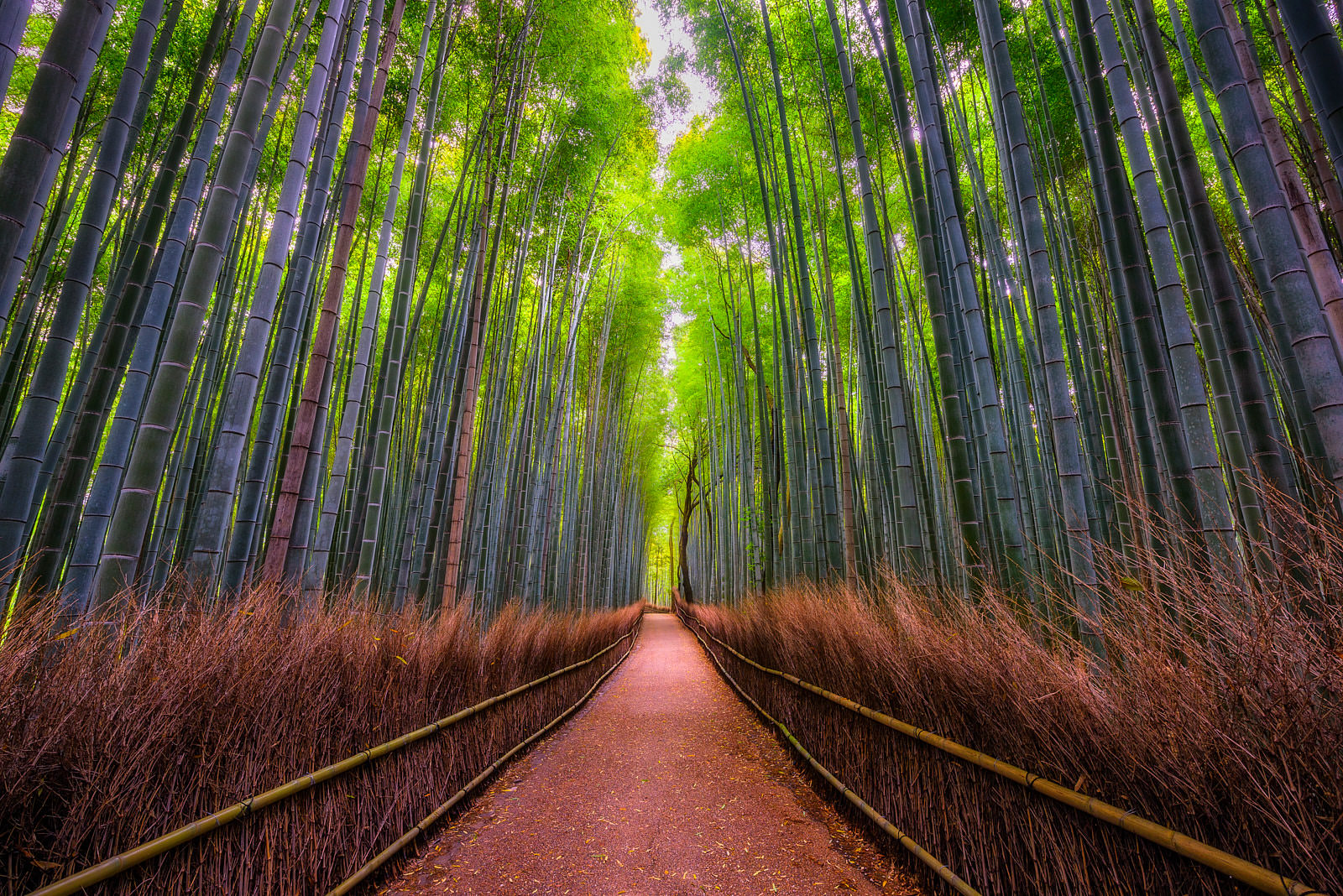 Lines can also be winding, instead of straight.
"Winding paths also serve to segregate different areas, such as an isolated grove or hidden pond, from each other so that they may be contemplated individually." - Japan Guide (https://www.japan-guide.com/e/e2099_elements.html)
Know Before You Go
It's important to know about any restrictions before visiting to avoid offending anyone, for example, certain places can have bans on photography or equipment such as tripod. Read this article about photography etiquette in Japan (https://expertphotography.com/photography-etiquette-in-japan/). Keep your eyes out for NO PHOTO signs. If you don't have permission to photograph a person, you must blur their face when posting the image online.
Being with family offers me the ability to visit regions that are unknown to most tourists (and photographers). Having insider knowledge helps improve my photography on every stage of my visits, from the sights to the weather. If you don't have any connections in Japan, try to gather firsthand knowledge of the area you're visiting by researching online or trying to connect with photographers who have visited before.
Why Do I Love Going Back to Japan?
As I return to Japan every year, I'm able to experience the country and its spectacular visual elements with new eyes. As the seasons change, so do the views!
A great way to experience Japan besides visiting temples and gardens is to take pictures of local festivals and other cultural events. Some popular ones are Awa-Odori from Shikoku's Tokushima city, Nebuta Matsuri from Aomori in the Tohoku region, and the annual Sapporo Snow Festival.
For me, Japanese garden art prints bring me back to a special time of traveling with my family and being immersed in a culture so different from my own. My Japanese photography represents a unique and sometimes challenging vision of a country that changes—and changes me—every time I go back.
See the full collection here Japan Fine Art Photography