Have you ever seen a documentary about volcanoes, or better yet, seen a lava flow in person? The destructive force of volcanoes isn't easy to predict or to capture. To keep this rare and awe-inspiring sight within memory, consider placing volcano wall art in a home or office, or giving it to a loved one as a unique gift.
But why is lava wall art so impactful? This beautiful and terrifying show is part of nature's stunning and volatile effect on the world and can make the viewer consider his/her own mortality and impermanence. I'll discuss this a bit below, along with some different examples of artistic nature photography from my gallery
What's so special about volcanoes?
This demonstration of nature's power is an important source of inspiration for artists. The Romantic era was characterized by showing feelings and movements of the soul as reflected in nature. Artists typically painted with an emphasis on light vs dark. When painting volcanoes, the orange light spurting from the center catches the eye, splitting the dark masses of cloud and ash. Viewers think of beauty and danger, all rolled into one epic scene. This intense expression of nature has continued to inspire throughout the centuries and is now best shown through photography.
Cooled lava looks black, while the lava is extremely bright. Shooting at night highlights liquid lava at its best, creating a mesmerizing glow on the steam and surrounding area. The photograph entitled Pele's Battle is a great example of this.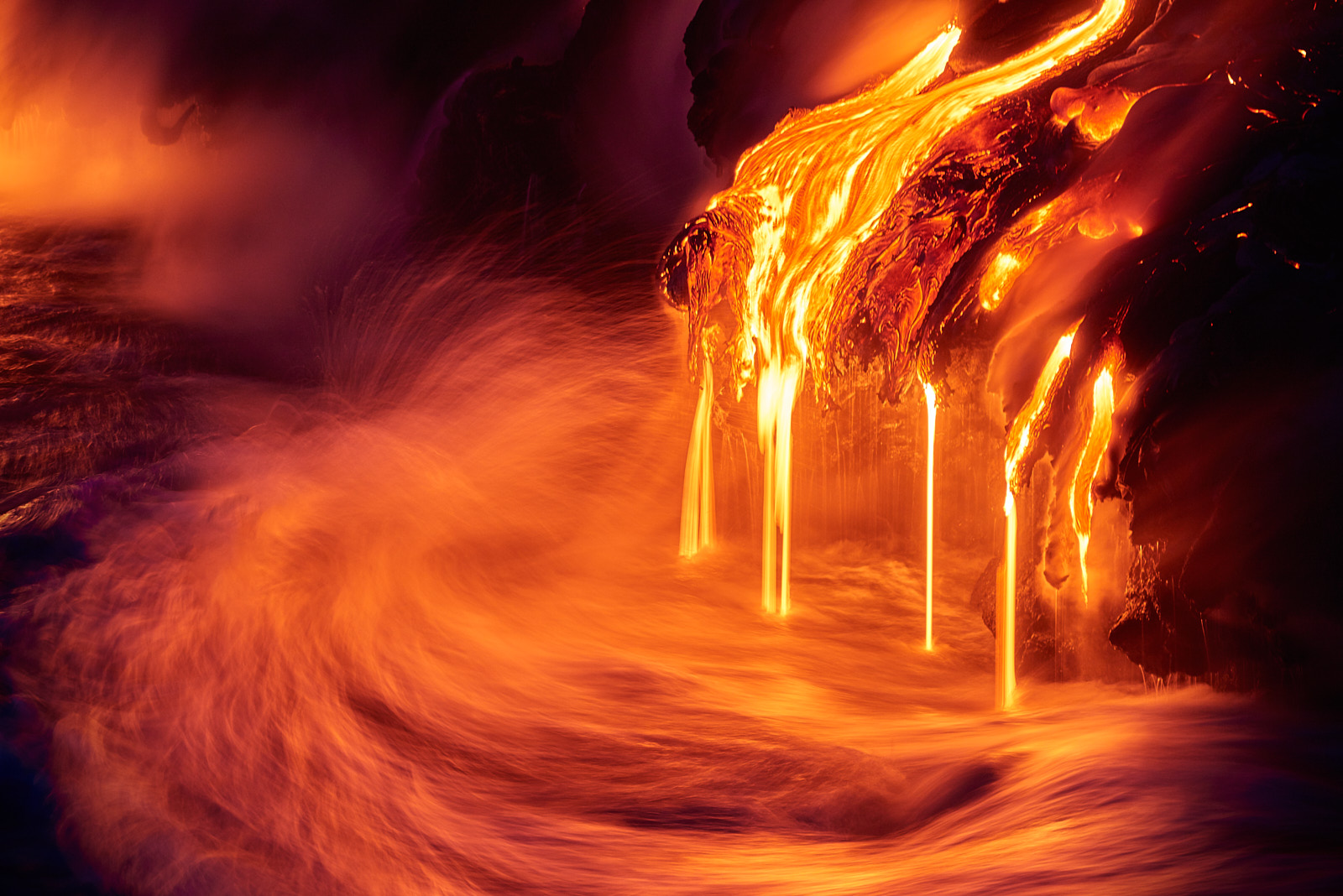 Pele's Battle highlights the lava flow and golden glow without any distractions. There's nothing on Earth that can mimic this incredible show of nature, but photographs can come close to capturing a moment of the display.
Hawaii's Volcanoes
Hawaii's Kīlauea Volcano is one of the most active volcanoes on earth. Once an undersea volcano, many subsequent eruptions have created an underwater mountain which became an island. Volcanoes flowing into the sea offer the most dynamic and exciting conditions, and often the safest way for photographers to capture the event. This is the case with the Kīlauea Volcano.
Hawaii Volcanoes National Park is a must-see for visitors to Hawaii, with over a million visitors each year. As the volcanic activity in Hawaii is mostly near the ocean or in the crater itself instead of looming over dwellings, viewers can appreciate the danger and beauty of the scene without the terror evoked by images of Mount Vesuvius or other destructive eruptions that have threatened civilizations.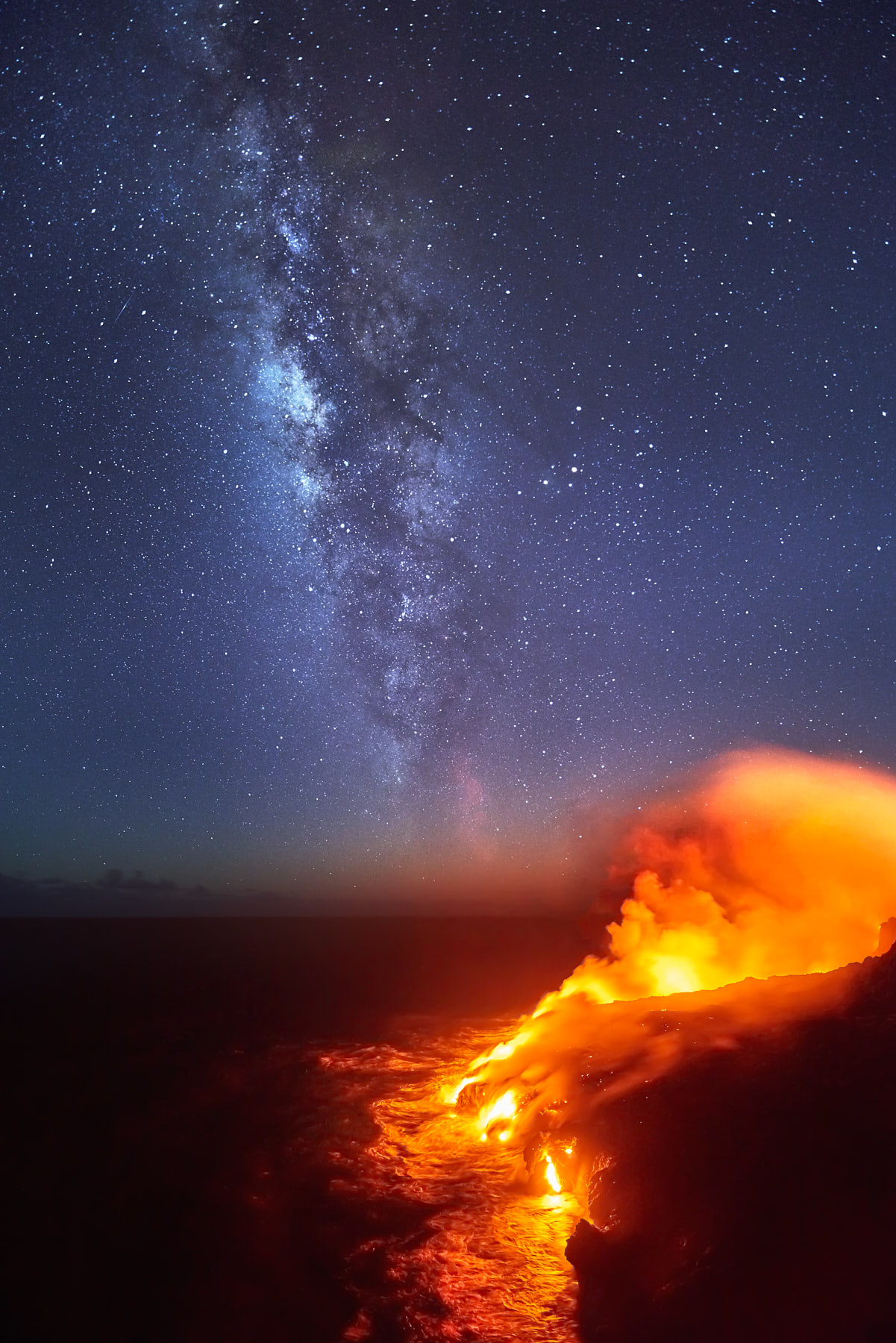 Volcano wall art makes a great gift!
Volcano wall art is a nice idea for Father's Day or a poignant way to help a recent graduate decorate their new place while reminding them of both the challenges and incredible beauty that lie ahead in life. One of our most popular series for men, if there's someone in your life who'd enjoy a unique gift, consider an artistic nature photo. The Art of Fire is the section featuring lava wall art prints.
Is there a stargazer in the family? Edge of Creation shows the commonly-viewed Milky Way, with the addition of the billowing orange steam and lava flow. The orange light and bright galaxy complimented by a dark sky makes for a compelling image that is sure to inspire.
For nature lovers, Opposing Forces highlights the blue of the ocean, orange lava, and gray steam.
If there's a different Hawaiian landscape you'd like to have in your home, see the full collection here.
Why should I purchase volcano wall art from a photographer?
I've spent many years capturing the beauty of Hawaiian landscapes. Volcano photography is dangerous, and has claimed many lives.
If you're thinking of going out to get some volcano photos, read this first!
"When your subject is unpredictable, toxic, and unstoppable, it's critical to understand the dangers and how best to avoid them. People have died out on the flow, and everyone who has spent any considerable amount of time with a volcano has had a few close calls.
The lava bench that builds out into the sea will frequently collapse; lava tubes forcing their way into the ocean will explode into the air and shower the surrounding area with steam and rock, and the mixture of lava and water creates sulfur dioxide which can become lethal if breathed into the lungs.
To capture a compelling image of lava is extremely difficult and presents some unique challenges. Firstly, your subject is constantly changing. Lava oozes and explodes, steam billows and fades, and water surges and retreats. Getting all these components to line up at the same time requires a little luck, and a lot of frames."
-Nature TTL (https://www.naturettl.com/how-to-photograph-volcanos/)
I have successfully captured lava flowing into the ocean, doing all the work so you can take home an incredible image. I'm always amazed at these images and its one more reason why I love shooting in Hawaii. The beauty and diversity of nature is also one of the reasons so many people travel here from all over the world.
If you're coming for a visit, be sure to read some of my most popular articles for an insider's take on Hawaii such as The Top 5 Things To Do on a Rainy Day on Maui or the more recent article about navigating the recent travel restrictions: Want to Travel Again to Hawaii? Here's What You Need to Know.
Interested in seeing what Hawaii looks like before you get here? Check out the gallery (https://www.andrewshoemaker.com/gallery) to see my full range of Hawaii fine art prints!