Who doesn't ooh and ahh at the sight of a raging river plummeting down a cliff, or a delicate trickle of water flowing through the forest? We're all drawn to nature's beauty, and a waterfall delights the senses. The colors and movement, the sound of water, the scent of the forest. And if you're brave, the cool water brushing against your skin. I strive to bring the waterfalls of Hawaii and other landscapes to life, offering waterfall prints for sale so you can bring a piece of the islands home! Whether you're looking for a daily reminder of your vacation or a reminder to save for one, a stunning landscape photo is a great way to leave the ordinary behind.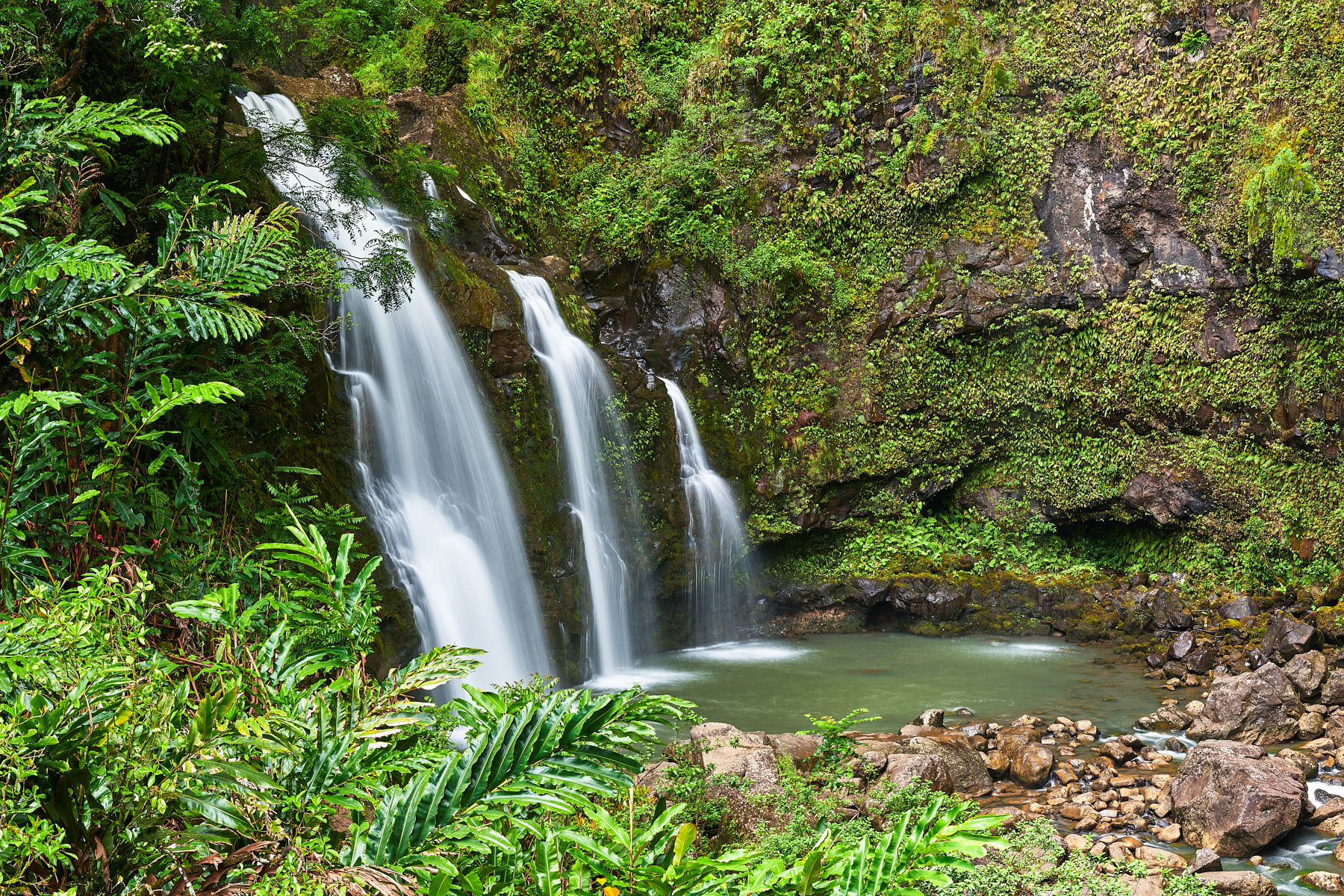 Why is Waterfall Photography So Popular?
Waterfalls are something people seek out, for a day hike in your neighborhood (if you're lucky!) or a vacation destination. Hawaii is known for its beautiful landscapes, including its many waterfalls (https://www.hawaii.com/discover/waterfalls)My home of Maui has waterfalls galore (http://mauiguidebook.com/category/waterfalls-maui/), and I've spent time collecting images of the most spectacular for you to enjoy in your own home.
The beautiful Wailua Falls near Hana here on Maui is one of my favorite waterfalls to photograph. It's just so picturesque and pristine.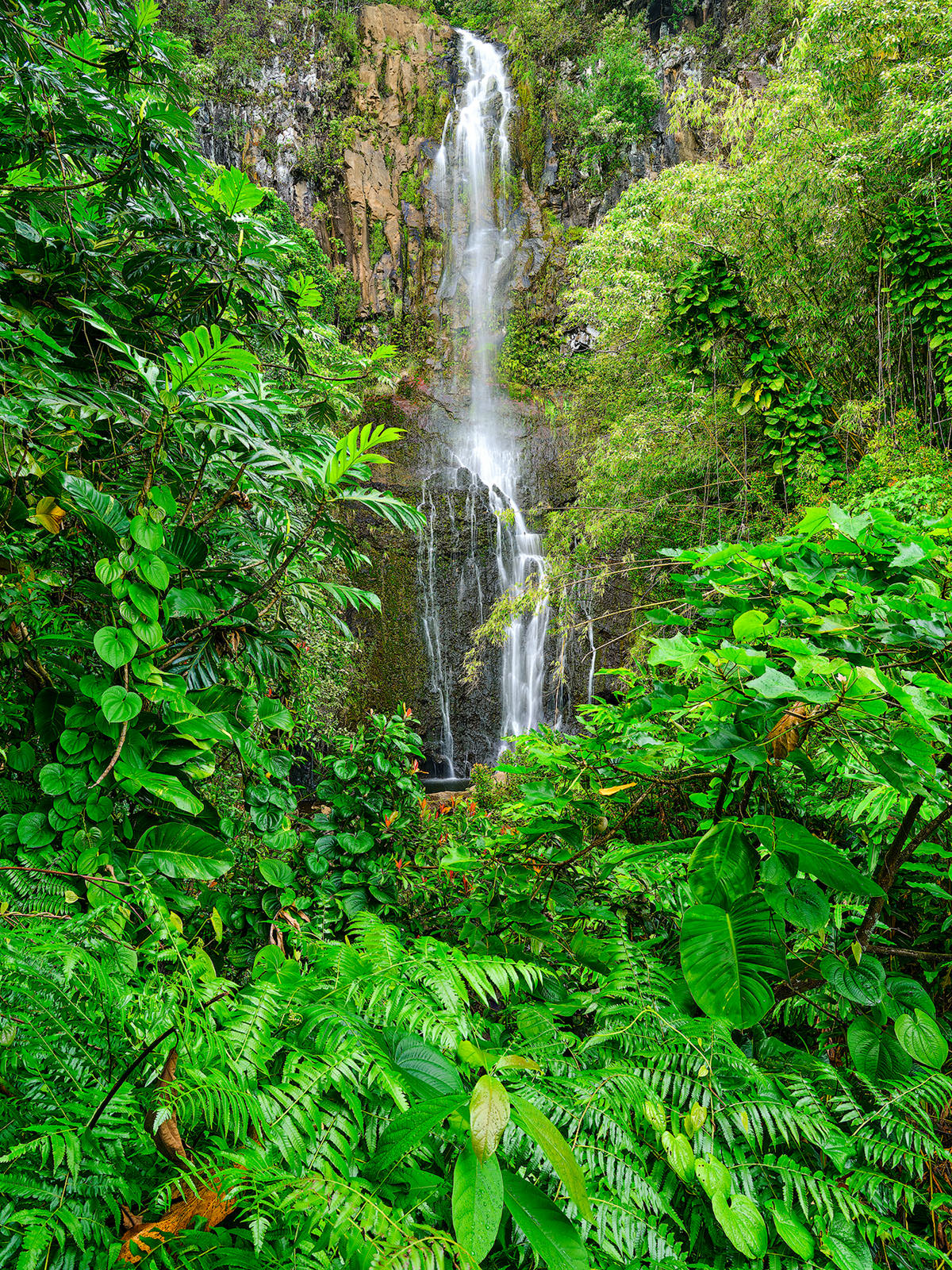 I enjoy photographing waterfalls over and over again because they are never quite the same. The landscape around them changes so that they may continue flowing. Waterfalls are a bit like our lives, fluid and ever-changing. And sometimes you need to stop to admire the beauty!
How to Choose the Best Waterfall Print
The best waterfall images are often taken at sunrise or sunset, when the light is soft and beautiful. Cloudy or rainy days are also good, offering even exposure without the dappled highlights and shadows of a bright, sunny day in the forest.
If the waterfall is heavily shaded, the time of day doesn't matter quite as much. Waterfalls are often in deep canyons, which can create a wonderfully dark, dramatic mood with lots of beautiful shadows. However, it's very challenging to get the perfect combination of settings to get the best waterfall print.
My goal is to create a good exposure while ensuring the beautiful water is shown with all of its strength and beauty intact. This image has smooth water, created by a long exposure.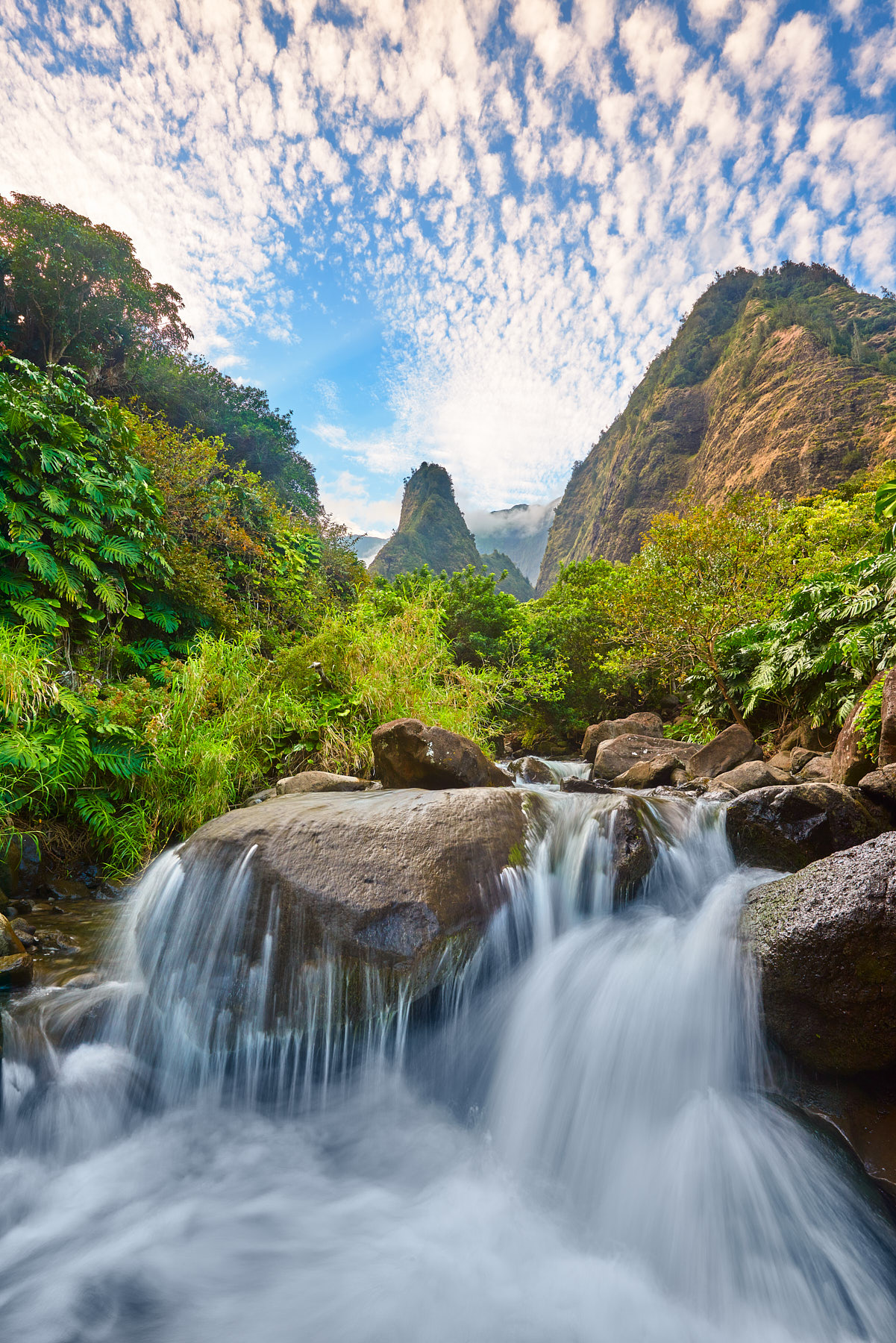 A professional photographer has more tools to help get that perfect shot. For example, if the sides of the shot are blurry, it's sometimes necessary to take multiple exposures and combine them with an image editing program. This addition of modern technology is extra work for the photographer, but greatly adds to the quality of the image.
After ensuring a print is the best photographic quality and an image that speaks to you, consider what size would best suit your space. A horizontal shot is best as an eye-catching piece in your living room, while a vertical shot can be used to add interest to a boring corner or narrow wall area.

Is the Challenge Worth It?
As always… yes! Since I've lived in Hawaii for many years, I am very attuned to the seasons and how it affects the landscape.
The best islands for chasing Hawaii waterfalls are the Big Island, Maui and Kauaʻi. There are many easily accessible waterfalls across the islands, but some can only be reached by long, difficult hikes or by air.
Hawaii has a wet season, which is often the best time of year to photograph waterfalls. However, Hawaii can be a dangerous place for a photographer.
Wet, slippery rocks are always a challenge when shooting near water or in the rain, and flash floods and landslides can disrupt plans and even take lives.
When shooting aerial photographs (a popular way to get great waterfall images), I might be waiting around for a few days until the conditions are at their best.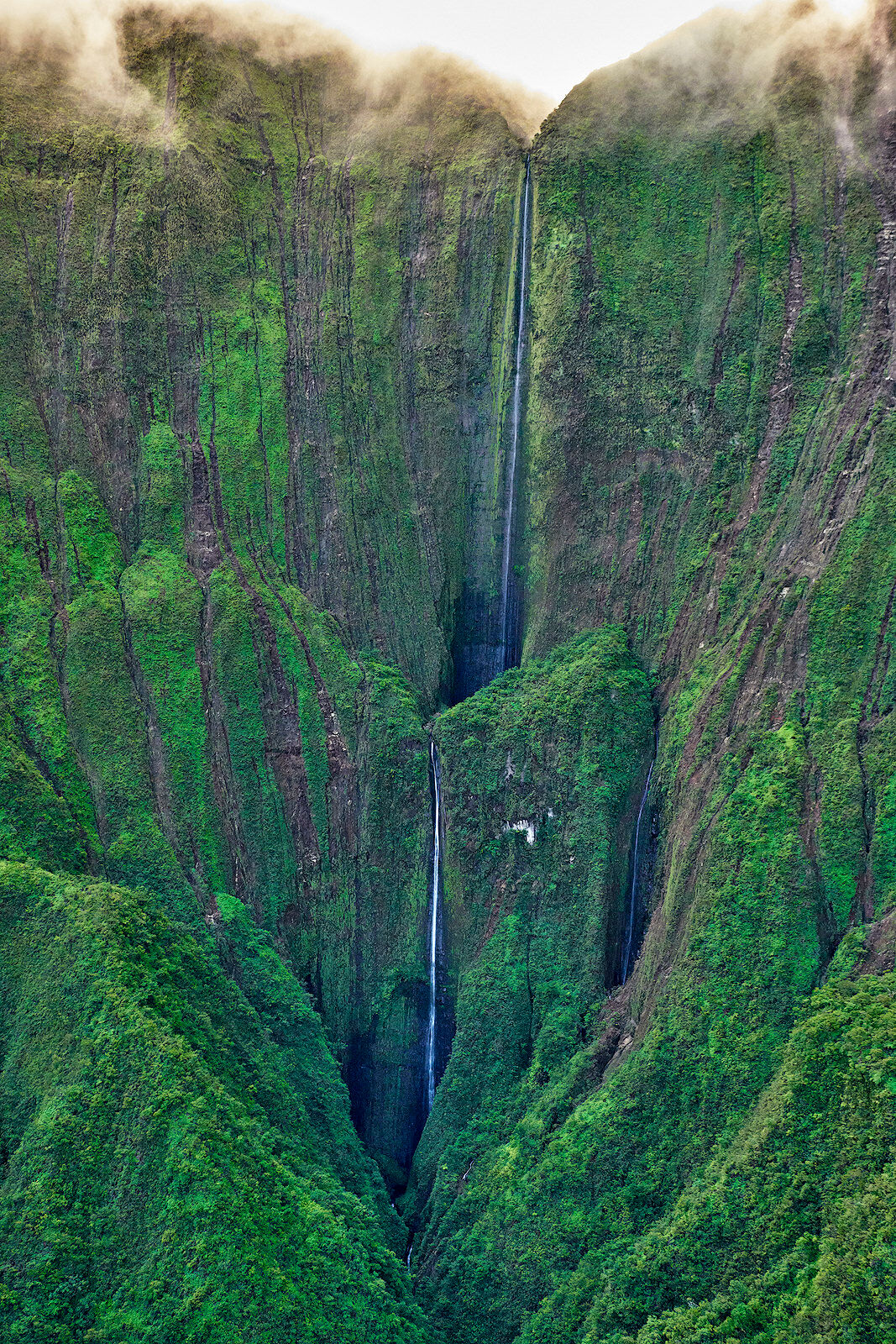 This is an aerial image I captured of Honokohau, the tallest waterfall on the island of Maui. The two-tiered waterfall is just over 1,100 feet and is only accessible by air, so this image was shot from a helicopter. The peaks of the mountains here receive some of the highest rainfall totals in the world, making this waterfall quite a sight!
Waterfall Prints for Sale
If you're ever chasing waterfalls in Maui, I've recently opened up a gallery in Lahaina, located right on Front Street. Come say hello!
Or, explore the gallery and the waterfall prints for sale here.....
Mountains, Forests, and Waterfalls | Maui Waterfall Pictures
My landscape photos are printed on gallery-quality photo paper and often mounted under Tru-Life Acrylic, or printed on metal. Tru-Life Acrylic is non-glare, repels dust and scratches, and blocks UV rays.
The metal prints are waterproof (great for high moisture areas), scratch resistant, and fade resistant. With an archival rating over 100 years, your print will look spectacular for many years to come!