To put it simply, art can transform a room. Art can determine a room's color palette or enhance existing colors in a space. It serves as a focal point and can make a room look larger and feel more finished. Artwork creates a mood and brings life and personality to your space. Choosing the right piece of art can make or break a room's decor.If you're wondering how to choose art for your home, it is important to consider 3 things: color, size, and the image itself. The sheer beauty, stunning colors, clear emotion, and variety of Hawaii landscape photos make them an excellent choice for decorating your home.
Choose the main colors

The first thing to consider when choosing art is what colors would go best with your current room or what colors fit your plan for decorating the room. Take into consideration the wall color, furniture, decor, lighting, etc. to coordinate wall art that complements your space.
You may want art that matches your furniture or accessories. Another strategy is to select art with complementary colors to your wall or art that highlights a different shade of the wall color. Liven up a neutral-colored wall with bright artwork. Try using a color wheel to find colors that go well together.
What kind of mood are you trying to create in the room? Color can have a significant impact on how you feel in the space. Warm colors can bring comfort, exude power, and inspire passion, while cool colors can create a calming, uplifting, or serene atmosphere.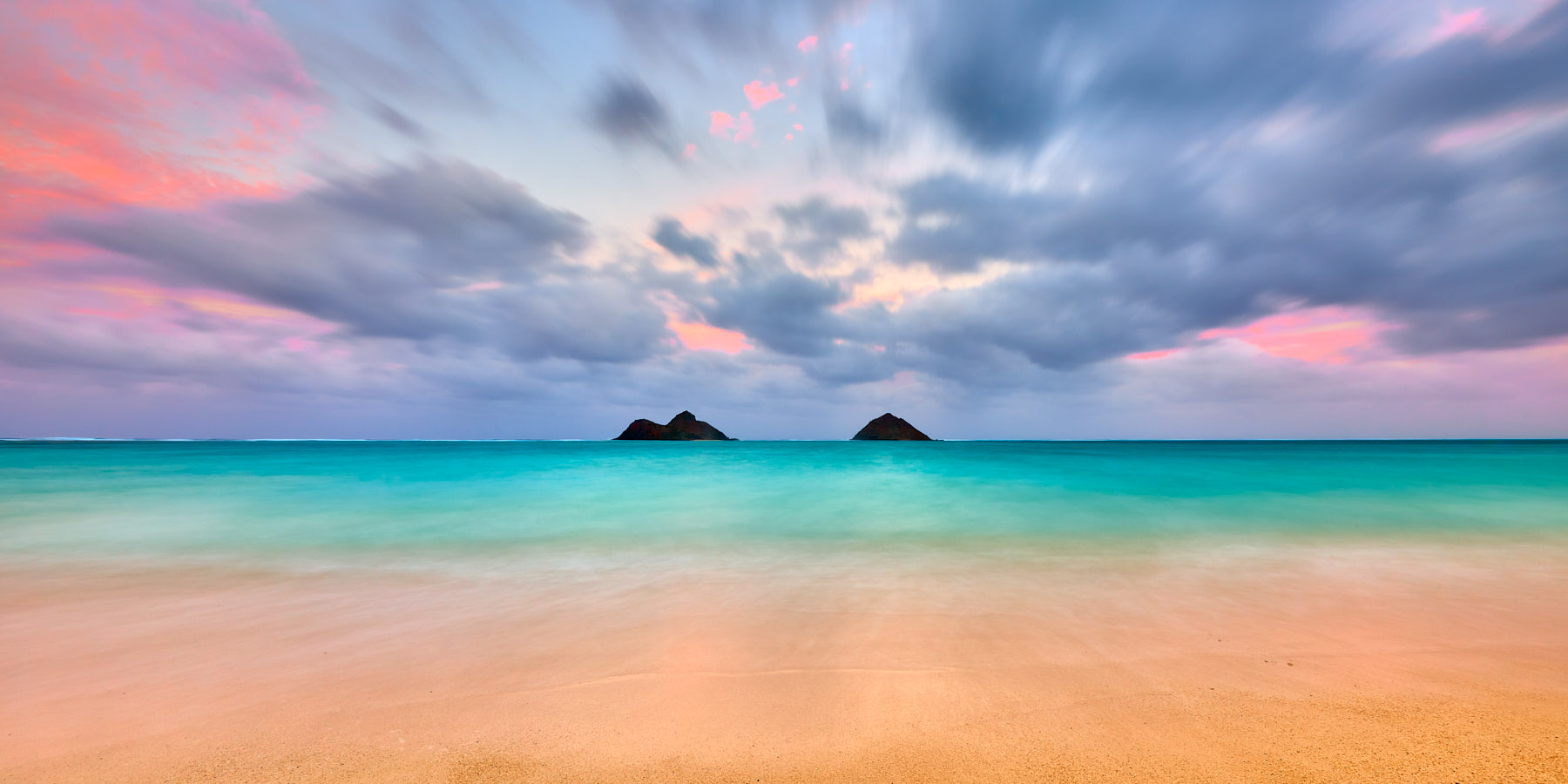 The islands of Hawaii offer a colorful landscape. This means you can find fine art prints of Hawaii landscapes to match just about any color scheme and atmosphere. You can find bright colors like orange, yellow, pink, blue, and white in photos of Hawaii's glowing sunrises and sunsets, flora, and powerful waves.
For warm tones such as browns, greens, and reds, explore photos of Hawaii's volcanoes, relaxing beaches, mountains, and teeming forests. Darker colors like blues, blacks, and deep reds can be found in photos of starry evening skies over the ocean and lava spilling from volcanoes.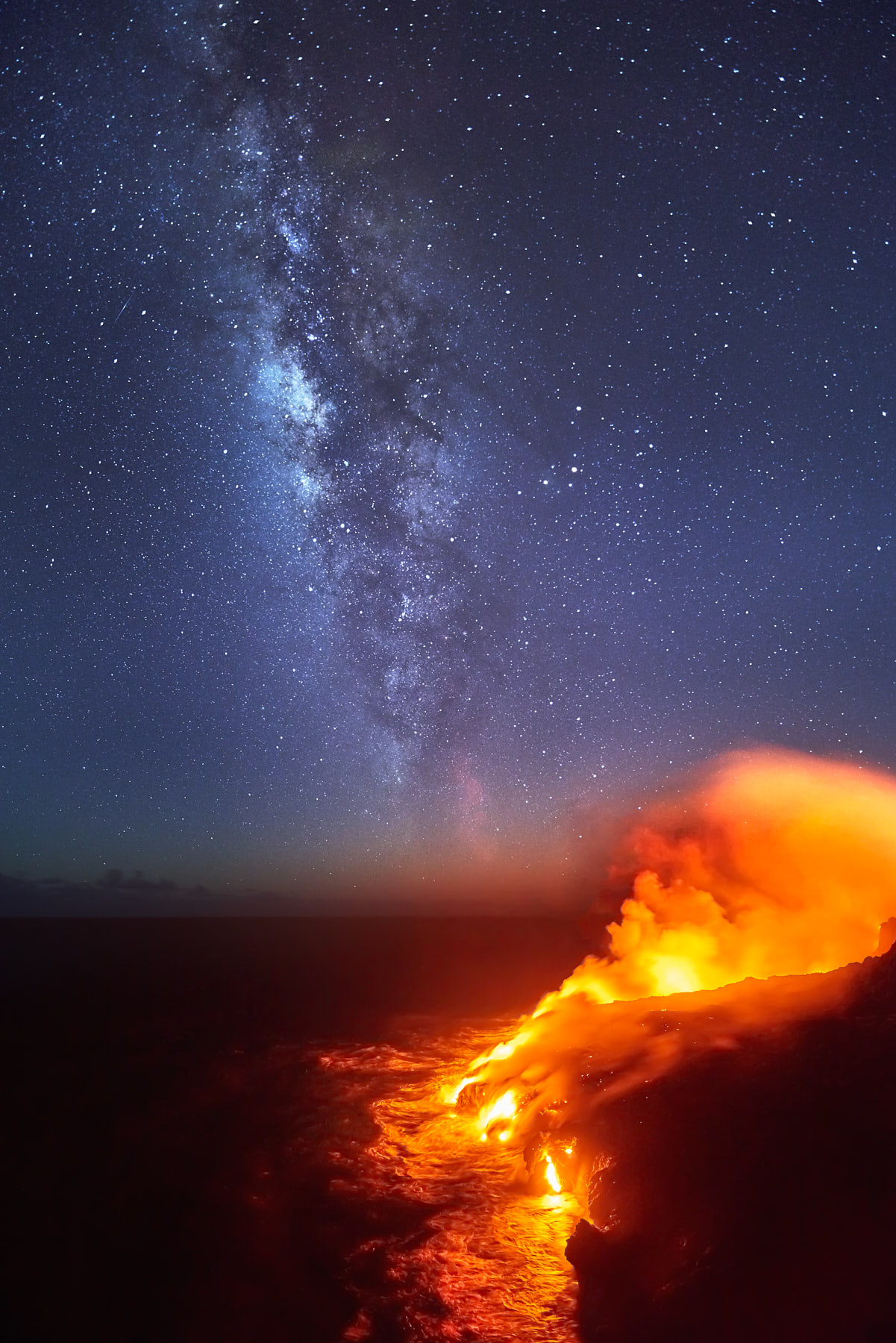 Choose Your Photo Size(s)
To choose the perfect art for your home, the prints need to be the right size to fill the space. A general rule to follow is that the photo should occupy between 60% - 80% of the blank wall space.
Hawaii landscape photos look great in all sizes but really come to life in larger sizes, making an impressive statement.

Another option for filling your wall space is to create a gallery wall with multiple photos. Gallery walls can have photos of different sizes and different shapes, photos of different sizes within a uniform shape, or photos of the same size that create a cohesive shape. Hawaiian landscape photos also look great as diptych and triptych multi panel art.
Questions about selecting the right photo size are common. One way to make sure you choose the best size for your space is to use a wall art visualizer. You send a photo of the wall you plan to hang the art and what photo and size you're considering, and we send you a mock-up so you can see how it fits in your space.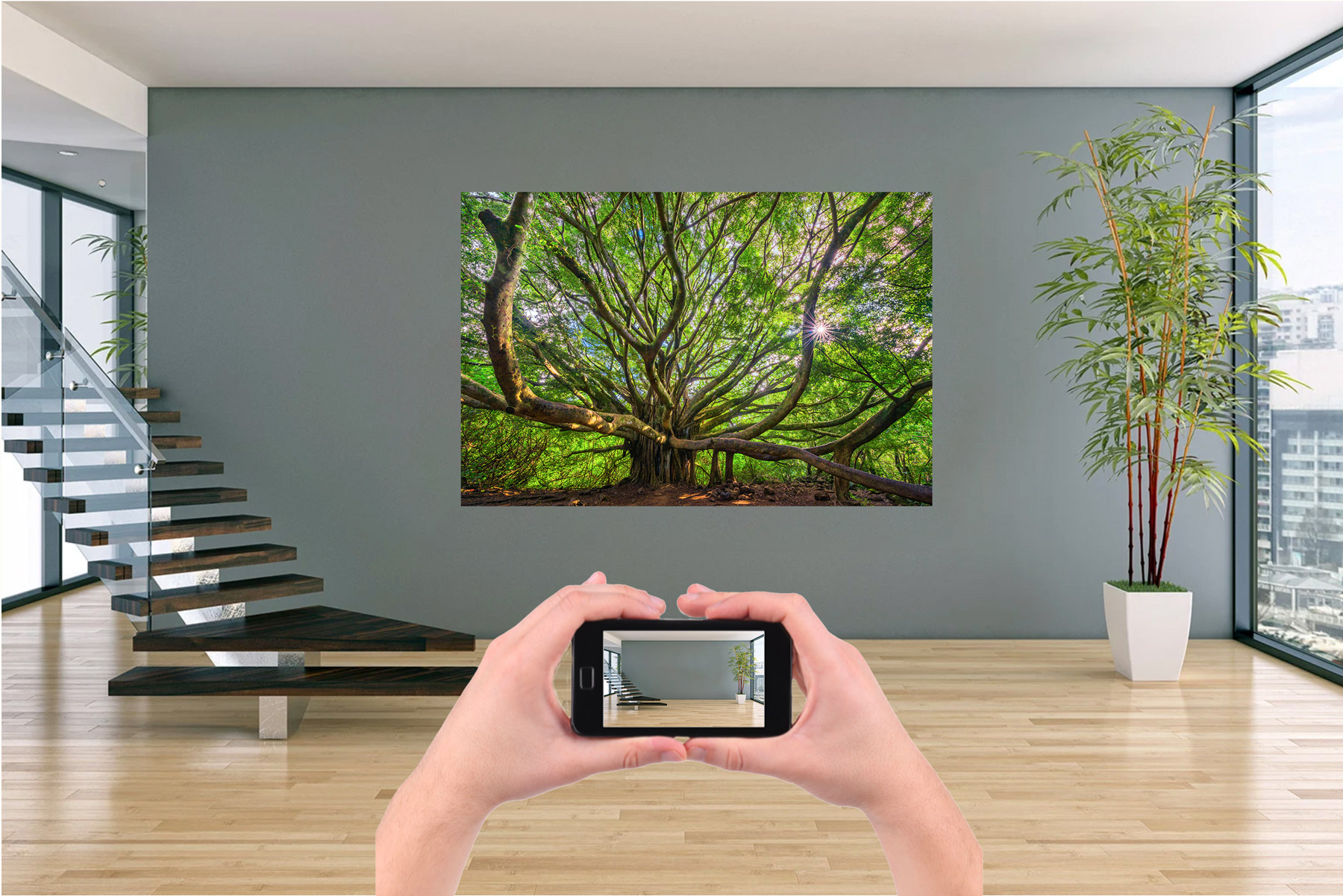 Choose Your Beautiful Hawaiian Photo To Hang
Knowing what color palette and size will best complement your space, now you just need to choose the perfect Hawaiian photo. You really can't go wrong, but some of the most popular Hawaiian landscape photos feature palm trees, breathtaking beaches, colorful sunsets, crashing waves, bright lava, underwater scenes, and starry skies. Explore this collection of popular Hawaii photos.

Even after you've found the perfect Hawaiian photo, it can be difficult to imagine the photo on your wall. To ensure you've chosen the right color, size, and subject, use the wall art visualizer to help select artwork for your home.
The process is simple. Send a photo of your space (the wall where the photo will be hung including furniture and surrounding decor). List what image(s) and what size(s) you're considering. I'll create and send you a mockup of your wall with the image(s). This can help you decide if the color scheme works with your room and what size photo will best fit the space.
If you're considering enhancing your home's decor, explore the variety of Hawaiian landscape photography available at the Andrew Shoemaker Fine Art Gallery. Please contact us if you have questions or need help selecting the perfect image for your space.