---
As an artist, one of the things that got me most excited about photography was shooting Hawaii panoramic photos. There are many reasons why I enjoy creating these images and also many advantages to adding one to your space! Let me explain.....
---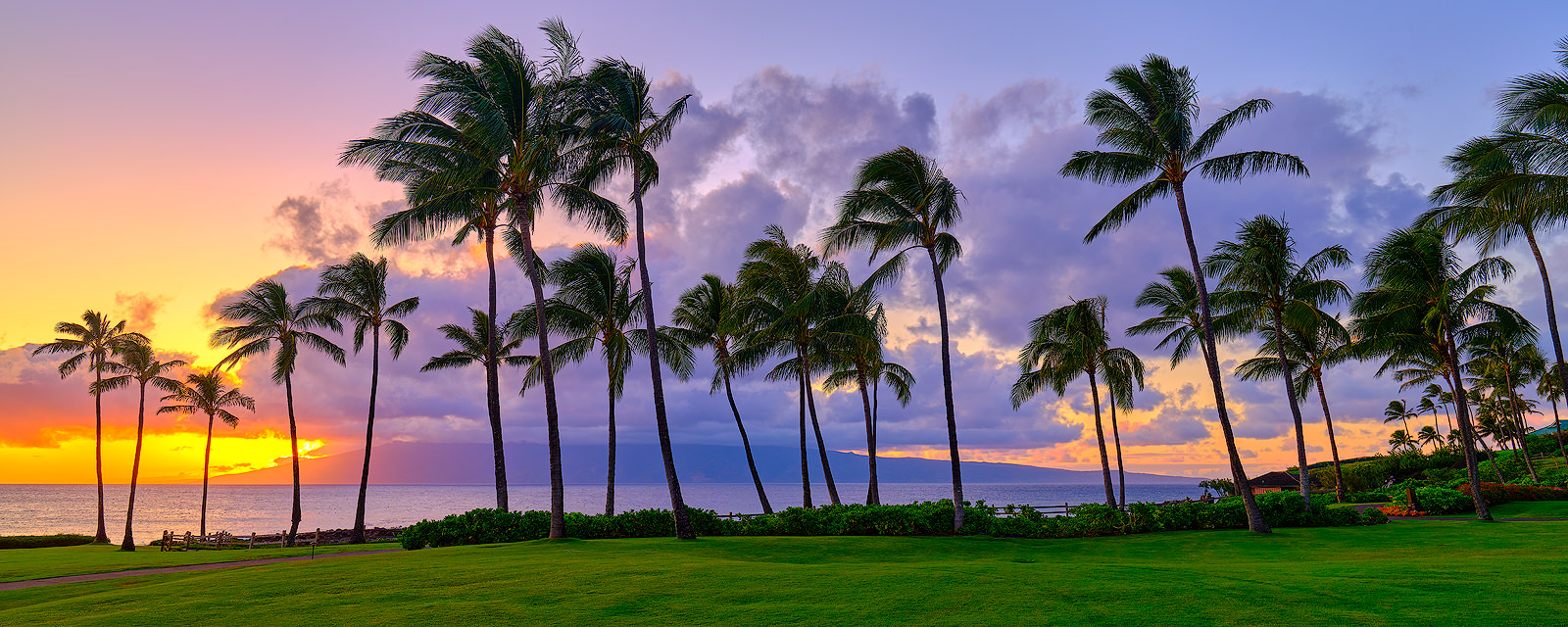 ---
Nature-Themed Panoramic Prints
Panoramic photo prints are a dramatic and breathtaking way to decorate your home or office. A panoramic photo is wide and unobstructed, taking in an extensive area in all directions. It can also be called wide format photography.
Why are Hawaii panoramic photos so popular? The incredible vistas and varied terrain are a big attraction for people who visit the islands, and photographs of the raw beauty of nature bring a piece of this back home. From mountains to beaches, there's truly something for everyone.
Panoramas offer the ability to shoot not just whole mountains, but entire mountain ranges. This is a big draw for landscape photographers and people seeking a glimpse of wide expanses of mountains in nature. Hawaii has jungle-covered mountains, so the photos are all very green and lush.
---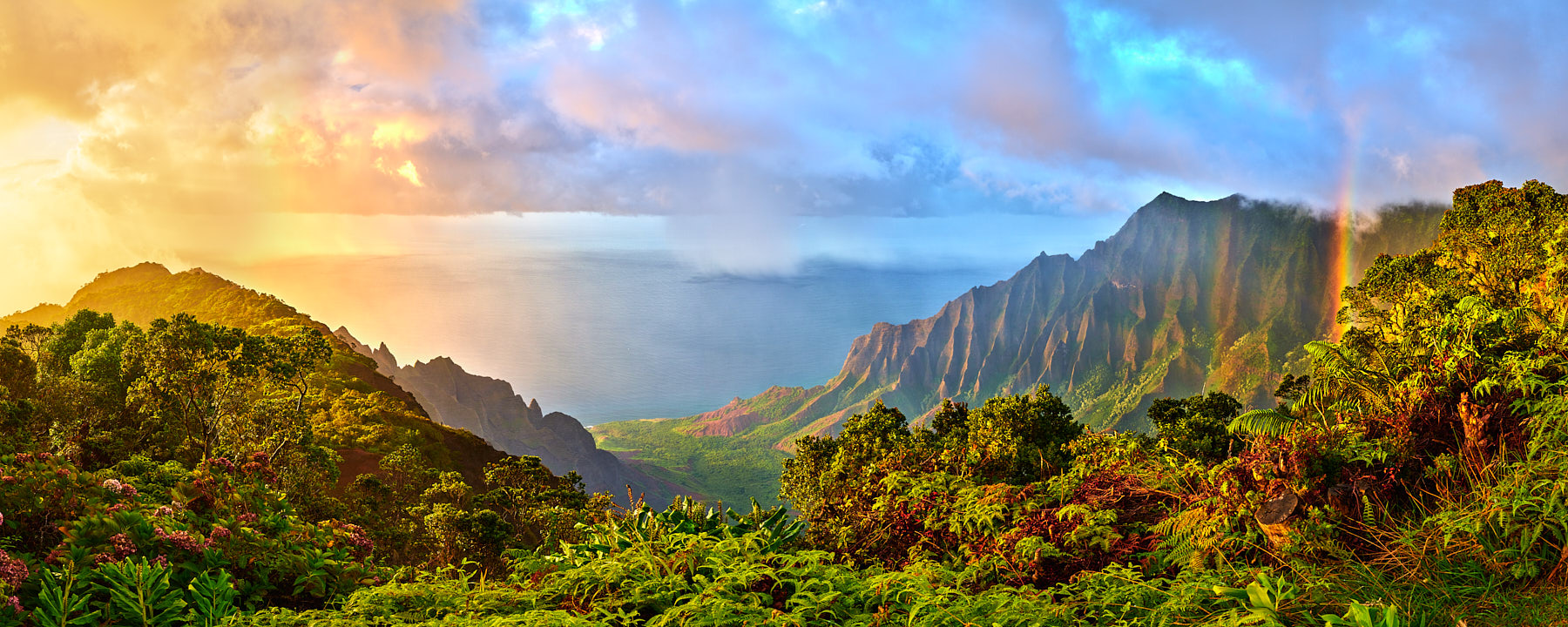 ---
The vastness of the ocean is hard to capture in any image. With a panoramic photo, you can get a better idea of water stretching as far as the eye can see.
---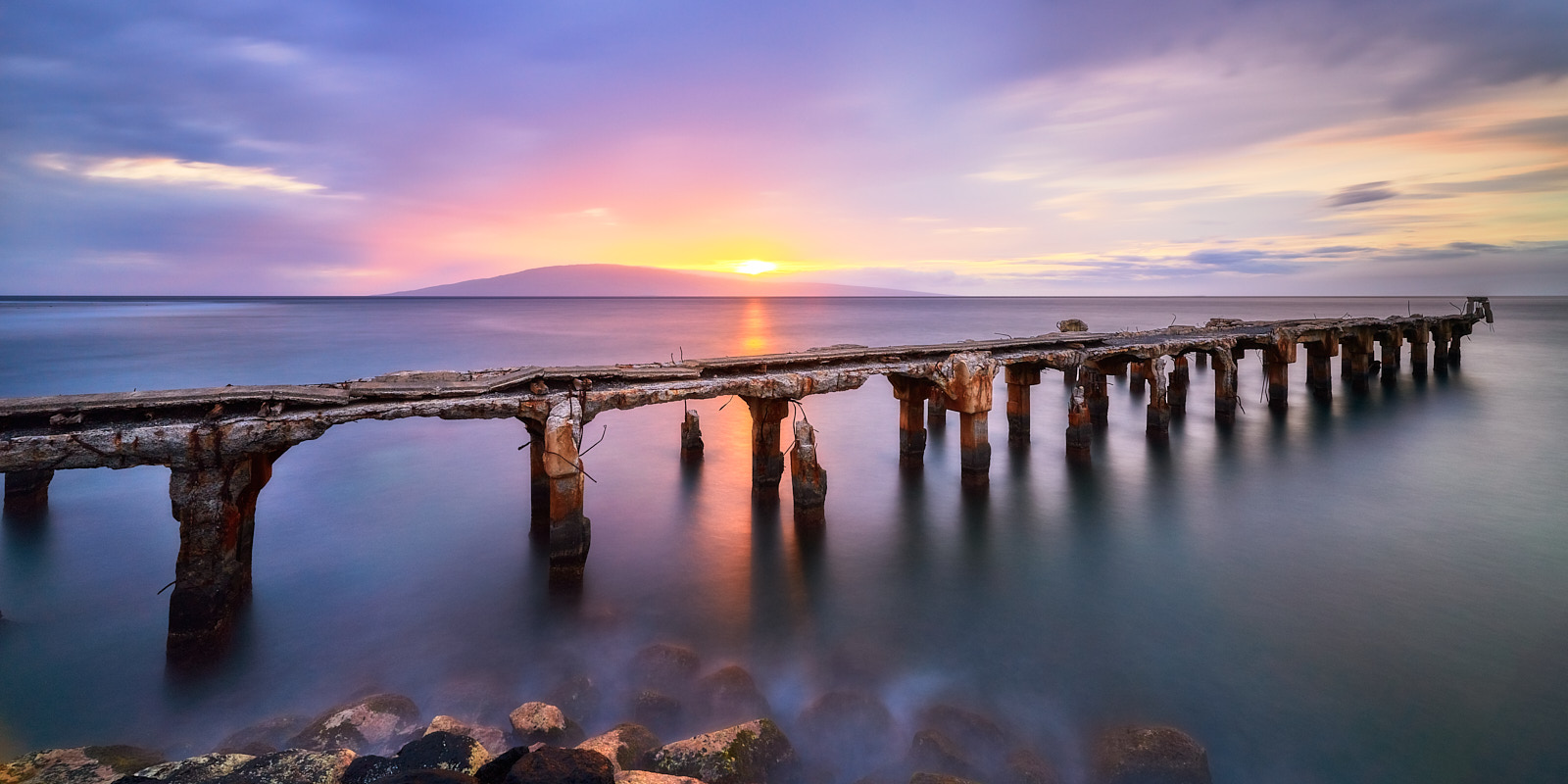 ---
Wave photographs are a popular print, as the wider dimensions show the full range of the wave curl.
---

---
You can't forget Hawaii's famous beaches! Black volcanic sand adds a distinctive contrast to the bright blue water and green foliage. Panoramas make it so nothing is cropped out of the image.
---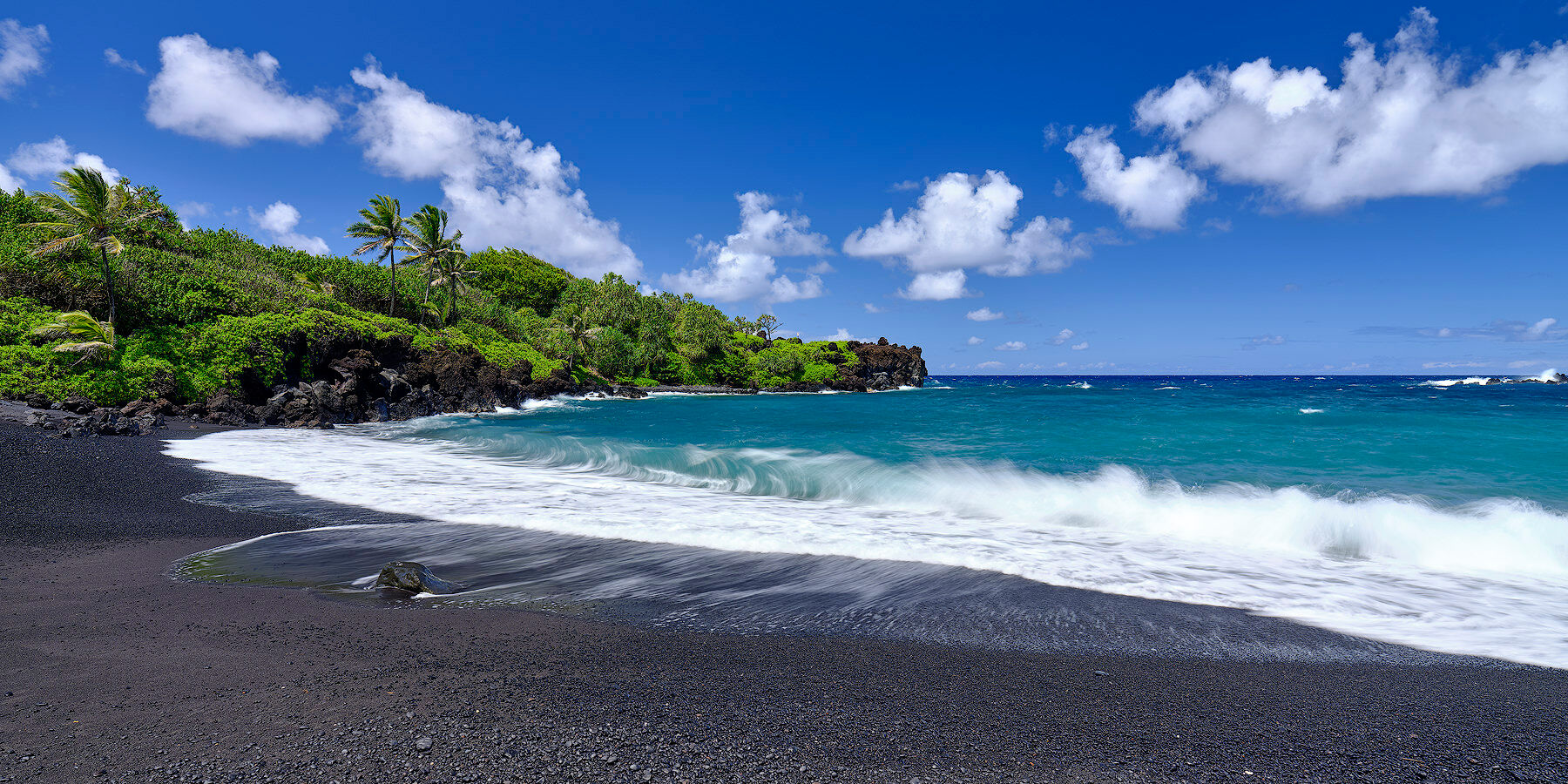 ---
Forests lend a calming feel to any room, especially those who have actually been to Hawaii and can imagine the wildlife all around. Try playing a soundtrack of nature sounds to get really into the moment. Visualize the jungle with birds, insects, and all the rest.
---
Where Should I Hang My Panoramic Print?
Panoramas are typically displayed quite large and are more likely to attract attention than typical images. This type of wall art can be used for high-impact interior decorating. Panoramic prints have an aspect ratio of 2:1 or larger, with the image measuring at least 2x wider than it is high.
Panoramic images look best in larger spaces. Wide, empty walls are the perfect location. Placement above sofas or beds lend a theme and a focus to any room. Empty space above stairwells or doorways are popular as well.
---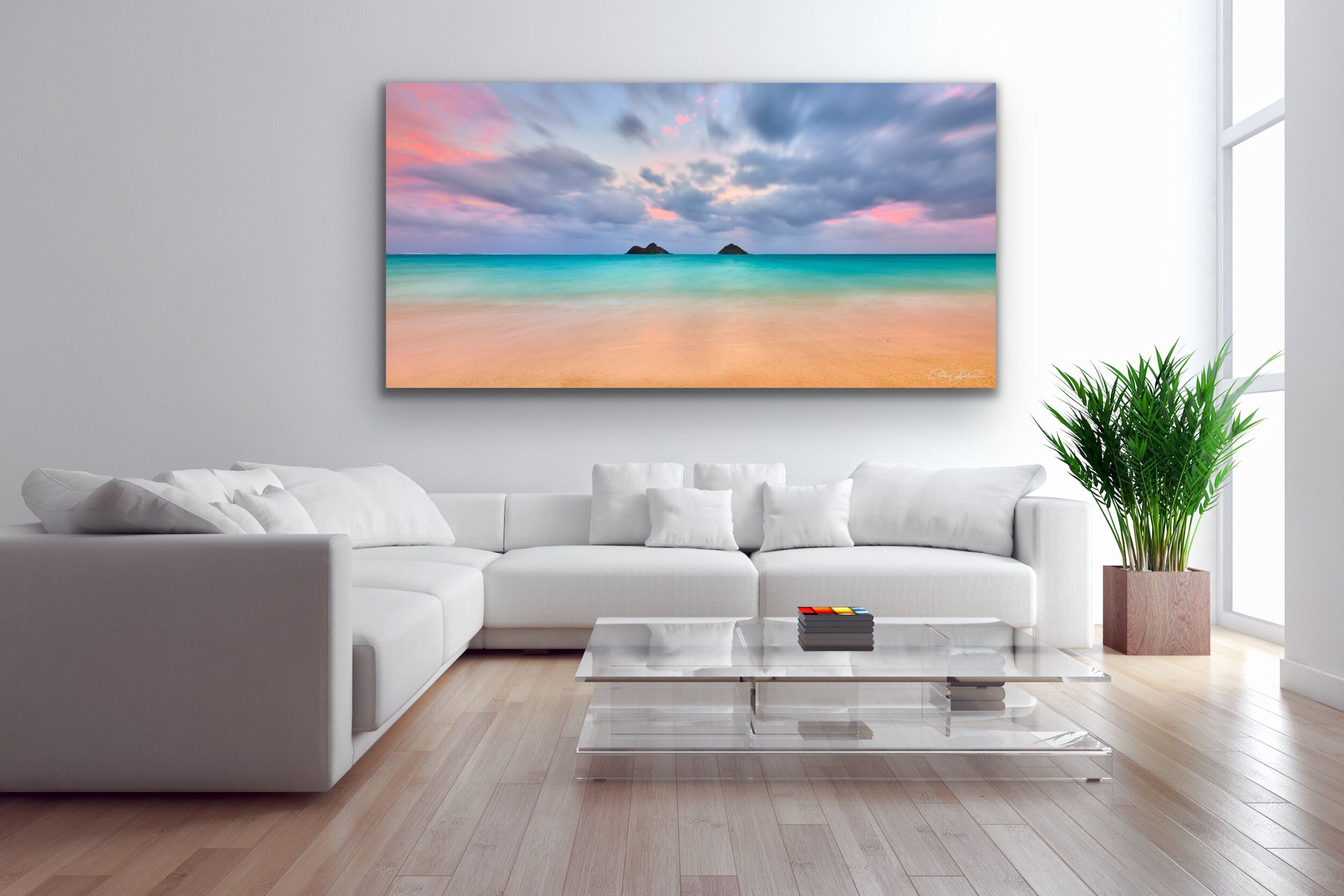 ---
Another great option is a vertorama. This is a vertical panorama, meaning the image can stretch from floor to ceiling instead of side to side. A great way to fill up an empty column or unused narrow wall space, vertoramas are available in a number of sizes.
---
---
Photographing Panoramas
Panorama photos are more technically difficult. I furthered my development as a professional photographer by shooting panoramic images. It's not quite as easy as taking a pano with your iPhone! These images take a lot more time and planning than standard photographs, as multiple images need to match and line up perfectly.
Most modern panoramic images are created by joining multiple photographs with slightly overlapping fields of view. Modern software such as Photoshop or Lightroom can be used to digitally stitch images together into a panorama. This used to be done manually by cutting and gluing photos together! The stitching method also allows for larger, more detailed prints, along with more cropping ability in post-processing.
---
Explore the Prints
I'd love for you to check out the magic of panoramic photos. View all of my Hawaii panoramic photos and vertoramas here