How to Get Stunning Hawaii Panoramic Photo Prints
We've all seen stunning landscape photos in large scale on display in hotels, galleries, and fancy restaurants. If you're a photographer, you may see these showpieces and wonder how you can create large panoramic photo prints without compromising quality.

Photo quality and print quality play an equally important role in creating stunning panoramic photo prints. We review what makes a great panoramic photo, the print mediums you'd choose from and how to get a custom-printed Hawaii pano photo. Find out how to optimize both for eye-catching wall art in the article below.
What Makes a Great Panoramic Photo?
When shooting photos, the rules of photography are always important. But there are some that don't always work well if you're shooting panoramas. So, pay extra attention to the essential components of panoramic photography, which are lighting, composition, subject, and clear background. Whether you're trying to learn how to take a panoramic photo on your iPhone, Android or digital camera, the qualities of great pano pictures are similar.

· Great lighting

· Subject and composition

· Foreground & background balance
Lighting
Light is by far the most important element of any photograph. A photo of a stunning location taken in harsh noon light will fall flat. However, a photograph of a boring location taken at a moment when the light is magical transforms it into a unique and memorable picture.

The golden hour light of sunrise and sunset are usually a favorite time for photographers. In many of my ocean wave panoramas, the dawn or dusk tones of the sky perfectly compliment the blue of the sea.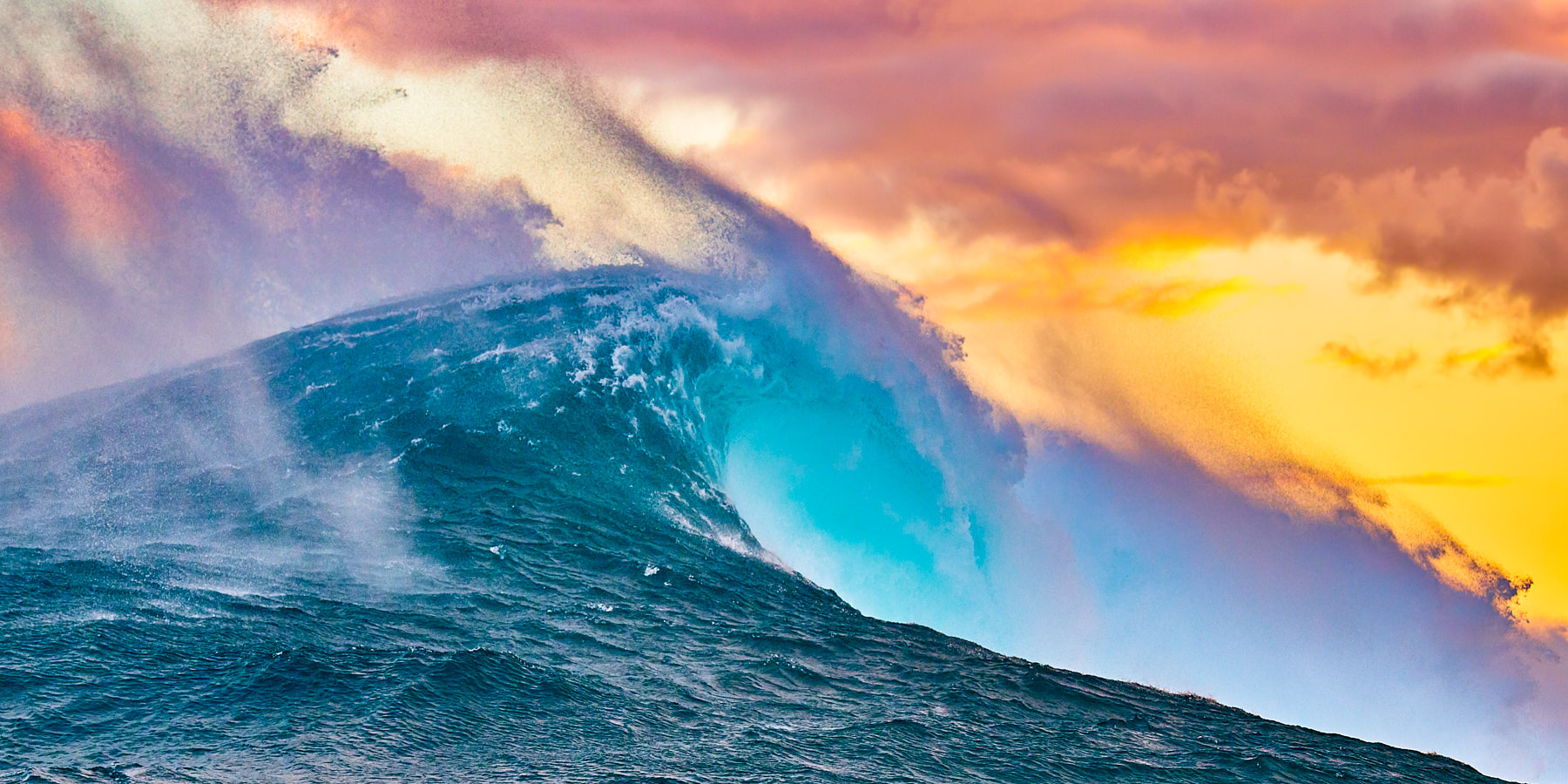 Subject and Composition
These elements are always important but for panoramic images, they are absolutely key and often need to be thought out in advance. In this image, the foreground subject and its reflection are the compelling draw.

Without a clear subject, whether it's in the foreground or takes up the background (like a mountain range), your photo will simply not work.
A Clean Background
Find an angle to photograph your subject so there are no distracting elements in the background. That means getting up high and shooting down on your subject so the background is filled with only one texture, or getting low and shooting upwards so the background is filled with only sky.

Drone photography has given us an extra plane of photography, with the ability to shoot straight down. In this photo, the texture of the water holds its own beauty but offers a clean background to the turtle floating on the surface.

Without a clean background, the turtle would be lost among other elements, and the photo would be entirely different.
Panoramic Photography Print Options
With advances in printing technology, panoramas can be bigger and bolder than ever before. However, producing large enough panoramic photo print sizes are often beyond the capability of a typical printer. Do your research and find a large-format printing company that handles fine art prints.
Print Mediums
There are many different print mediums for panoramic photography. The most traditional prints of panoramic photos are on canvas.

Acrylic can be found in galleries worldwide. This offers a crystal-clear print on photo paper with a protective surface for long-lasting prints.

Metal prints are considered a bit more artistic. These are potentially even longer-lasting than acrylic, as they are practically indestructible. This medium is also very useful in environments with extreme humidity, such as swimming pools.

Other types of prints can be on wood, fabric other than canvas, and more.

Read more about my gallery-quality print mediums here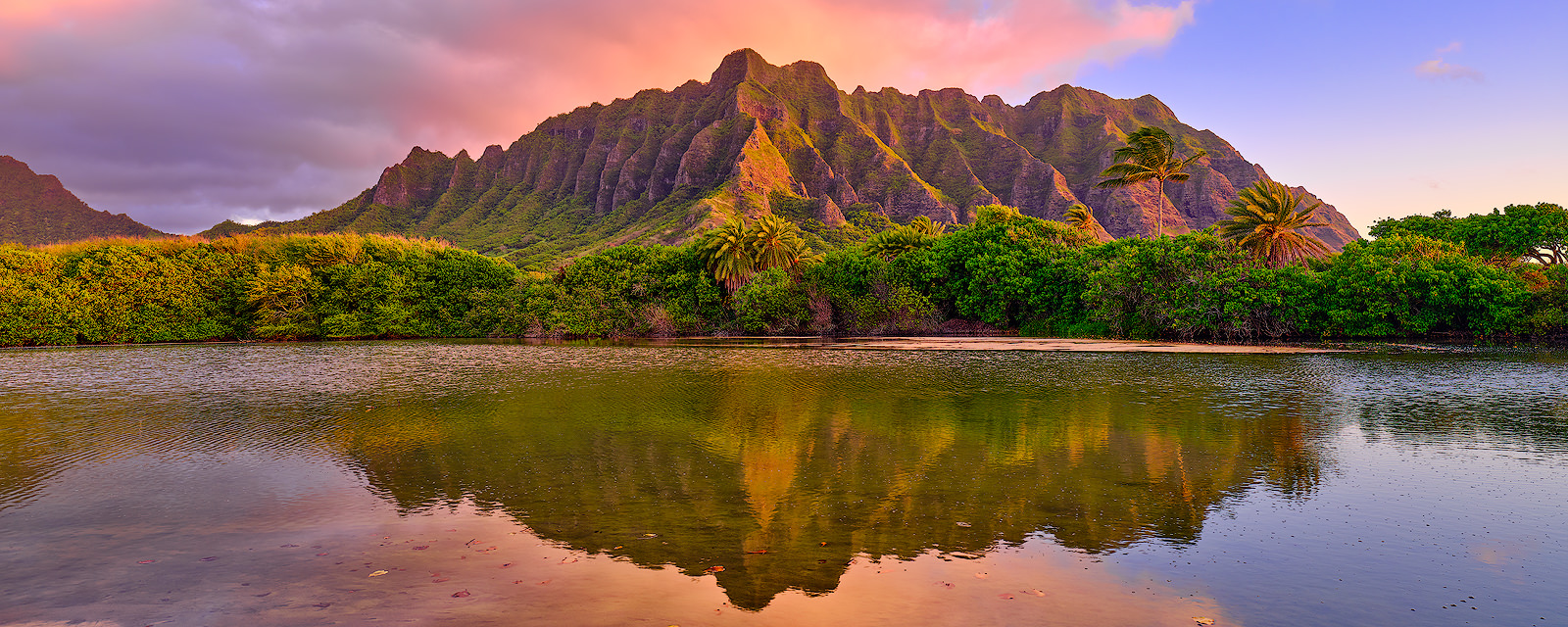 How to Print a Panoramic Photo
Create a high-quality image
Panoramic photos these days are multiple images shot from the same area stitched together with a photo editing program. A good edit can make or break a shot. If you're aiming to print large panoramas, your edit has to be perfect.


Panoramic size ranges are based on aspect ratio. When you first compose your image, make sure you include extra space at the top and bottom to allow for cropping. You may prefer to lose a little of the sky or a small amount of the foreground in order to achieve a perfect result, and you wouldn't want to destroy your image due to lack of extra space.
Choose the right print size
Not sure about panoramic photo print sizes? A good way to find the right size for your space is to make light pencil marks on the wall you plan to hang your panorama on. Keep in mind that panoramic prints can also be vertical! Never printed a large image before? Use this calculator (https://printpanoramics.co.uk/...) to figure out how large you can print your panorama. Thinking about printing something from your iPhone? It's possible but depends on how big you want to go.
Choose the right print medium
What's going to be the setting of your print? Will it be in a modern glass and stainless-steel office, or a rustic villa living room? Your print medium should help bring your space together, either by becoming a talking point or blending seamlessly into your existing décor.
Check the white balance

This one makes sense if you edit your own images. If your white balance is off, your entire photo will look strange! Most fine art printers offer the option of a test print, to be sure their color tones match your expectations. It's often worth it to spend a little bit extra to ensure your print will turn out the way you want it to, especially if it's for a commission in an existing space.
Learn More
Hope this helped round out your knowledge about panoramas! Photo quality and print quality both play an important role in creating stunning panoramic photo prints. Check out my gallery here