Hawaii is a tropical paradise with some of the most optimal growing conditions in the United States. Maui in particular has numerous microclimates on just one small island, which has led thousands of species of trees, flowers, and other flora to make their home there.
There are more 80 different species of trees found on Maui alone. You may be thinking that a tree is just a tree, right? Not on Maui! Let's take a closer look at a few of the most iconic and magnificent trees of Maui.
---
The Coconut Palm Tree
Eleven species of palm trees can be found on the Hawaiian islands. One type of palm tree most often associated with Maui is the coconut palm tree.

Coconut palm trees are not native to Maui, but they have thrived here for a long time. Between 1000- 1200 AD early Polynesians settlers brought the coconut palm across the Pacific Ocean to Hawaii. The coconut palm flourished in the warm tropical climate and rich soil.
Tall coconut palms are the most common and have an average height of 18 meters, once they've reached maturity. A mature tree can produce between 50 and 80 coconuts per year.
A major benefit of the coconut palm is its many uses such as:
The coconut flesh for food, milk, and flour
Healthy coconut water
Coconut oil for cooking or skin care
Making rope out of coconut husk
Palm leaves can be used for thatching
While the tree has many practical utilizations, they are also beautiful to behold and create relaxing shady spaces on the beach.

Palm trees are a tropical icon. Some of the most magnificent Hawaiian beach photography includes palm tree silhouettes and a warm tropical sunset, a grove of coconut palms on a sunny beach, or a curved palm tree reaching out over the blue ocean water.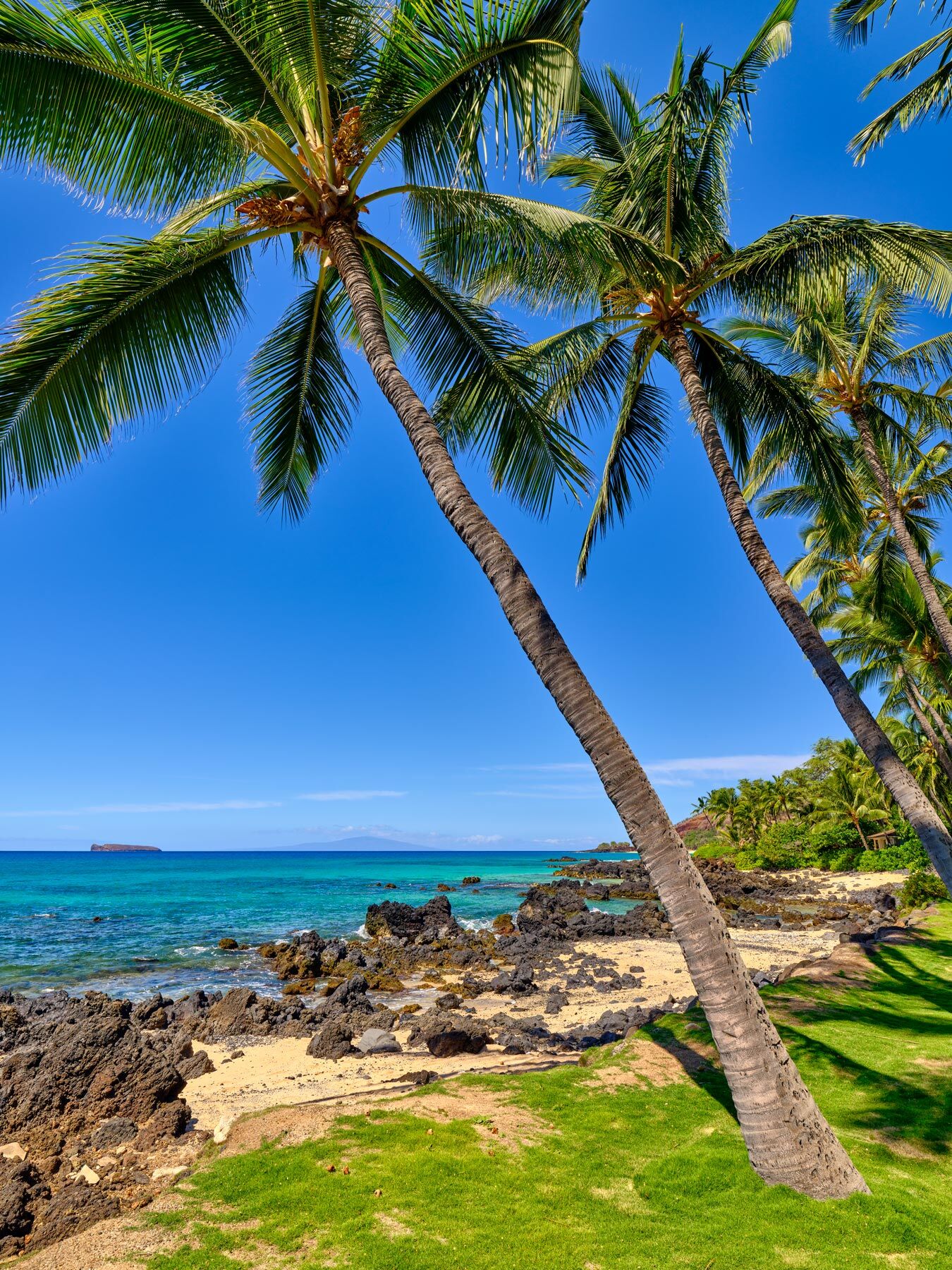 ---
The Banyan Tree in Lahaina
There are a lot of impressive looking trees in the world, but the banyan tree is one of the most awe-inspiring. Banyans can be found throughout Maui, but the largest and oldest banyan tree in Hawaii, and in the US, is in Lahaina.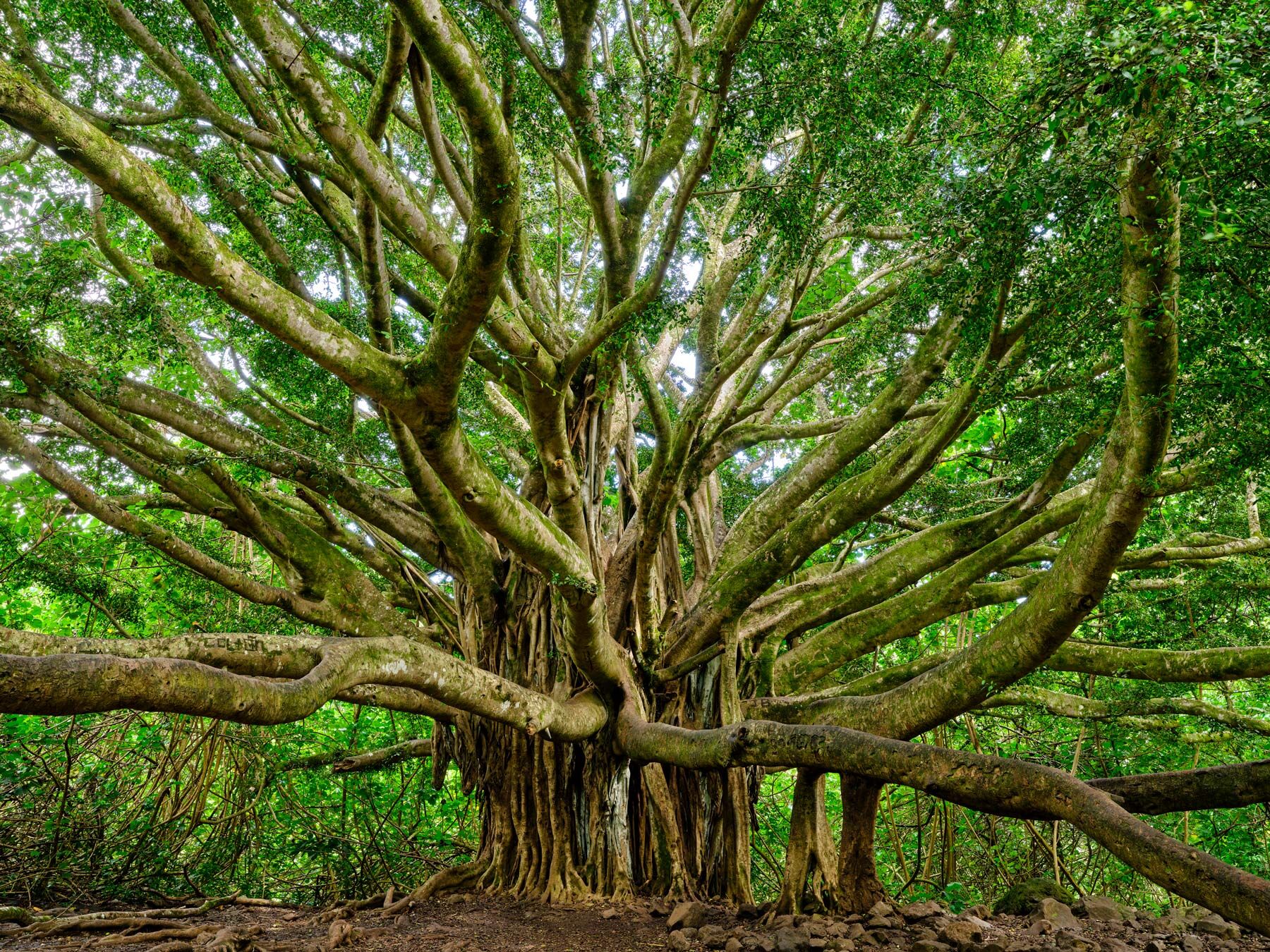 Banyan trees have sprawling horizontal branches and wide leafy crowns. They can reach heights of up to 100 feet and grow laterally through the ariel roots the grow down from the tree, adding to the primary trunk. Banyans are the world's biggest trees in terms of the area they cover.
The Lahaina Banyan in Maui was planted in April 1873. The tree was gifted to Maui Sherriff William Owen Smith by missionaries from India, the native home of the banyan tree. The Lahaina Banyan is the oldest in Hawaii and one of the oldest banyan trees in the USA. This April, the Lahaina Banyan will celebrate its 150th birthday!
When the tree was planted it was only 8 feet tall. Since then, it has grown to over 60 feet tall, and its canopy spans a quarter-mile. You can visit this magnificent tree at Banyan Tree Park at the corner of Front Street and Canal Street in Lahaina- only 1 block from the Andrew Shoemaker Gallery!
---
The Rainbow Eucalyptus Tree
It may seem like a fake picture, but anyone whose been fortunate enough to see these trees in person knows that the other-worldly rainbow eucalyptus tree is very real. These trees are native to the Philippines, but can thrive in other warm, humid climates- like Maui!

So, what causes this rainbow tree bark effect? The tree's bark is thin and sheds, or peels away, periodically throughout the year, revealing a bright green layer underneath. Air and sunlight cause these under-layers to change color over time. The long strips of bright green fade to darker green, and then blue, purple, pink, orange, and maroon before returning back to brown and beginning the process all over again. Because it sheds intermittently, the trees colors are in a constant state of change, displaying multiple colors at once and never repeating the same pattern.

To add to the already mesmerizing features of the rainbow eucalyptus, these trees can grow up to 250 feet tall with a diameter of up to six feet.

You can find rainbow eucalyptus trees throughout Hawaii, but two common places to see them in Maui are at the Keane Arboretum and botanical garden and the rainbow eucalyptus forest just off the Hana Highway.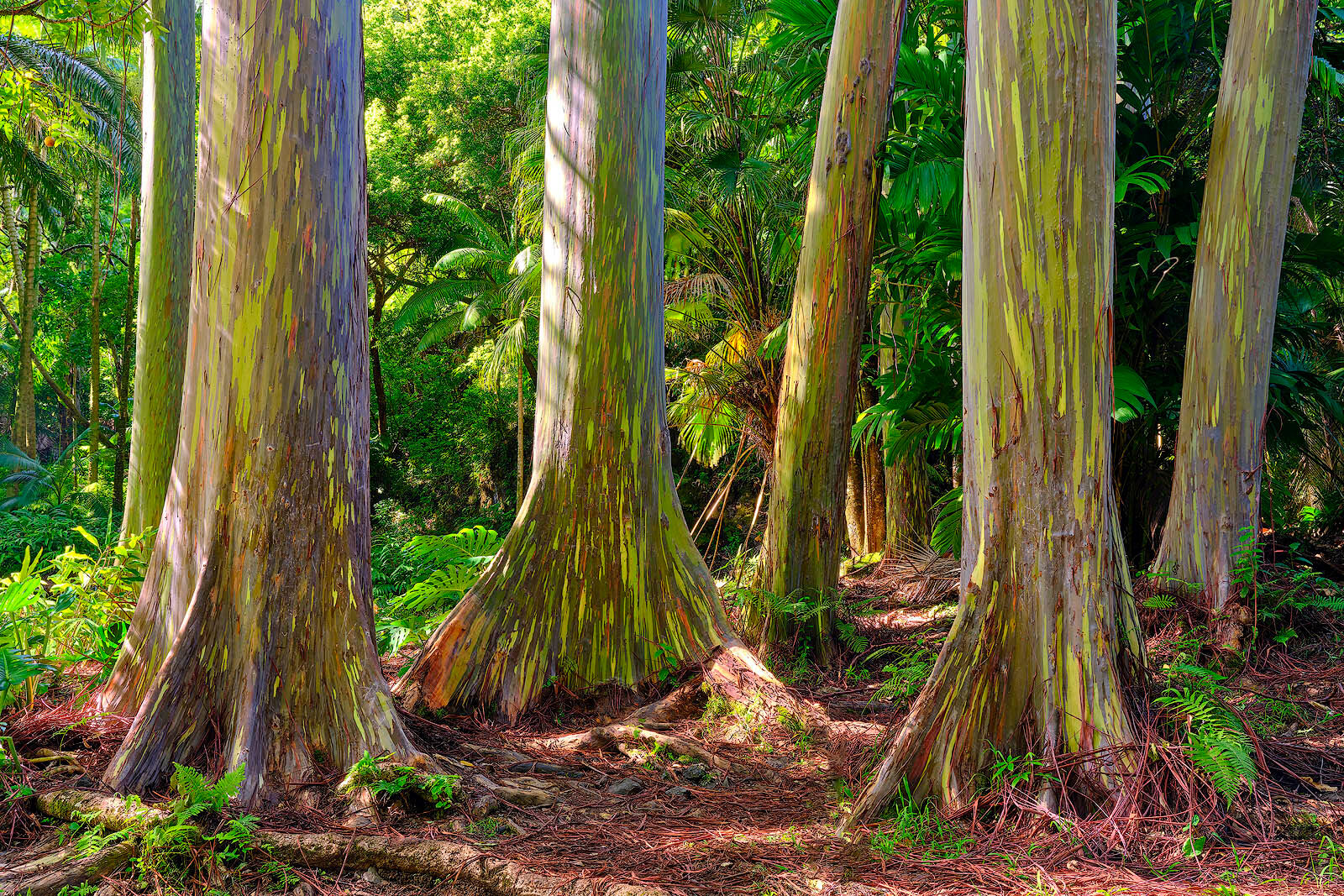 ---
Maui's Bamboo Forest
Although bamboo is technically not a tree, it's a grass, it has properties and aesthetics very similar to a tree. Bamboo grows tall, has strong wood-like stalks, and has medium sized green leaves, just like a tree. It is also the only type of grass that can develop itself into a forest.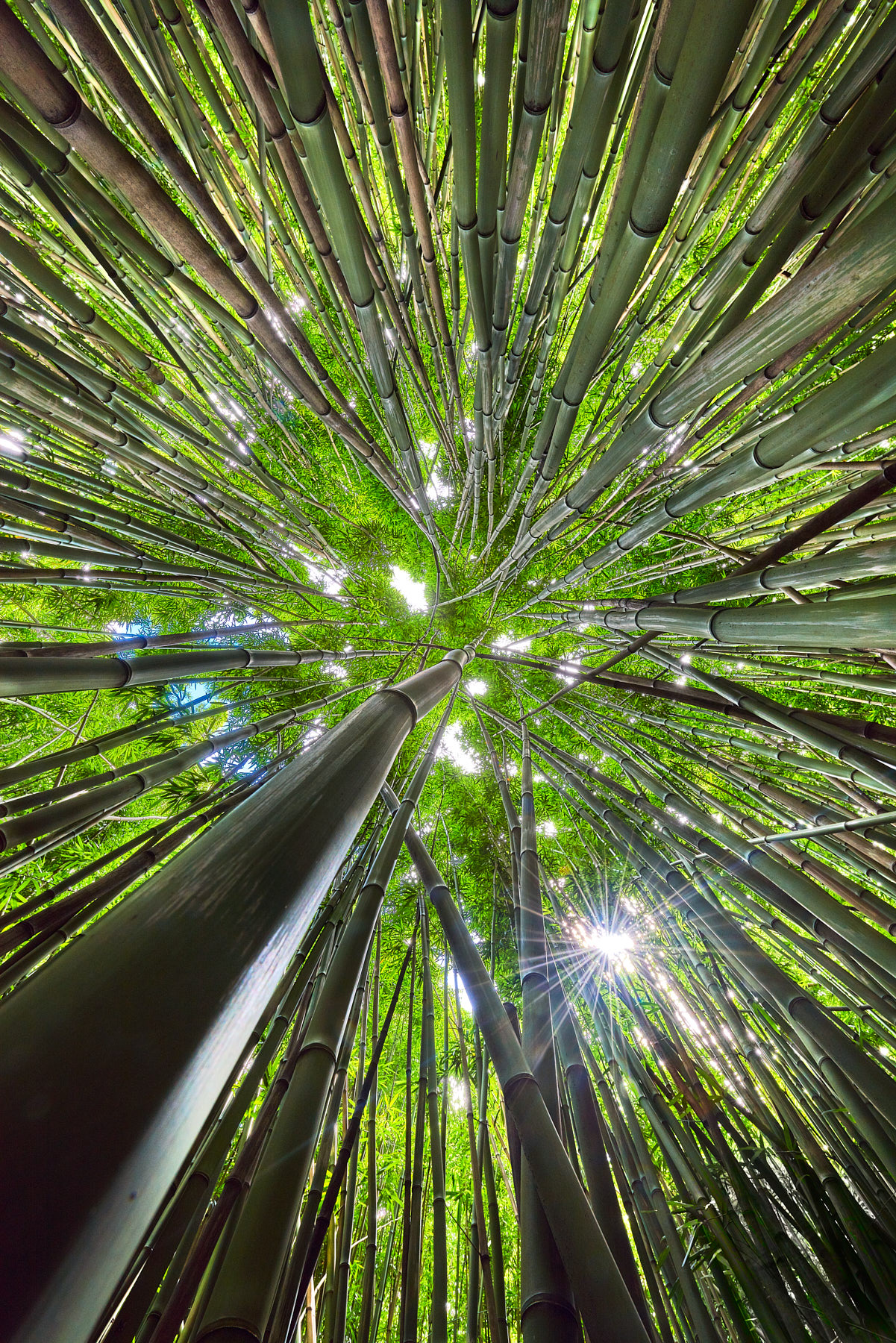 There are three main varieties of bamboo found in Hawaii, the most common being Golden Hawaiian bamboo. It is characterized by its yellow stalks with green stripes and can grow up to 50 feet tall with culms 4 inches wide.
Shockingly, it can reach its full height in as little as two months. Bamboo is the fastest growing plant on Earth, with some species growing as much as 1 meter per day. If you are patient enough, you can actually watch a young bamboo plant grow.

One of the most impressive places to see bamboo in Hawaii is on the Pipiwai Trail in Maui. This is a popular spot for those traveling on the Road to Hana. Not only does the trail pass through one of the most easily accessible bamboo forests on Maui, those hiking the Pipiwai Trail will also encounter a magnificent banyan tree.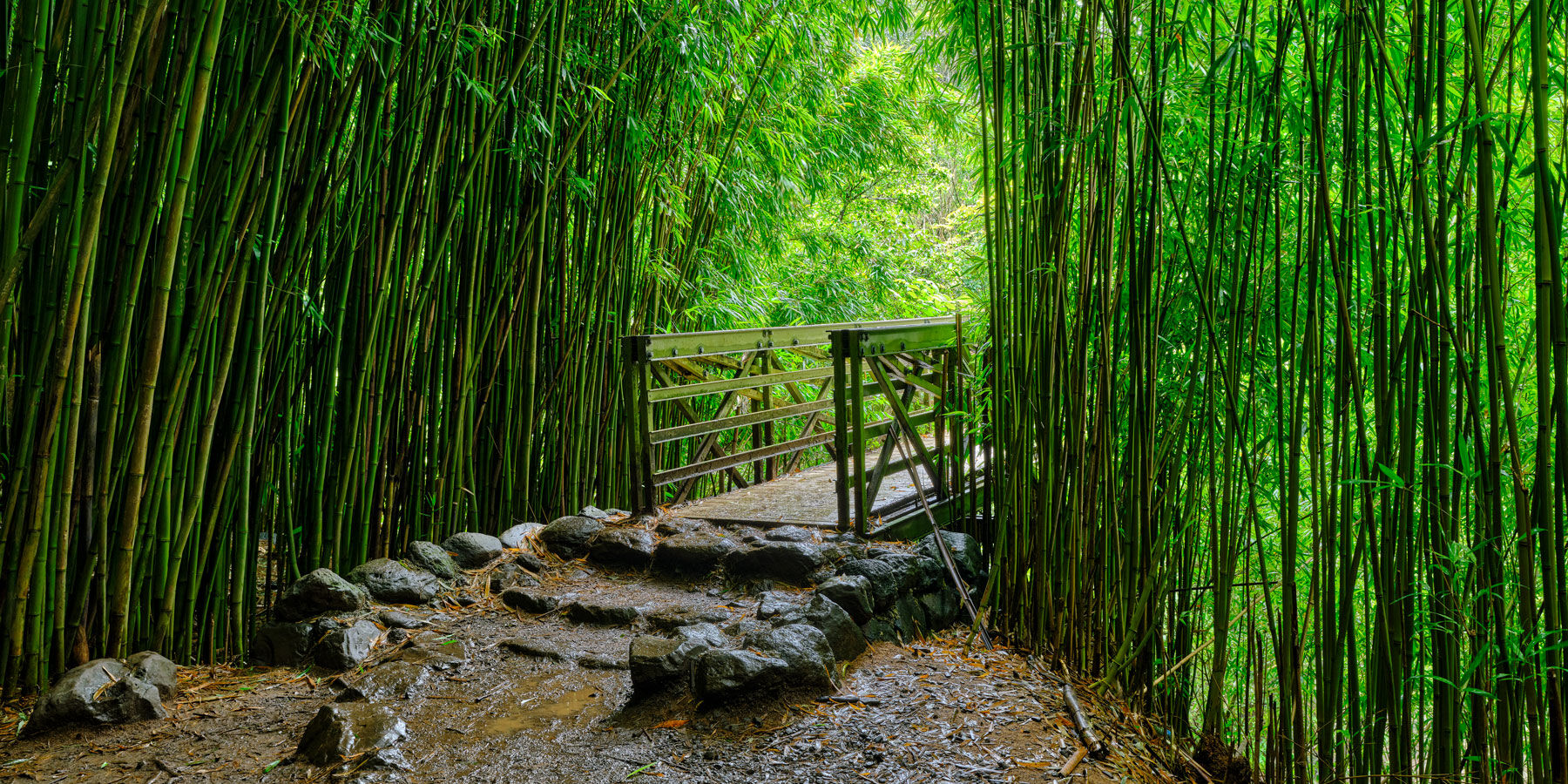 ---
Hawaiian Landscape and Tree Photography
From the towering trunks of the banyan trees to the striking silhouette of the coconut palm, all of Maui's majestic trees are worth admiring, and make excellent subjects for fine art photography.

Whether you're a nature lover, have traveled to Hawaii, or simply appreciate beautiful art, check out our online photo gallery to see a stunning display of Maui's forests, trees, mountains, and waterfalls. Prints of Maui's magnificent trees and tropical landscapes are a great way to bring a piece of Hawaii's natural beauty into your daily life.