Many customers have reached out over the years looking for an alternative to Peter Lik or have sometimes made their way through my Lahaina Gallery and compared our print style. What we pride ourselves on is the overall customer experience, quality and aloha you receive collecting art from Andrew Shoemaker.
---
The Prints
Many people have visited my own gallery and or any of the Peter Lik Galleries and when you get to see how the acrylic facemounts react to different light, it can really seem magical how they appear backlit. The acrylic facemount process was actually invented in 1969 so it's been around for a while and is considered the finest way to display photography in the world. Contrary to popular belief, this process is available to most fine art photographers and is the most accepted printing process for museums and galleries worldwide.
Over the years as printers, paper, and the acrylic itself have evolved, the prints have just gotten better and better! Andrew uses a very special proprietary process called Lumachrome™ in which the prints are printed at a staggering 1200dpi on a special metallic paper which far exceeds that of traditional FujiFlex Crystal Archive continuous tone silver halide paper in detail and color gamut. This process also does not use any harsh chemicals like traditional LightJet printers so it's considered more environmentally friendly.
The Lumachrome™ process is engineered to overcome and surpass the limitations of the traditional Fujiflex chromagenic processes and inkjet processes. Details appear to emerge in 3D from the depths of the image with the Lumachrome™ process thanks to the transparency layer that is infused with iridium particles and is encapsulated in a layer suspended between the white poly surface and Acrylic.
The acrylic sheet on the face of the print is really what allows the light to refract through the acrylic and illuminate the print itself appearing almost backlit. Andrew uses only the finest acrylic in the world and has options available for different environments. Most people prefer the glossy acrylic finish as it has the most overall impact but, there is also a matte/satin finish acrylic as an option if glare is a concern. Andrew also uses TruLife acrylic which reduces reflections but is also scratch resistant in high traffic areas.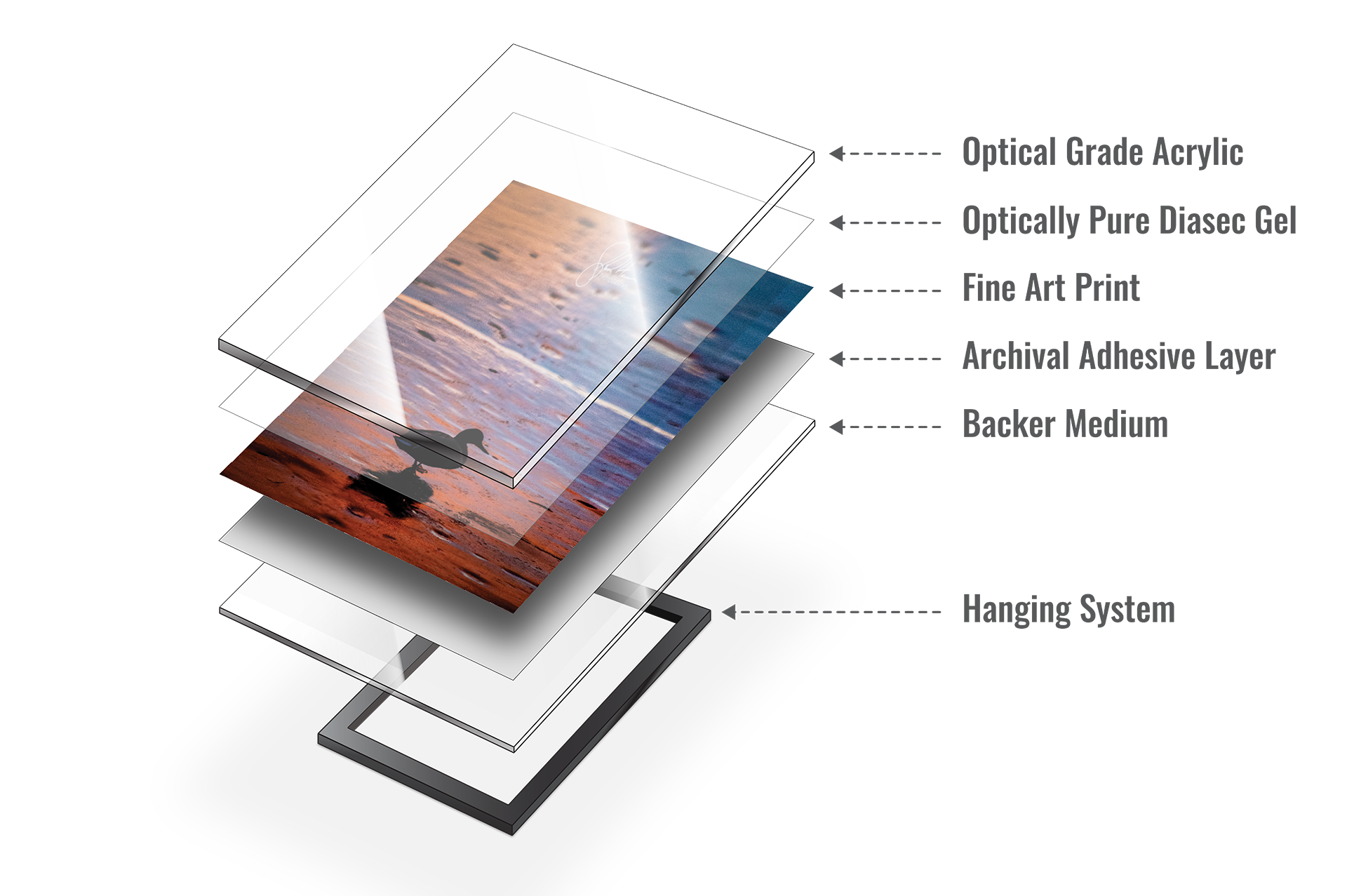 In addition to acrylic facemounts, the prints are also available as Chromaluxe metal prints. Metal prints have a very 3D look and can be placed in harsh environments where acrylic prints won't work. Metal prints are extremely durable and very hard to scratch and do not require any special cleaners.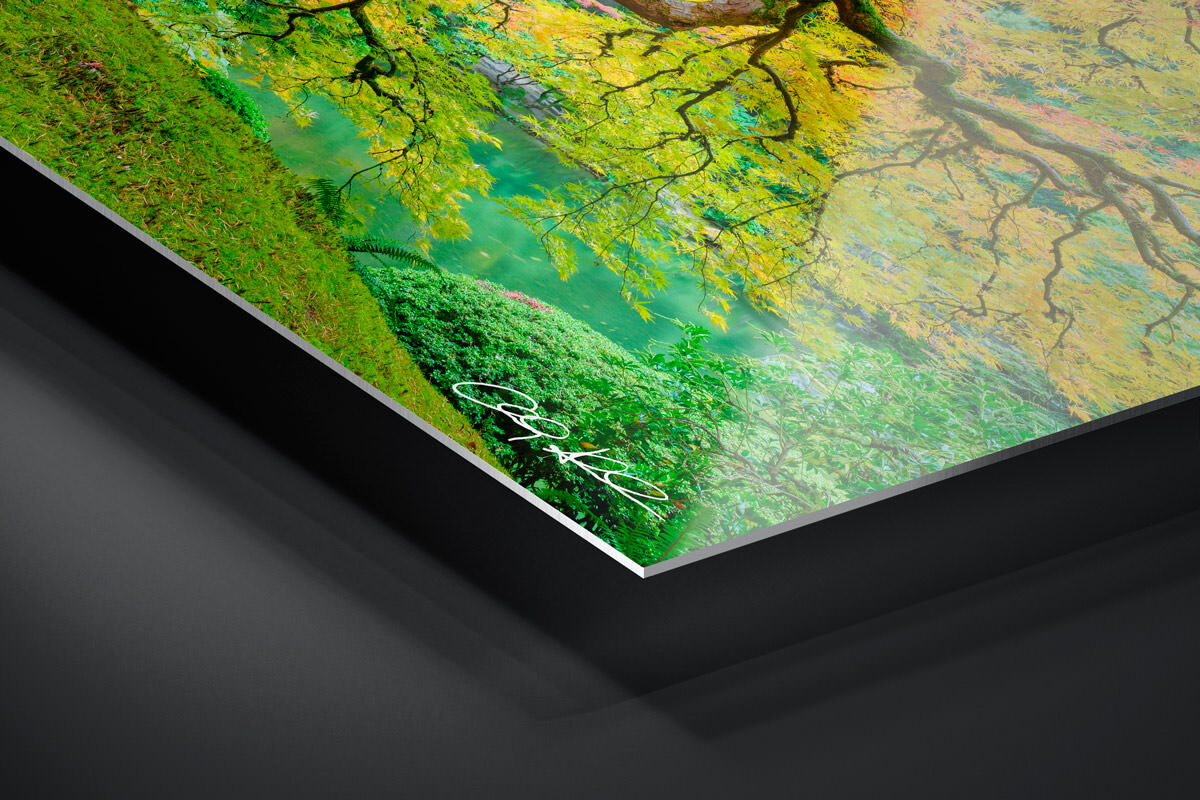 ---
What kind of paper does Peter Lik print on?
Peter Lik prints on FujiFlex Crystal Archive paper and according to his website, his artist proofs only are printed at 610dpi. With the proprietary Lumachrome™ process Andrew uses, there is technically almost twice the detail at 1200 dpi and also no harsh chemicals used in the printing process. Andrew's commitment to the ultimate in quality and sustainability is not only unique, but unsurpassed.
---
The Details
Most of Andrew's prints are available to collect with either 50 or 100 prints in the edition. Peter Lik offers editions of 950 and 450 with Artist Proofs editions of 45 prints as well as Hors Commerce Editions of 30 just for the galleries themselves. This alone can make Andrew's work even more collectible due to a more limited availability. Each collector's edition is signed and numbered and a certificate of authenticity is provided for provenance.
---
The Image
As much is made about all of these small details, the most important thing is the connection to the art. Do you relate to the art or does it have a special connection? Over the years, this is the most crucial aspect of collecting art. How it resonates with the viewer and your own life experiences. Does it tell a story perhaps or a life lesson that you've learned? Sometimes an interior designer might suggest certain art but over the years I've found that if you don't relate to the art, well then it's just something on your wall and not something that you're actually attached to. Whether we connect with the location, conditions, color scheme, etc., it's my goal for us to unite through the artwork and emerge with a greater experience and enjoyment in life and mental well being. You deserve to be thrilled by all of the art around you!
---
Overall Experience

The customer is treated with the utmost respect and personal attention. Whether you found us through our Lahaina Gallery or found us here online, you have a 1 on 1 relationship with us and can reach out at any time. 100% customer satisfaction is most important to us as we love all of our collectors as our own Ohana. We offer custom sizing and framing to accommodate your space and have completed thousands of print projects for collectors throughout the years. You can reach Andrew directly via the Contact page for any questions or projects. We also offer a Free Art Visualizer service which will help you see how the art will look in your space before you even purchase.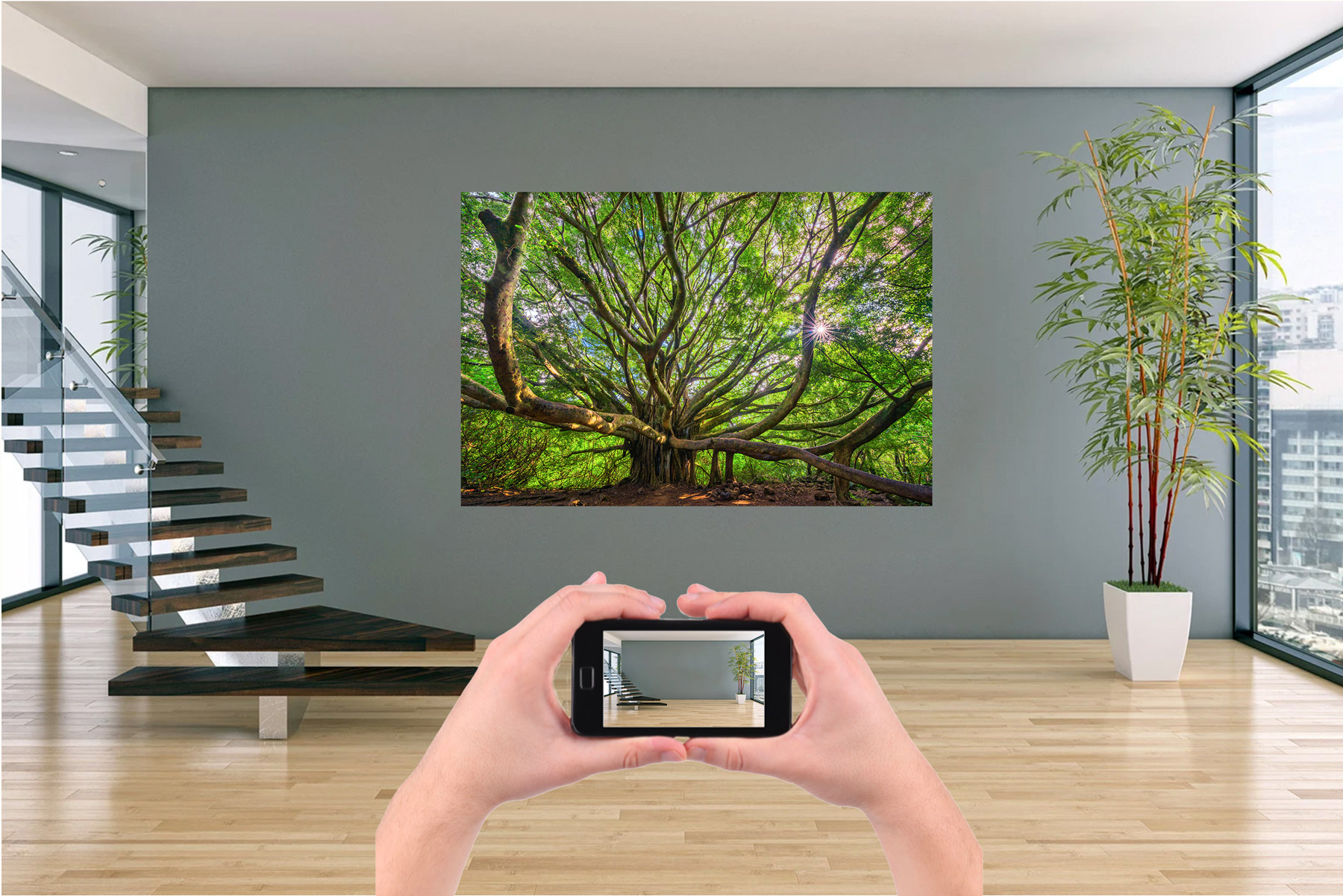 ---
Non-Affiliation Disclaimer
Andrew Shoemaker Photography stands independently and declares no affiliation, sponsorship or partnership with any registered trademarks. Any product names, logos, brands or other trademarks featured or referred to within the Andrew Shoemaker Photography website and associated social media forums are the property of their respective trademark holders. These trademark holders do not sponsor or endorse Andrew Shoemaker Photography or any of its products or comments.

---