Photographing wildlife in Hawaii is a must-do for anyone interested in the photographic arts. The best times to visit the islands vary widely by what type of wildlife you want to see. Read more about when to visit, necessary equipment, timing and some of Hawaii's most popular animals to photograph.
---
The Best Times to See Wildlife in Hawaii
Thinking about visiting Hawaii? Photographing wildlife in Hawaii is a must-do for anyone interested in the photographic arts. The best times to visit the islands vary widely by what type of wildlife you want to see. Below is some information about when to visit, what you need to bring for wildlife photos, and a bit about Hawaii's most popular animals to photograph.
Popular Times to Visit
The best weather in Hawaii is typically during June, July, and September. Hawaii is always fairly warm, but these months have the least amount of rainfall. If you're doing underwater photography this won't matter as much as photography on land, but it's always nicer to spend your vacation in the sun!
High season is December to April, so avoid this time if you'd like the most popular spots to yourself. July and August are also fairly busy due to the timing of summer vacation for school-aged kids and their families.
Read on for animal-specific times to visit.
Wildlife Photography on Land and Sea
You can see many different types of wildlife in Hawaii. When capturing images of wildlife, it's important to have the right equipment. Good wildlife tours will avoid disturbing the animals, so your guide shouldn't be getting too close. This means you'll need a good zoom lens for faraway shots. Drones are very versatile as well, but check the rules about flying drones in Hawaii as you may need special permits.
If you'll be photographing from a boat, make sure your gear is watertight. If you decide to go a level further and capture underwater images, a good-quality camera housing is essential. Underwater cameras like GoPros are great for amateur photographers, but they don't offer the option to zoom in for those up-close shots. Again, a very important part of Hawaiian culture is to leave the creatures undisturbed.

Popular Hawaiian Wildlife
Hawaiian Green Sea Turtles
The sea turtles of Hawaii are famous worldwide, especially the Hawaiian Green Sea Turtles. Sea turtles are called honu (pronounced hoh-noo by Hawaiian locals).
Summer is nesting season. From May through September, the sea turtles head to the beaches to lay their eggs. These areas are protected until the baby turtles can hatch and make their way into the ocean.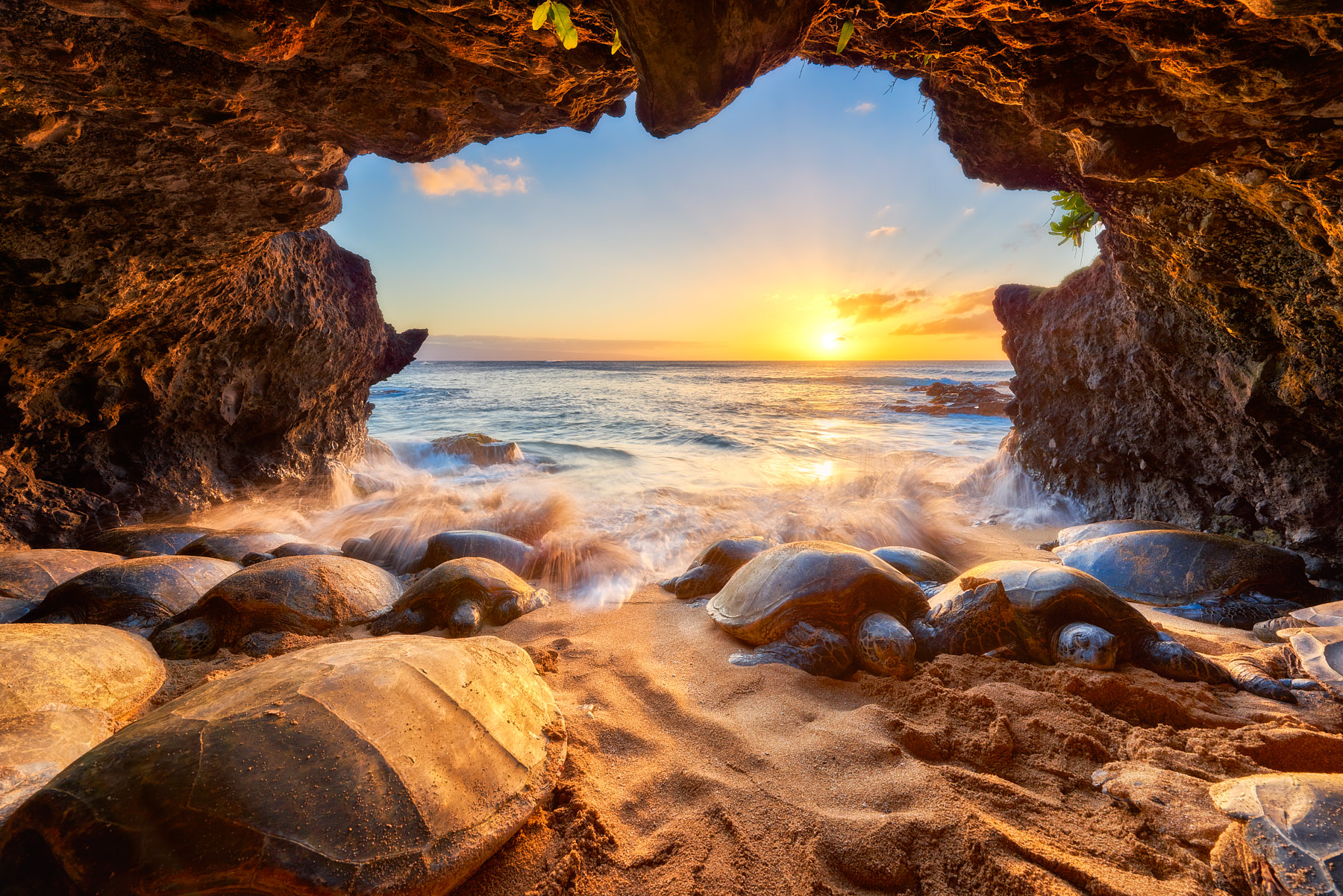 These enormous turtles can grow to be 300 pounds and 80 years of age! It is VERY IMPORTANT to avoid touching the turtles at any time. If you're caught mishandling, mistreating, or holding sea turtles in captivity, you can face fines up to $100,000 and even prison time. Give them a safe distance and enjoy these beautiful creatures without disturbing them.
Tropical Fish
The best time to see tropical fish when snorkeling is July and August, but you can see them pretty much anytime around Hawaii. Watch for Butterflyfish, Parrotfish, Snapper, or the Hawaiian state fish, the Humuhumunukunukuapua'a!
Hawaii's waters generally are crystal clear with excellent visibility, especially in protected marine reserves on each island. If you're looking to get underwater images, consider booking a tour.
For more information on where to find tropical fish, visit this website (https://www.tombarefoot.com/in...).
Whales
Whales migrate to Hawaii in pods of roughly 1,000. Humpback whales are believed to be the embodiment of Kanaloa, God of the Oceans. The majestic mammals are incredible to see, in or out of the water.
Whale watching season is December through April with the peak during January and February. Maui and the Kohala Coast of the Big Island are two of the best places on Earth to spot the giants.
Other Marine Life

Some other sea-dwellers that can be found around the Hawaiian Islands are Spinner and Bottlenose Dolphins, and the endangered Monk Seals.
Is there a best Hawaiian Island for wildlife viewing?
There isn't necessarily a best island for wildlife in general, but there are some islands that are less populated. Kauai is well-known for abundant wildlife. However, during nesting season, the Green Sea Turtles are quite numerous in areas such as the Ho'okipa Beach in Maui. Find a local or book a tour if you want the up-to-date conditions and locations for the best wildlife in Hawaii.
Most Important – Keep the Wildlife Safe
It's important to find Hawaiian wildlife tours that help protect the animals. Eco tourism in Hawaii isn't just a buzzword, it's a way for the native islanders to protect the natural beauty of the area. There are some endangered species in Hawaii, and it's everyone's job to keep the islands safe, even if you really want the shot!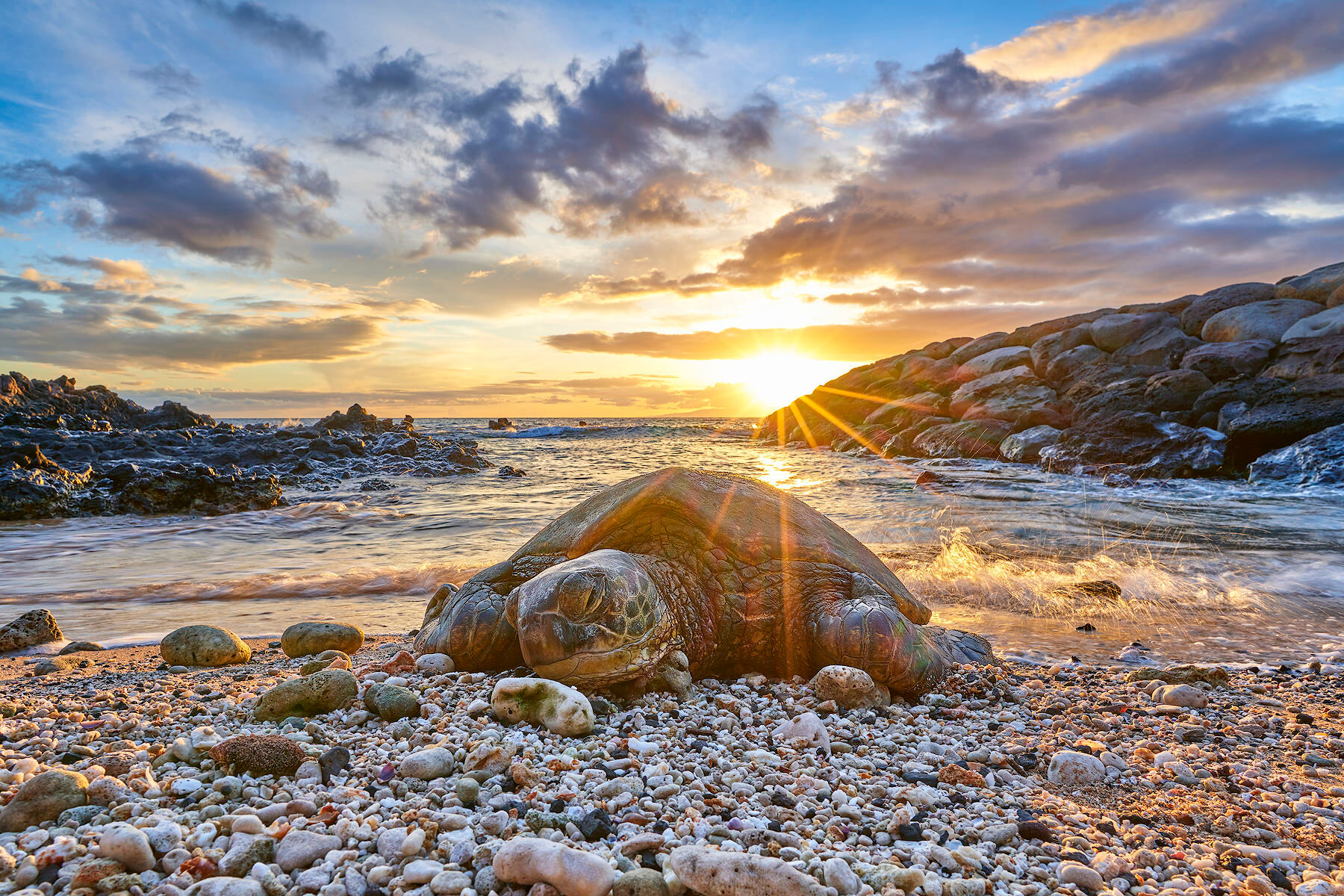 Hawaiian Wildlife Images
Want some images to take home? View my full Hawaiian ocean life gallery here or, if you'll be visiting Hawaii, visit the gallery in Maui. Happy travels!