The Road to Hana on Maui is one of the most unique and memorable destinations for visitors of the Hawaiian Islands. With stunning views and a host of unforgettable activities to experience, this scenic drive is sure to have something for everyone.
The Road to Hana is not just about the destination, but also savoring the incredible journey along the way. In this blog, we'll talk about the best stops on the Road to Hana and give you some helpful tips to set the stage for an incredible Maui road trip!
Getting to Know the Hana Highway
The Hana Highway is located along the northeast coastline of Maui. Construction of the road began with King Pi'ilani and was continued by his son after his death in an effort to preserve his father's legacy. Modern road construction began during the sugarcane boom of the 1800's, but the Road to Hana wasn't officially completed until 1926.
Opening day was celebrated with a two-day long luau celebration for Maui residents. To this day, the Road to Hana is revered for its resistance to the overdevelopment and modernization that has reached much of modern-day Hawaii.
This scenic drive is world-famous for its natural beauty, towering waterfalls and untouched landscapes. However, it can also prove challenging, as the 64 mile drive features roughly 620 hair-pin turns and over 50 bridges (most of which are only wide enough for a single car)!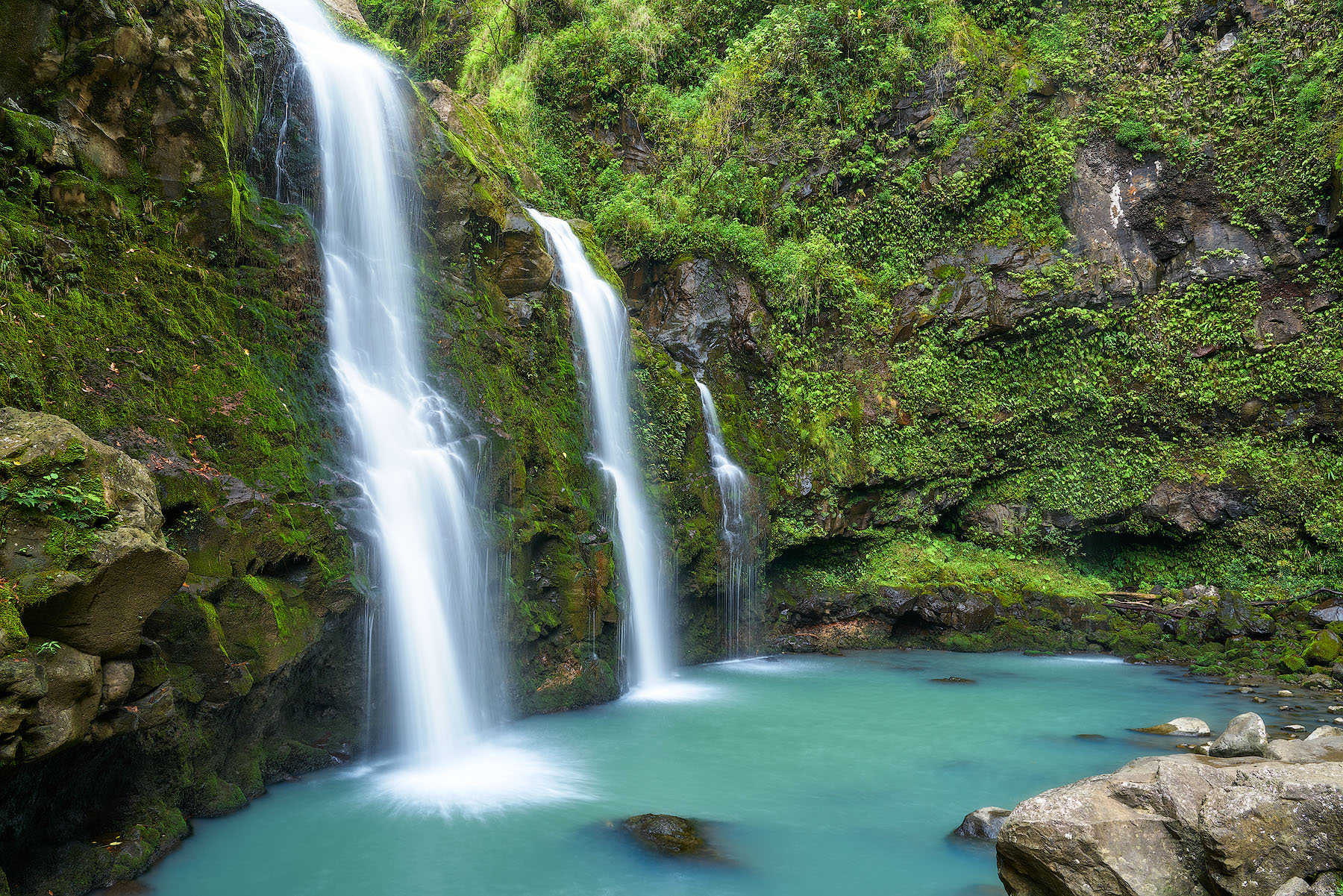 Preparing for the Journey
Preparing ahead of time will help ensure a safe and pleasant journey. If you choose to rent a car, it's best to choose a smaller vehicle. Most of the drive is very narrow, so renting a smaller car will allow you to navigate the roads more easily.

Before your trip, it's important to gather some essential supplies for the journey. While there are several places to stop for food, it's a good idea to have snacks and water already available for the long drive.
Last, and most importantly, consider your timing. A round trip drive (including stops) typically takes visitors around 7-8 hours. Be sure to check sunrise and sunset times for the day of your trip. If you can, start your journey early to avoid driving back in the dark.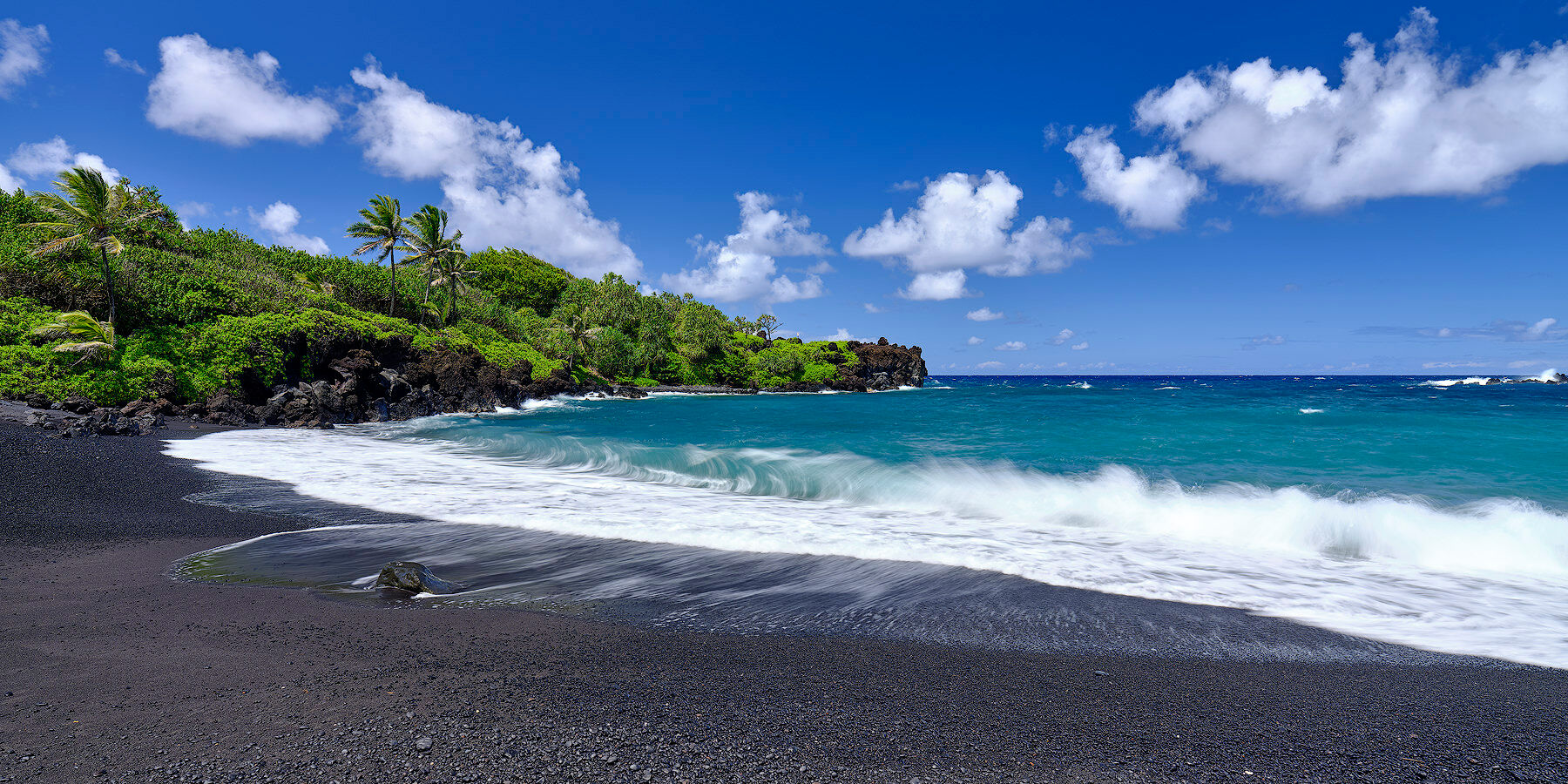 Best Stops Along the Road to Hana
Paia Town
Paia is a town you will encounter just before you start the drive. Since this is the last town you will find before you reach Hana, this is a great place to grab coffee and breakfast, and fuel up on gas before you begin the journey.

Ho'okipa Lookout
After leaving Paia town, on the left side of the highway you'll find the Ho'okipa Beach Park and Lookout, which is famous for its incredible surfing conditions. This lookout area is a great place to stop and watch surfers tackle the waves below.
Twin Falls
Visitors who hike to Twin falls are rewarded with picturesque waterfall views and a large area for swimming. Located on a family-owned farm, there is also a small fruit-stand you can visit near the entrance.
Garden Of Eden Arboretum
The Garden of Eden Arboretum is 26 acres of tropical paradise, filled with 700 different species of tropical plants, a rainbow Eucalyptus forest, lookouts, waterfalls, and even free-roaming peacocks!
Halfway To Hana Stand
To celebrate making it to the halfway point, be sure to visit the "Halfway to Hana" Stand. Here you can enjoy shave ice, sandwiches, burgers, and more. Don't forget to try the iconic banana bread!
Upper Waikani Falls
Upper Waikani falls is located just past mile marker 19. It's nicknamed the "Three Bears," as it features three individual waterfalls, all of different lengths. There are great views from the road, but with a short hike you can reach the stunning natural pools just below the falls.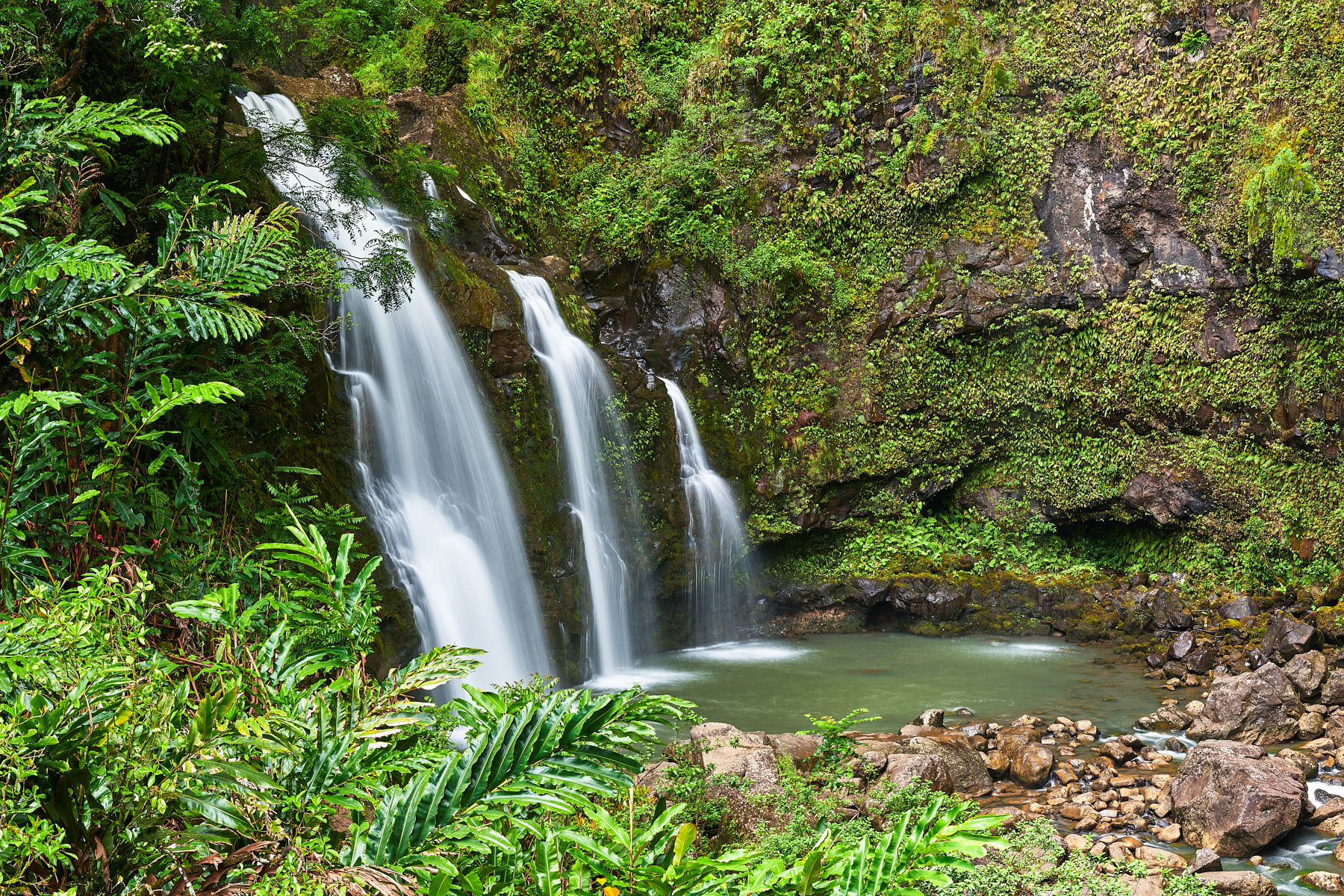 Hana Lava Tube
Formed by cooled molten lava thousands of years ago, the Hana Lava Tube is one of the most unique attractions along the Hana Highway. Visitors can follow a self-guided tour to explore this geological wonder.
Waianapanapa State Park
Considered a Road to Hana "must see," this beautiful state park is known for its black sand beach and sweeping 360 degree panoramic views. It also features a blow hole, natural sea arch, and ocean caves to explore. You do need an advance reservation to enter Waianapanapa State Park, so plan accordingly!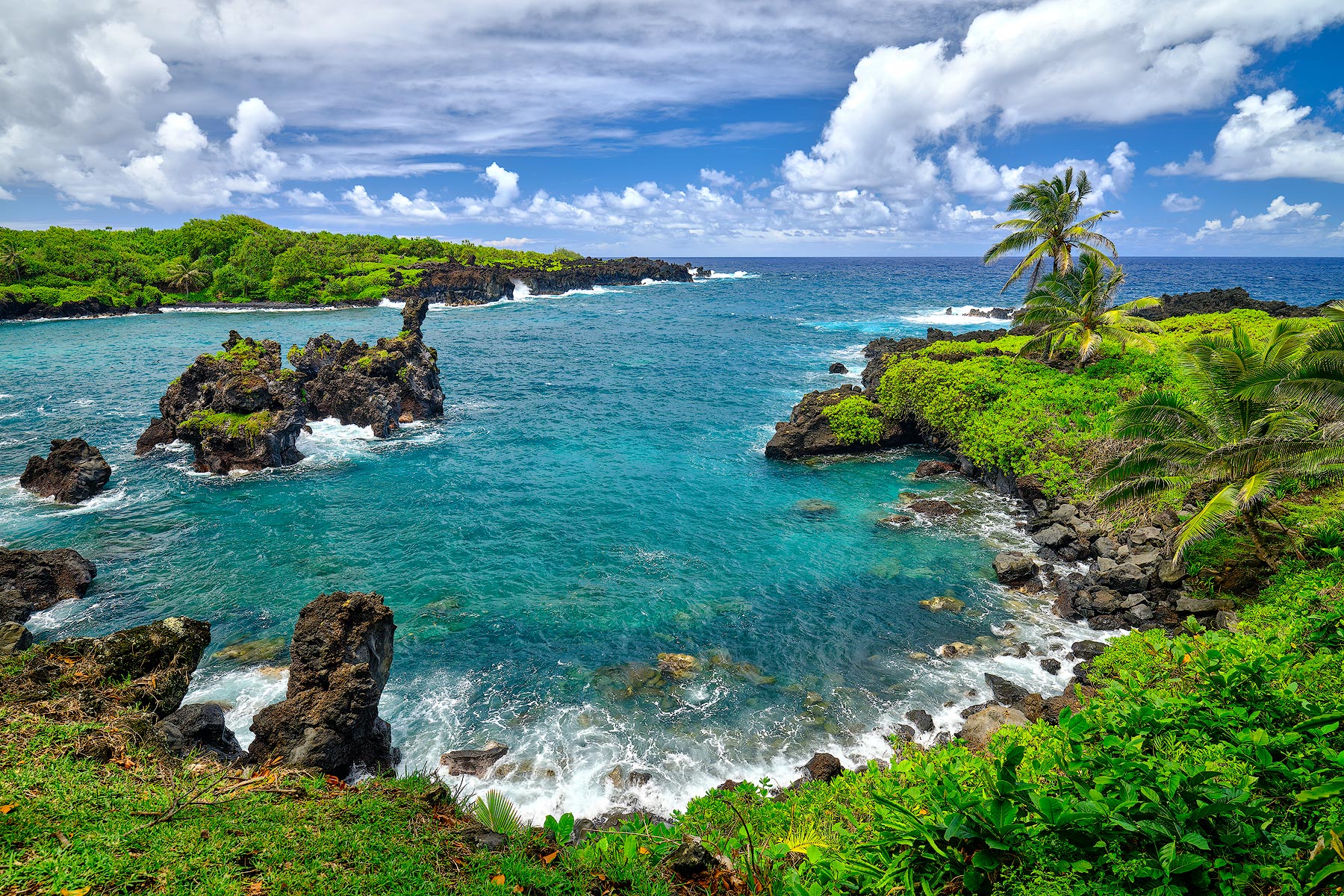 Hana Town
No drive along the Hana Highway would be complete without stopping in the town of Hana itself! This small seaside town has deep cultural and historical significance for the people of Maui. Visitors can learn more by visiting the Hana Cultural Center and Museum.
The Pipiwai Trail
Located toward the end of the drive, the Pipiwai Trail is a 4-mile hiking trail along a string of pools and lush forest featuring a truly stunning banyan tree, ultimately leading to Makahiku Falls and Waimoku Falls. This popular route is considered moderately challenging, so be sure to pay attention to warning signs along the way.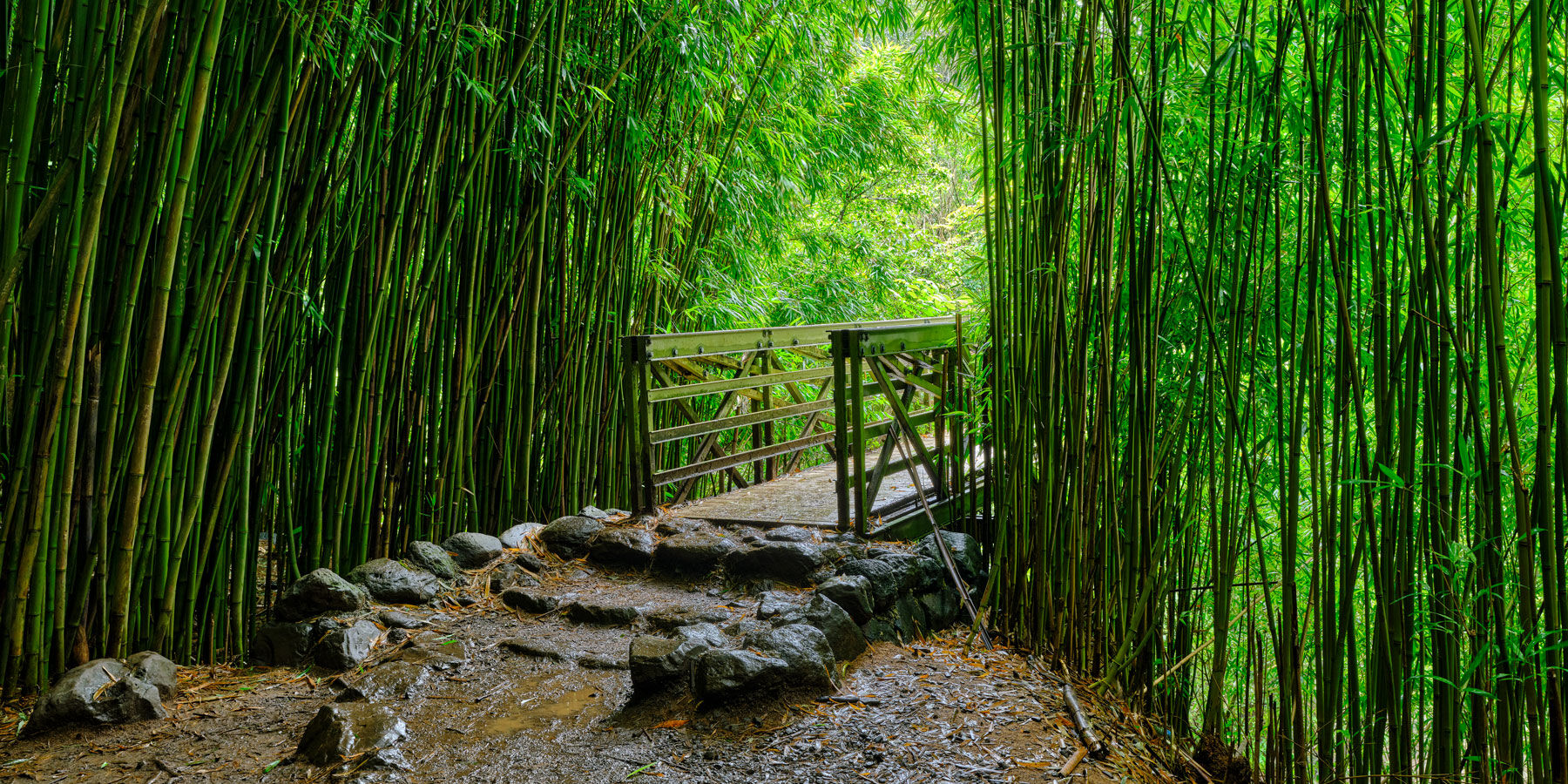 Travel Tips and Safety
The Hana Highway is a unique and memorable destination that's on many people's must-do lists. With a little extra preparation, you can make the most of your travel experience. Here are a few important tips for driving the Road to Hana to help you stay safe and make the journey like a pro!
Plan your "must see" stops ahead of time: This can help you plan out your day and make the most of your time.
Pack for a range of activities (hiking, swimming, etc.): You never know what you might find along the way, so make sure you're ready for anything!
Get an early start: There is so much to see and do, give yourself enough time to enjoy it all.
Start with a full tank of gas and refuel when you have the chance: It's much better to start off prepared and avoid getting stranded searching for gas
Bring cash for roadside stops: Many of the smaller roadside stops may be cash only so bring a few bills with you.
Research weather and road conditions: Be sure to check the weather and road conditions ahead of time to make sure that the road is safe to drive.
Obey road safety: There is an alternative way to return from Hana (often referred to as the Backside of Haleakala), but it is unpaved and far more narrow and uneven, so practice caution and use your best judgment if you choose to take this road on the way back.
Consider a tour: If you want to experience the Road to Hana, but don't want to rent a car or deal with the hassle of planning out your trip, there are plenty of guided tours available that will allow you to sit back and take in the sights!
Be flexible: The Hana Highway road trip is about the journey, not the destination, so keep an open mind about what stops you might want to see.
Enjoy the Picturesque Views on the Most Scenic Drive in Maui
The Road to Hana is an incredible adventure for visitors to Maui that promises unforgettable experiences and stunning views. To see more images of Maui's breathtaking sites, be sure to visit the Andrew Shoemaker online photo gallery.