Including relaxing beach sunset pictures in your art decor and interior design can help you escape from your busy lifestyle and take a mental vacation in your own home.
---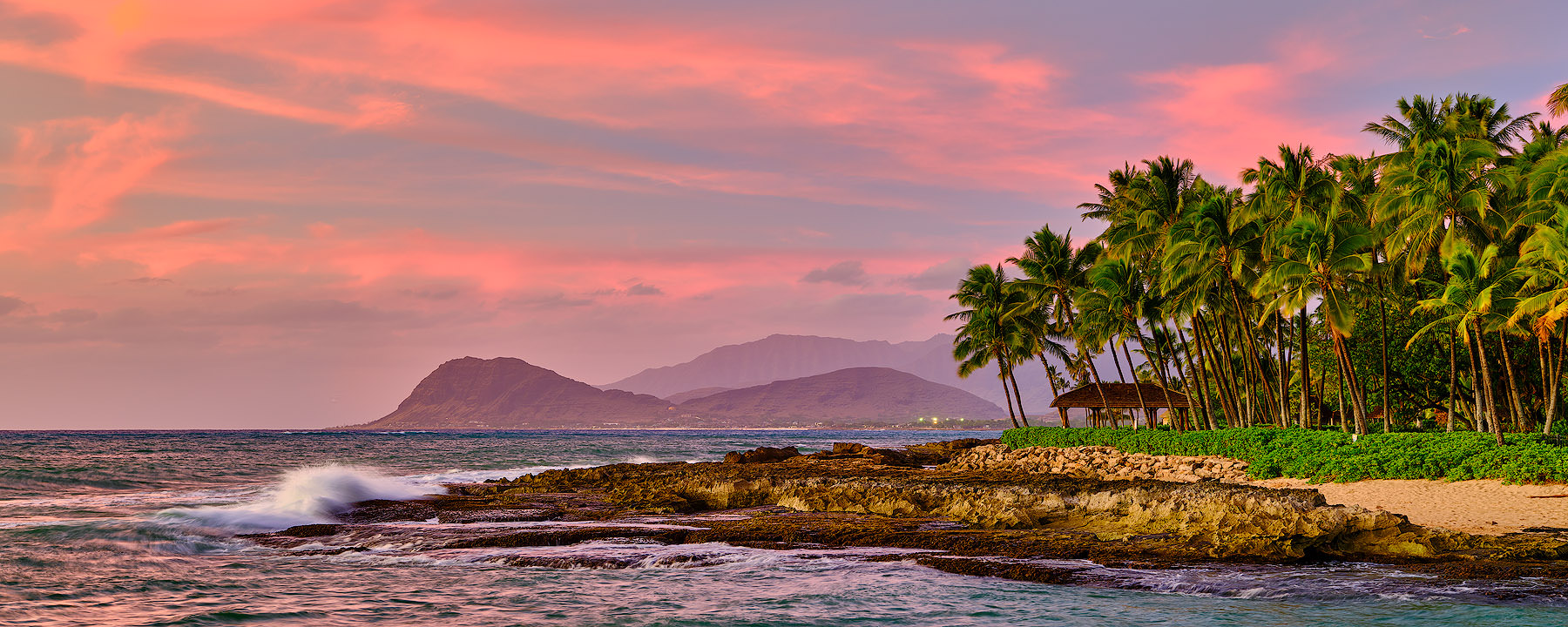 Taking a walk on the beach at sunset is one of the best ways to relax and recharge. From palm trees swaying in the wind to the deep, saturated colors - every part of the scenery is designed to reduce stress. Unfortunately, it's not always feasible to plan a trip to the beach when you need to feel calmer. Luckily, looking at beautiful beach sunset pictures can have the same centering effect.
By including beach sunset photography in your interior design, you can take a mental vacation from your busy life anytime you need it. Beach sunset pictures can even inspire the art décor of the rest of your home, creating a private oasis where you can escape at the end of a long day.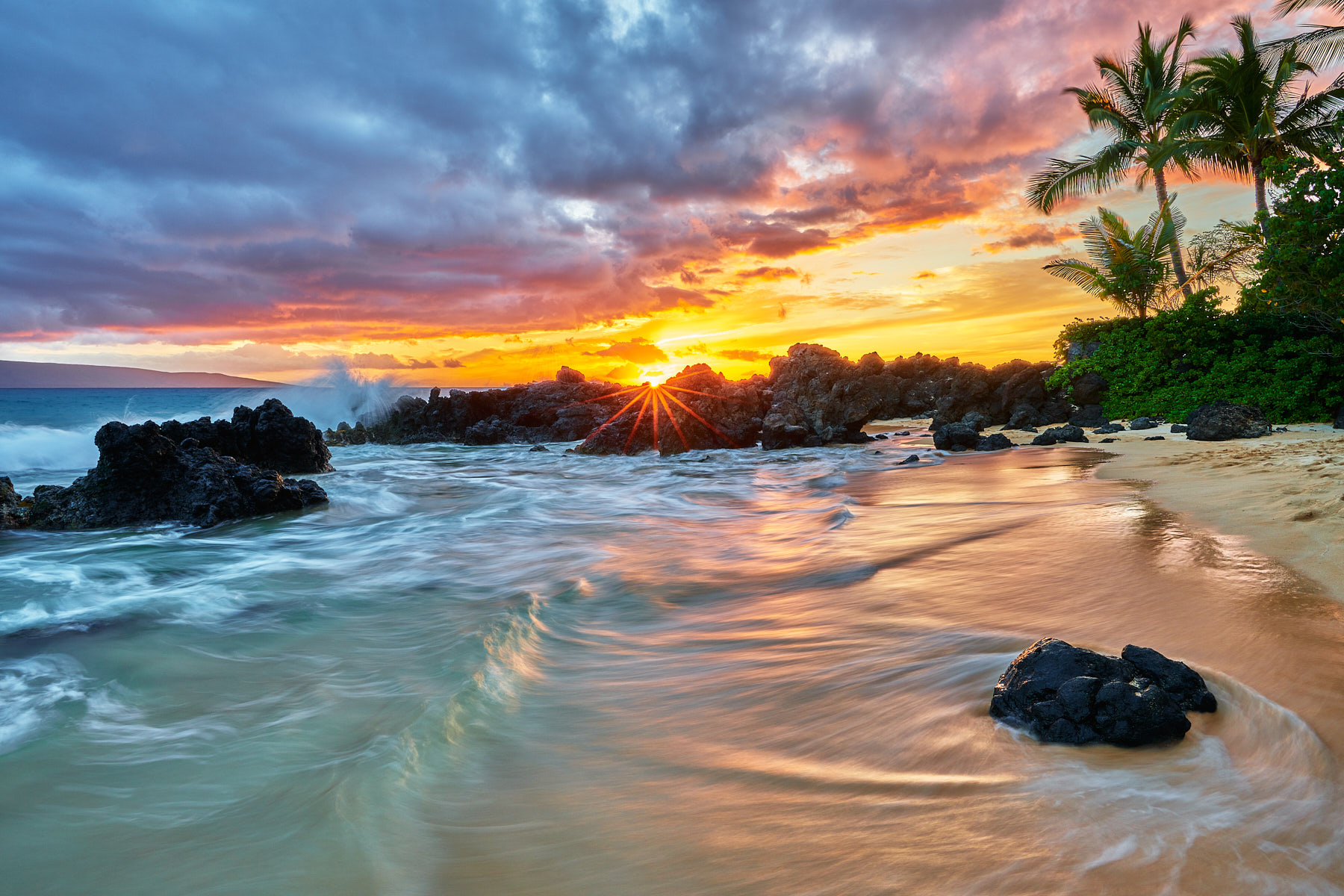 ---
Health Benefits of Calming Beach Photography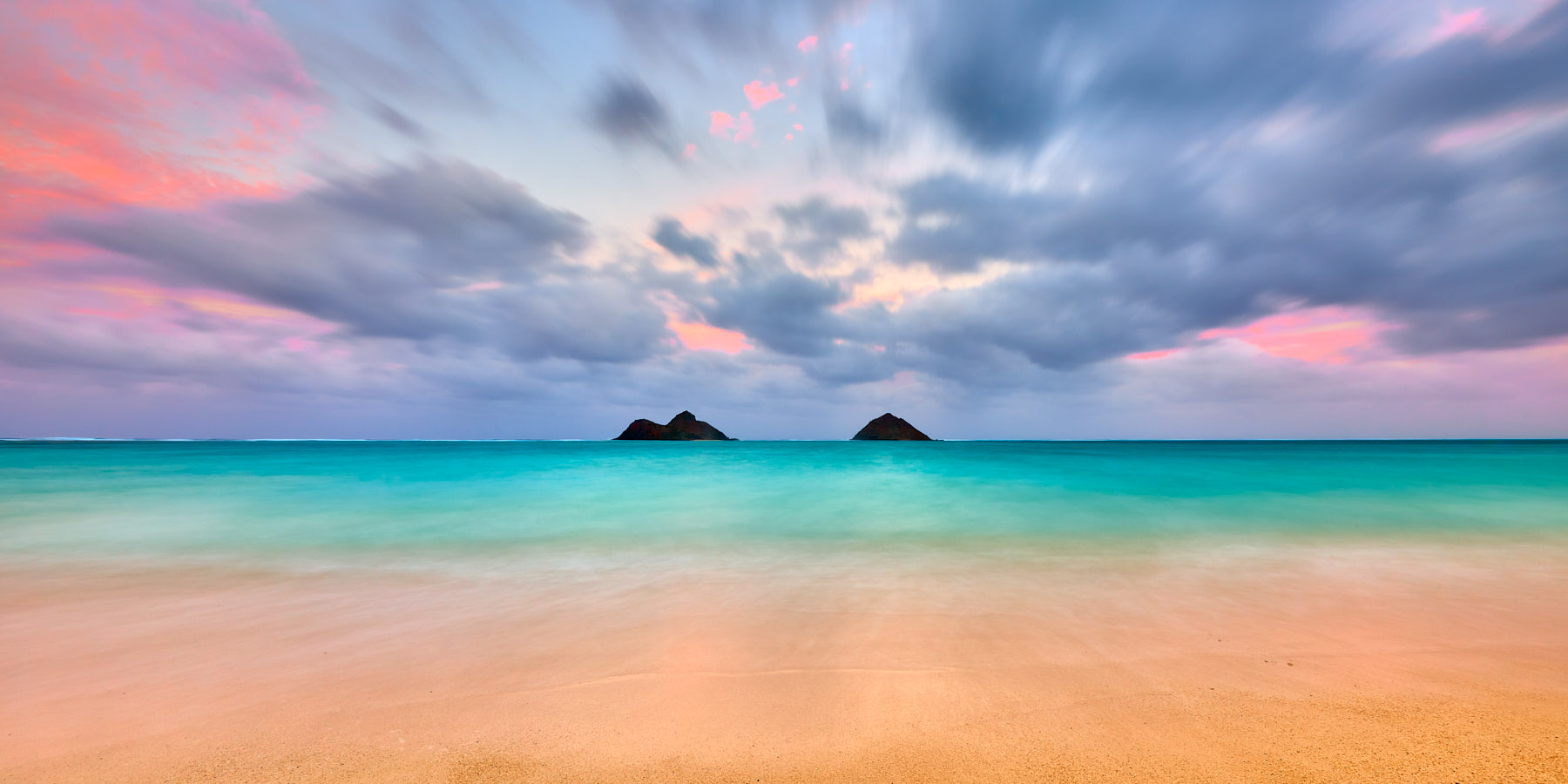 Many studies have shown the positive influence that spending time in nature has on our bodies and minds. Nature is a natural antidote to stress - something that we all have a lot of these days. Simply observing nature produces calming effects, including:
· Lowering blood pressure and stress hormones.
· Reducing nervous system arousal.
· Boosting the immune system.
· Reducing anxiety.
· Improving mood.
At this point you might be wondering, "but what if I can't always get out into nature when I feel stressed?" The good news is that you can also reap these calming benefits by looking at pictures of nature. Whether the nature scene is real or a photograph, our brains react positively either way. Images of nature nourish our minds and bodies in ways we may never fully appreciate.
While all nature scenes are capable of calming the mind, beach photography and relaxing sunset pictures are some of the most popular choices. Pictures of beaches, ocean waves, and colorful sunsets rank among the best natural scenery to promote feelings of relaxation, calmness, and positivity.
---
Hawaii: A Magical Place for Beach Photography
The Hawaiian Islands are world-renowned for their stunning beaches and when it comes to beach photography, there's simply no comparison. Each island has its own special ambiance and each beach has a unique charm. I've been living in Hawaii for many years and the islands still surprise me.
In the more populated areas, you'll see immense shorelines where you can watch surfers tackle the waves, while just around the corner you might find a small sandy hideaway, untouched by development.
Beaches in Hawaii have sands of many different colors, including white, black, and even red. There are also over 1,400 plant species found in Hawaii, with 90% of them unique to the islands.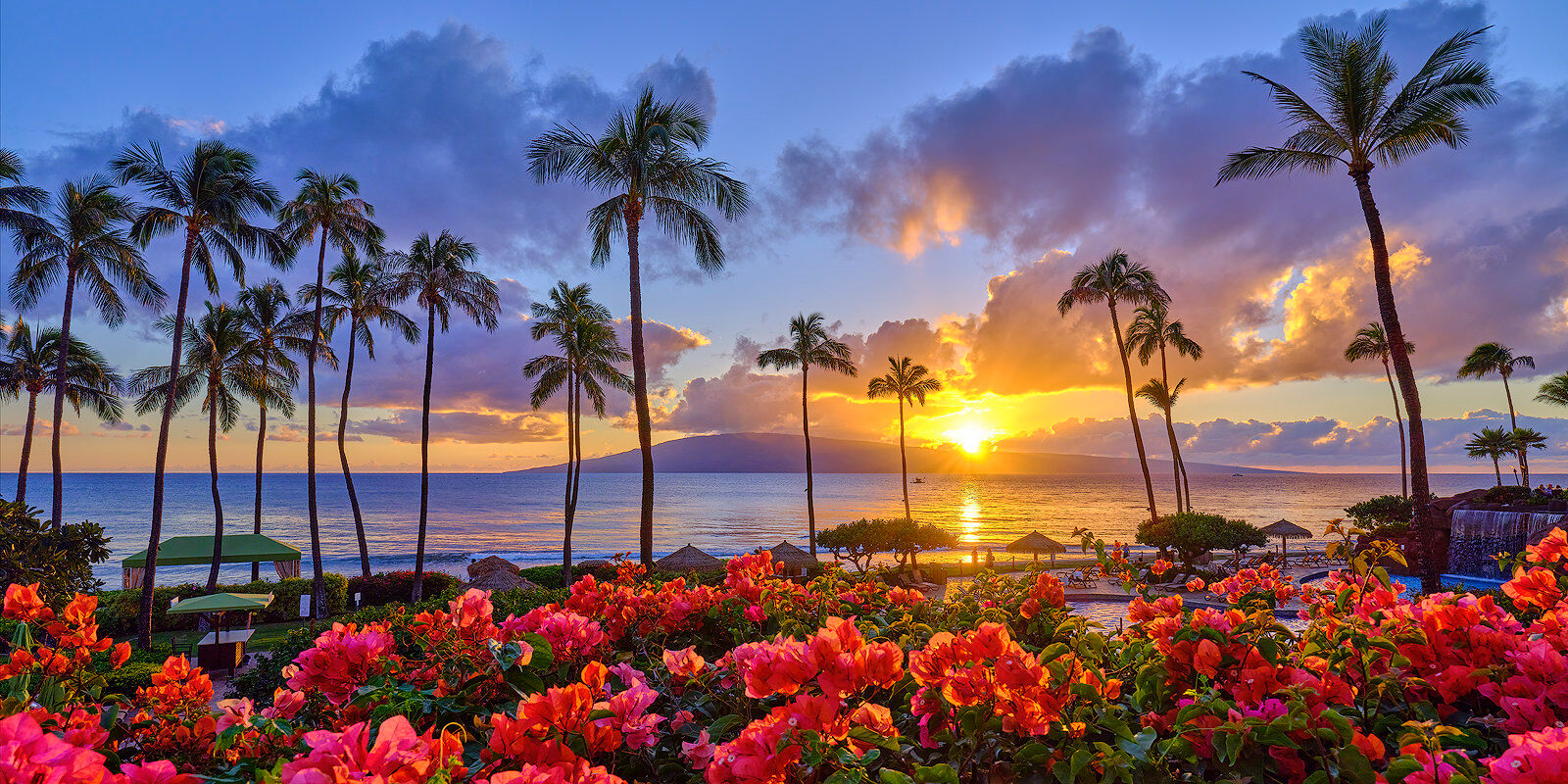 Thanks to a naturally temperate climate, Hawaii is also one of the best places in the world for beautiful sunset pictures. As a nature photographer living in Maui, I have personally witnessed some truly unforgettable sunsets right here on our island. Some of my favorite beaches for taking pictures at sunset are Kaanapali, Kapalua Bay, and Makena.
---
Why Hawaiian Sunsets are So Spectacular
While all sunsets are beautiful, there's something special about the sunsets in the Hawaiian Islands. Hawaiian sunsets are truly spectacular, and visitors come from all around the world to see them in person. When the sun sets in Hawaii, it produces a stunning mix of deep, vivid colors you won't see anywhere else. As it turns out, there's are a few scientific reasons for this:
● During sunsets in Hawaii, the sun sinks into the Pacific Ocean without being obscured by any large land masses to break the horizon line, providing the best sight lines for the ultimate viewing experience.
● The Hawaiian Islands are located 20 degrees north of the equator, producing humid, balmy temperatures year-round. The added moisture and mild temperatures help to pull vapors into the air, intensifying the colors of the sunsets.
● Water vapor, volcanic dust, and other gasses mix in the atmosphere, magnifying the blue and violet colors in the sky.
---
How to Use Beach Sunset Pictures to Inspire Your Décor and Design
Now that you know how healing it is to surround yourself with beach landscapes and relaxing sunset pictures, it's time to use these pieces to create an "oasis" of your own. By using these calming images to inspire the rest of your home decor, you'll be able to build a space where you can mentally escape from the busy world around you.
Choose Your Pieces
The best place to start is by finding beach photography that speaks to you. Visit a gallery or search online for photographers specializing in beach sunset photography. Take some time to look at each scene and find the piece(s) that make you feel the most relaxed and centered.
It could be a picture of a beach where you had an amazing vacation, a print of a place you've always wanted to travel, or just a beautiful image that makes you feel at peace. Whatever you choose, make sure that it feels right to you.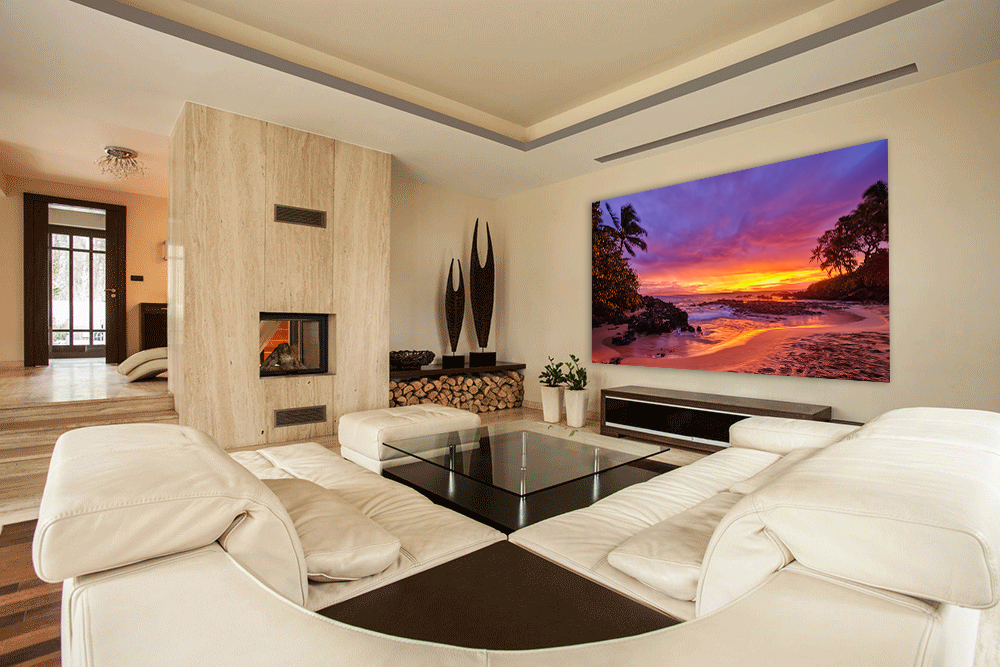 Use Nature as a Guide
A great way to use your beautiful sunset pictures to inspire the rest of your design is to incorporate the unique colors of each sunset around the rest of your home. From pale oranges to bright pinks and even vivid blue tones, you can add the colors from the sunsets in your pictures to other elements of your interior design.
You may also choose to play off of the natural environments featured in your beach photography. For example, if your home is full of sunset beach pictures with palm trees, you can add palm trees into your decor with indoor potted palm plants. If the beaches in your sunset pictures are bordered by flowers, a vase of fresh blooms can enhance the experience and make you feel like you're really there.
Add a Personal Touch
One of the best parts of creating a mental oasis in your own home is adding in elements that make it personal to you. Did you save a bottle of sand or bring a few seashells home from your last beach trip? Display these items near your relaxing sunset pictures to turn the room into your own private get-away.
Let's face it, life is stressful and it can be hard to take time away from the demands of our busy lives. By adding beach sunset photography to your home, you can build your own private sanctuary and escape from the daily grind.
To see more of my beach sunset photography prints for sale, you can either visit my gallery at 612 Front Street in Lahaina, HI or check out my online galleries here.