Maui, the poster child for breathtaking beaches and vibrant culture, has a secret identity. When you venture beyond its shores, you'll discover a different world: its remarkable hiking trails. Maui's hiking trails let us peek into the island's hidden gems, from volcanic craters to emerald valleys and vibrant ecosystems. Join us as we unlock some of Maui's top hikes.
---
Our Top Picks for the Best Maui Hikes
Haleakala National Park: A Cosmic Journey
Haleakala National Park is a must-see for any self-respecting Maui hiker. Here, you'll encounter the famous Haleakala Crater, a geological wonder that seems like it could be from another planet. To witness its otherworldly charm, you can begin by hiking up the Sliding Sands or Halemau'u Trail. And if you're feeling particularly adventurous, the Haleakala Summit Trail will take you soaring over 10,000 feet for some seriously jaw-dropping vistas.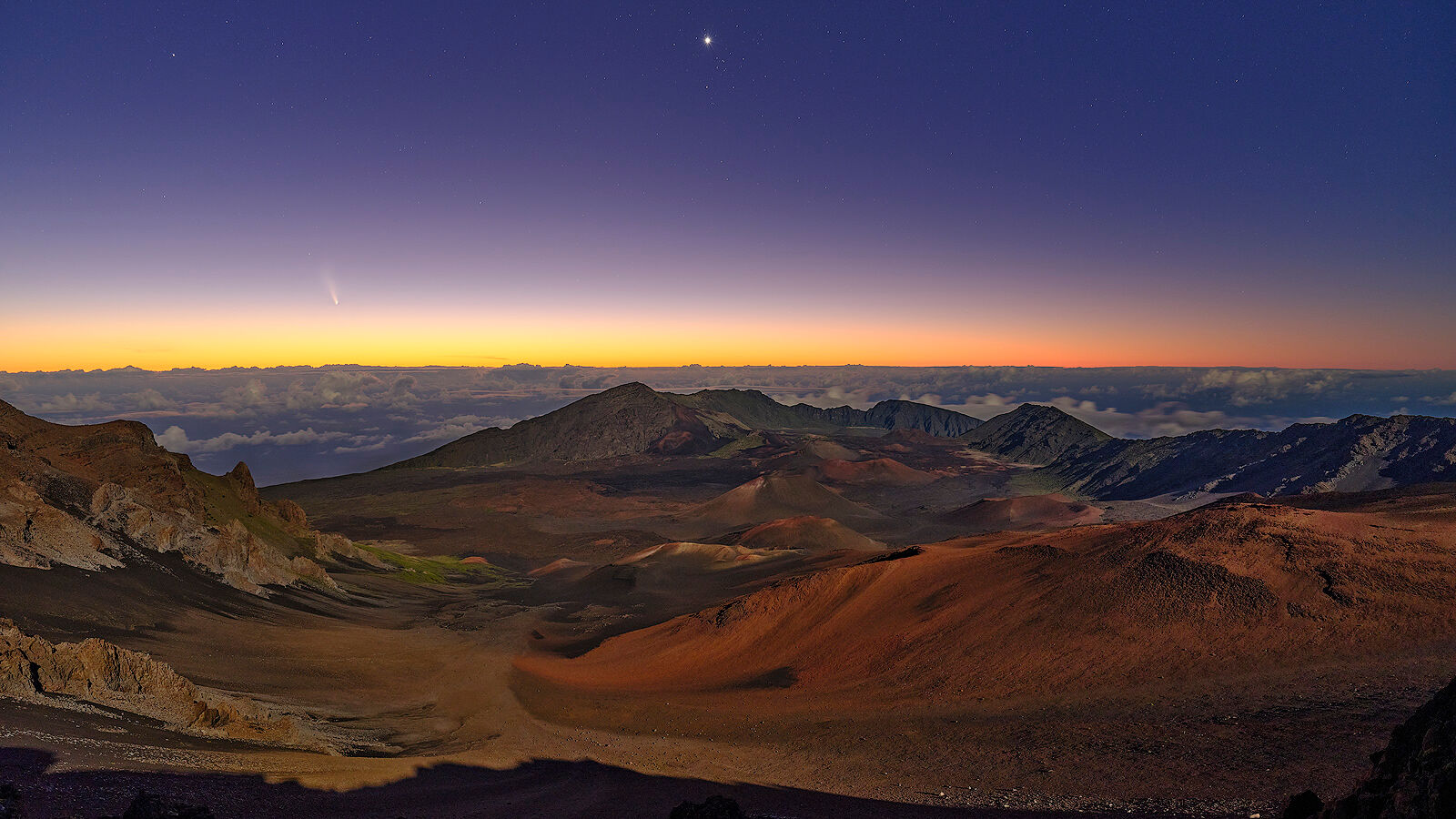 Pipiwai Trail: Road to Hana's Crown Jewel
Over on Maui's east side, the Pipiwai Trail reigns supreme, often stealing the show on the famous Road to Hana. This 4-mile round trip journey goes through enchanting bamboo forests, whimsical streams, and climaxes in front of the awe-inspiring Waimoku Falls—a waterfall so tall it's practically on nodding terms with the clouds.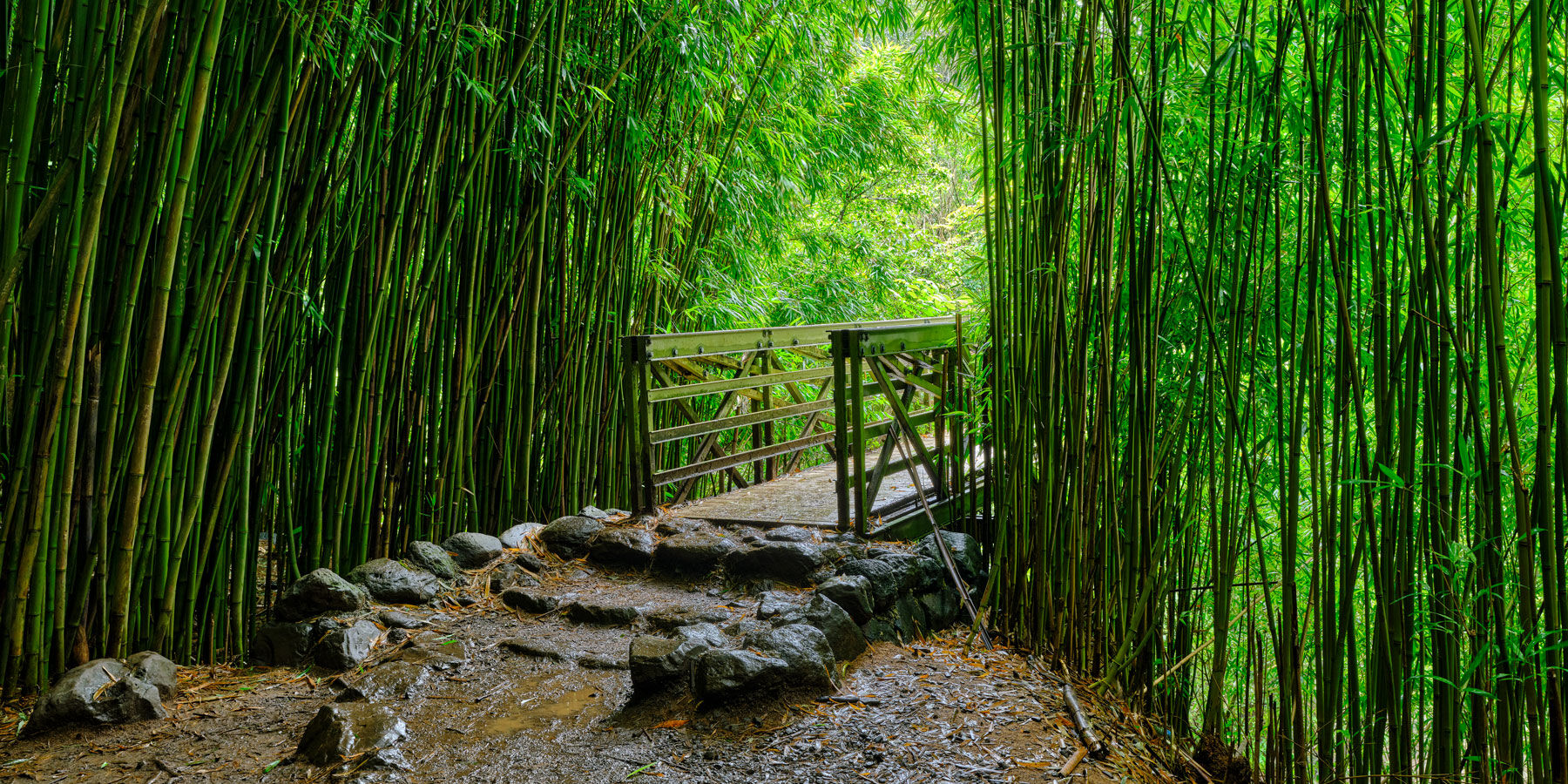 Iao Valley State Park: Tropical Rhapsody
This state park holds the iconic Iao Needle, a towering volcano that is a testament to nature's beauty. Several trails wind their way through this tropical paradise, where lush, green beauty surrounds you at every turn. It's a paradise for nature enthusiasts and photographers alike. Be aware that reservations are required for parking and entry tickets to the park.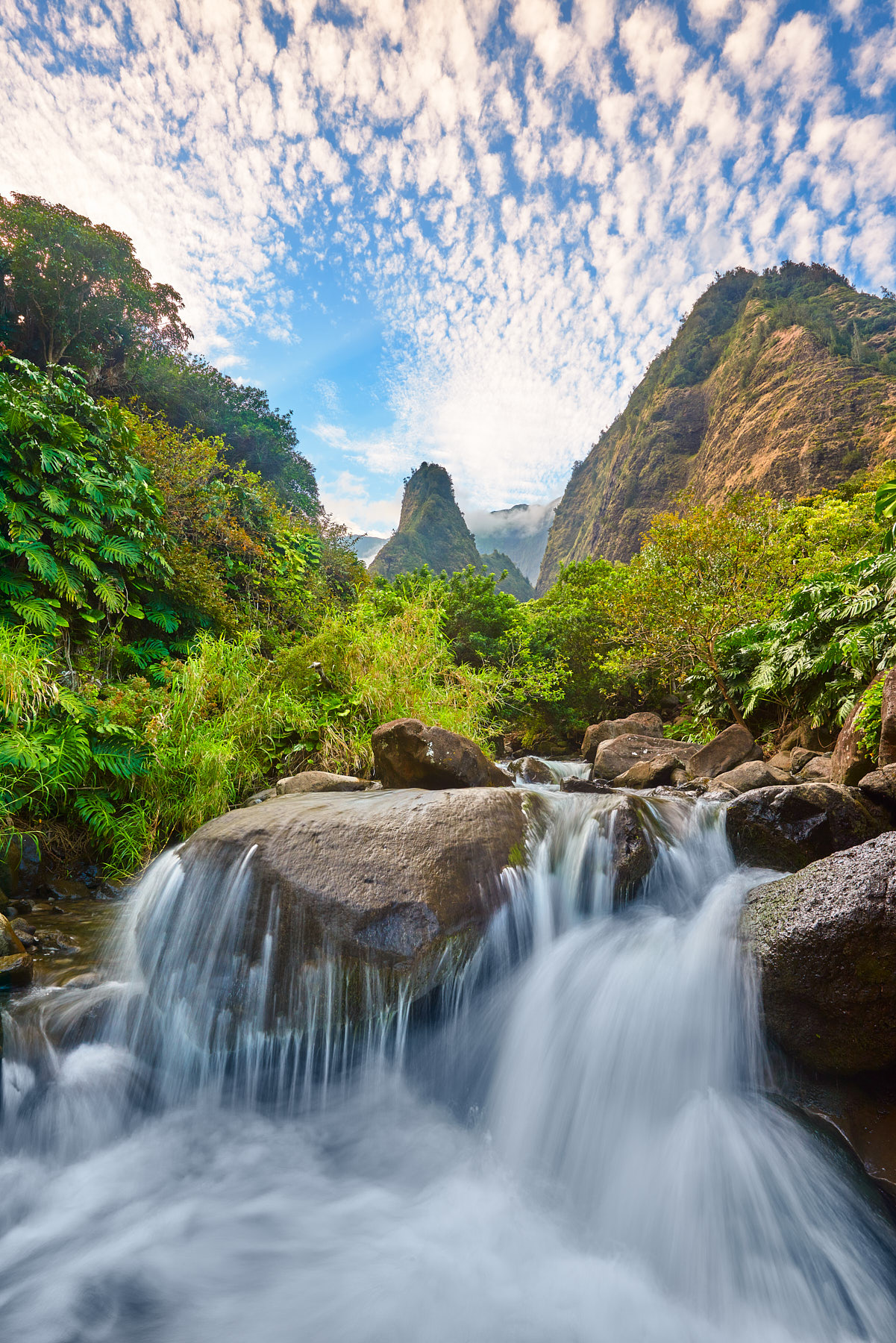 Waihee Ridge Trail: Views That Wow
The Waihee Ridge Trail doesn't beat around the bush—its name says it all. This trail treats you to breathtaking panoramic views of northwest Maui's valleys and surrounding areas. While the 5-mile round trip might give your legs a workout, the vistas awaiting you at the summit are nothing short of captivating. And don't even think about forgetting your camera for this one.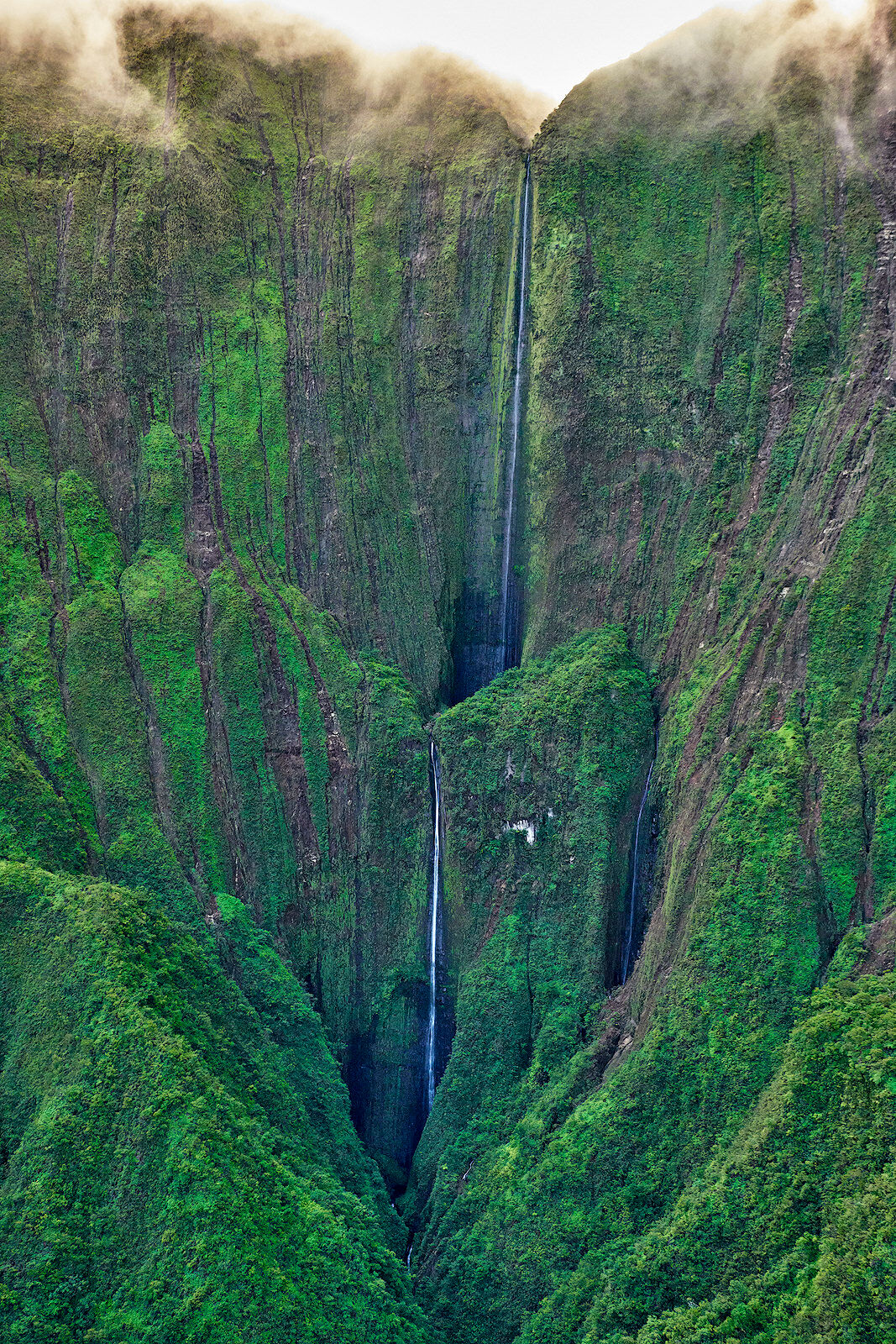 Polipoli Spring State Recreation Area: A Refreshing Escape
For a change of pace and climate, look no further than the Polipoli Spring State Recreation Area. Here, a network of trails weave through enchanting forests where redwoods stand tall. The cooler climate offers an escape from the heat of Maui's coast.
Makawao Forest Reserve & Kula Forest Reserve: Tranquility and Scenic Vistas
Known for the Kahakapao Loop Trail, the Makawao Forest Reserve beckons you to explore serene forests filled with eucalyptus groves, native flora, fauna, and picture-perfect vistas. It's a place where moments of tranquility naturally translate into stunning photography.
East Maui Waterfalls: Nature's Bounty
If waterfalls are what you are chasing, East Maui has a collection of trails that lead to sparkling waterfalls and swimming holes. From Twin Falls to Wailua Valley State Wayside and the Seven Sacred Pools trail (Ohe'o Gulch), you'll find options for all skill levels. These hikes not only promise excellent photo ops but also provide the perfect excuse for a refreshing dip.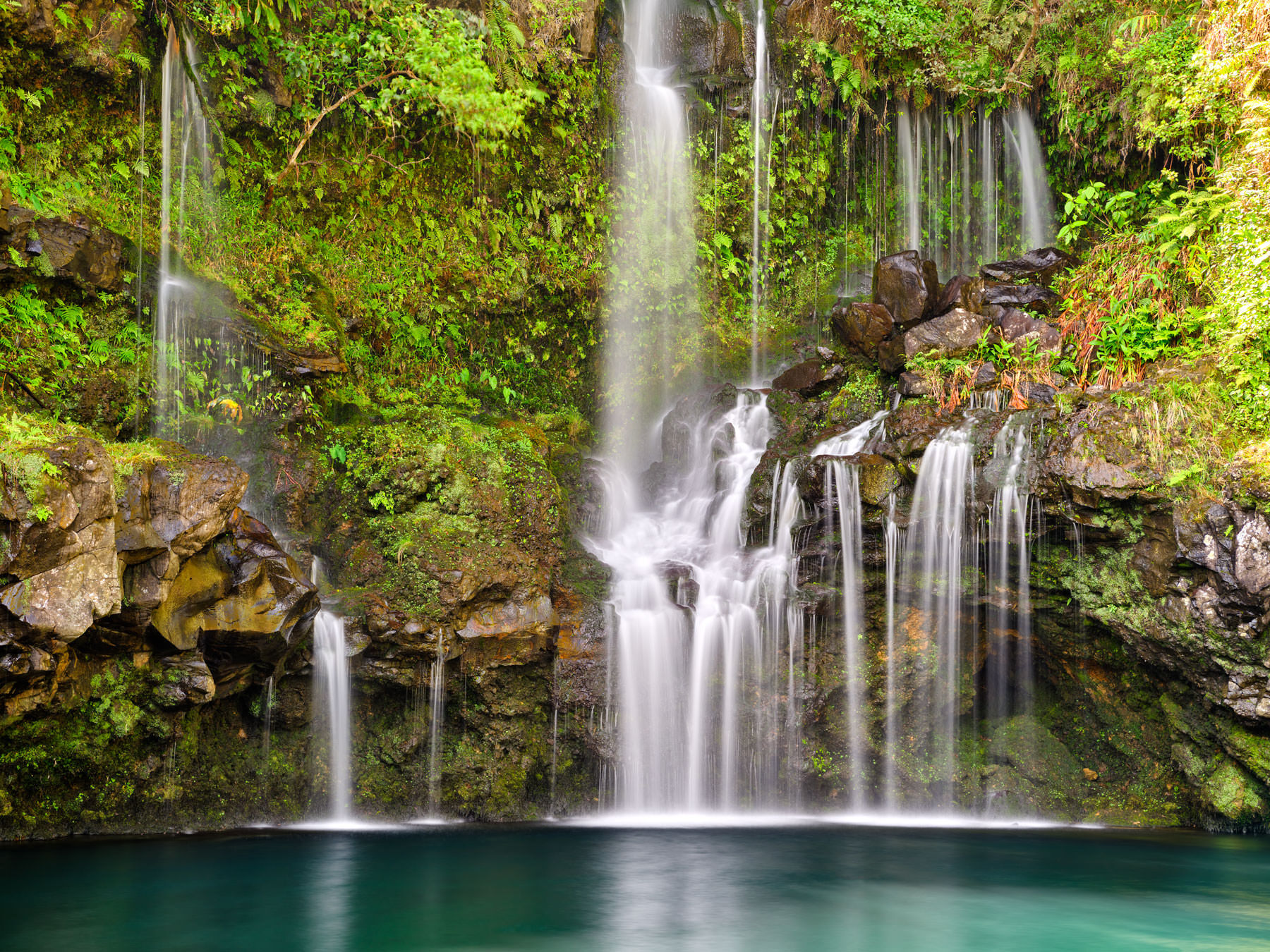 These are just some of the many different parks, reserves and trails you can hike while on Maui. Be sure to check the Division of State Park's website for the most up to date and extensive information on Maui hiking trails.
Why Hike When Visiting Maui?

Now, you might be thinking, "Why hike when there are so many other incredible things to do on Maui?" Let us reassure you—hiking in Maui is an unforgettable experience that you will remember for a lifetime. Here's why you should lace up those hiking boots:

Take In Maui's Natural Beauty: Hiking allows you to experience being closer to nature, who wouldn't want to be immersed in lush rainforests, cascading waterfalls, volcanic craters, coastal cliffs, and grand vistas? These experiences are exclusive only to hikers.

Unique Geological Features: Maui's trails lead you to geological wonders, from volcanic craters and lava fields to cinder cones. The Haleakala Crater, in particular, shows us an amazing moonscape that is (what we would imagine) like stepping onto another planet. (and your camera is your passport to capturing the beauty of it all )

Varied Hiking Trails: Maui caters to all hiking levels, whether you prefer a leisurely beachside stroll or a more advanced workout.
Unique Flora and Fauna: While hiking in Maui, you will be sure to discover a rich array of plants and animals. The experience will give a newfound appreciation for the islands biodiversity.

Waterfalls and Swimming Holes: Many of Maui's hiking trails lead to clear waterfalls and swimming holes, which are perfect for capturing instagram worthy photographs or taking a refreshing dip.

Cultural and Historical Sites: Certain hiking trails pass through or lead to ancient Hawaiian cultural landmarks, providing you with both a physical workout and a peak into Maui's cultural heritage.
8 Tips for Hiking in Maui
1. Research the Trail: Before venturing out on a hiking trail you'll want at least a general idea of the terrain, difficulty level, length and transportation for there and back.

2. Dress for the Hike: Lightweight breathable clothing that also provides UV protection from the sun is typically best for hiking in Maui. Use layers so you can adjust to possible weather changes, and be sure to wear appropriate boots or shoes for your hike.

3. Bring Water With You: Aside from twisting an ankle, dehydration is the quickest way to turn a beautiful Maui hike into a bad time, so be sure to bring some water with you to stay refreshed.

4. Pack Essentials & First Aid: Carry a pack with items such as a map, compass, snacks, and a mobile phone. Additionally, bring a first aid kit, insect repellent, a whistle and a flashlight for those "just in case" moments.

5. Don't Hike Alone: Whenever possible, hike with a companion or a group. It's safer and more enjoyable to explore the trails together. If hiking alone, inform someone trustworthy of your plans and expected return time.

6. Stay on Marked Trails: Venturing off -trail can be harmful to the ecosystem, potential trespassing of private property, or just dangerous if you're injured while off trail.

7. Respect Nature: Don't disturb or remove native Hawaiian plants, animals, or artifacts you may encounter and always strive to follow the Leave No Trace policy by packing up your trash. Respect the local culture and traditions of Hawaii, including any sacred sites or areas of cultural significance.

8. Check Weather Conditions: Before heading out, check the weather forecast and any trail advisories. Avoid hiking during severe weather, heavy rain, or when there's a risk of flash floods. Be cautious of slippery conditions, especially after rainfall.
Ready to Hit the Trail?
Hiking in Maui promises an extraordinary adventure that allows you to fully immerse yourself in nature, explore one-of-a-kind landscapes, and gain insight into the island's rich culture and biodiversity.

Armed with these tips, you're now well-prepared for a safe and memorable hiking experience on Maui's most captivating trails. So, lace up those hiking boots, sling on your backpack, and embark on a journey through Maui's natural wonders—one step at a time.

Wish you could take the stunning vistas of Maui's hiking trails home with you? Browse the Andrew Shoemaker online gallery for stunning fine art photographs of Maui's mountains, forests, and waterfall that will allow you to cherish the magic of Maui every day. Use our free wall art visualizer for a realistic idea of what your favorite image will look like on your wall.